Are you currently looking to buy a ceiling fan? You will likely come across two popular brands: Hunter and Minka-Aire ceiling fans. But which of these two brands should you consider?
Both Minka-Aire vs Hunter ceiling fans are regarded among the best. They also come in a wide selection with a range of features.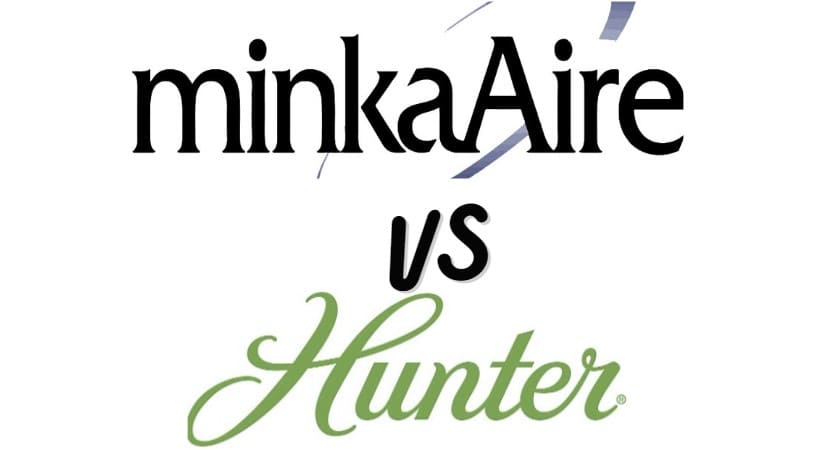 Choosing between the two may, therefore, be a daunting task. We've, therefore, broken down the features of each brand to help you choose between the two.
Minka-Aire vs Hunter ceiling fans comparison
Below is a detailed comparison of the Minka-Aire and Hunter fans brands:
1. Best features
When comparing Minka-Aire and Hunter fans, you will first want to know the brand's best features.
The Minka brand is versatile. It boasts a large collection of ceiling fans with a wide range of features and different price options.
However, the brand is famous for offering cutting-edge fans with an amazing design and great functionality. Their fans are also known for being energy efficient, and they are Energy Star certified.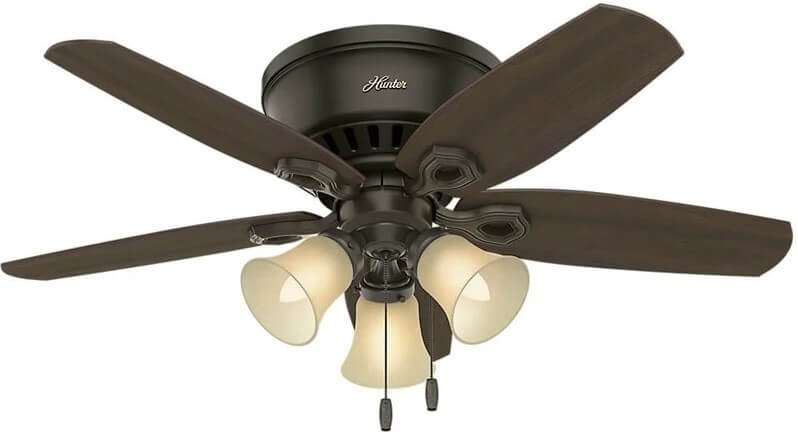 On the other hand, the Hunter ceiling fan brand is famous for its strong builds, which offer excellent performance with long-term integrity.
Their ceiling fans are also energy efficient, with their fans being Energy Star certified. On top of that, they have beautiful craftsmanship, with traditional, modern, and even classic bronze-finished fans.
If you are looking for a sturdy build, go with Hunter. However, if you need quality features embodied in versatile designs, Minka-Aire is your best bet.
2. Technology
Regarding technology, the Hunter brand offers fans with both AC motors for powerful spins and huge air movements and brushless DC motors for energy-saving benefits.
They also have a range of smart fans, which can be connected to Wi-Fi networks and even controlled through voice commands by Alexa and other AI assistants.
Likewise, Minka-Aire offers both AC and brushless DC motors, depending on what you are looking for. They also have several smart fans, which you can connect to your Wi-Fi network and control remotely using your phone, Alexa, or Google Home assistants.
Minka-Aire and Hunter ceiling fans also offer a range of reversible fans. You can use these reversible models even in winter to cool your home, thus saving money on energy bills.
Both fans have made great moves when it comes to integrating technology. You are, therefore, well off with any of them.
3. Ease of assembly and installation
Ceiling fan assembly has become simpler over the years, and the process doesn't usually require hiring an electrician.
Both Hunter and Minka-Aire Ceiling fans are designed to offer stress-free assembly and installation of the fan and come with detailed user manuals, which offer excellent instructions on how to assemble and install the fan.
Depending on the model of the fan you purchase, both Minka-Aire and Hunter brands will offer you the necessary installation accessories.
For example, downrods for hanging ceiling lights and lighting kits for fans with lights. But, of course, you can also find these accessories easily wherever the ceiling fans are sold.
Hunter, however, edges out Minka-Aire in the ease of assembly and installation with their Hunter Five Minute Ceiling fans, as shown in the video below.
These fans, designed to be installed in just five minutes, come pre-assembled up to 95% and feature easy installation features such as easy lock blades that snap onto the blade arms effortlessly and colour-coded wiring.
Unlike Hunter, installing a Minka-Aire fan might require you to assemble more. There might also be additional wiring requirements, such as wiring the receiver to both the motor and the house power supply.
However, there are clear installation instructions, and you won't have much difficulty with the fan as long as you follow them correctly.
Overall, you'll find it easier to install a Hunter compared to a Minka-Aire ceiling fan since the former comes pre-assembled.
4. Noise level
Minka-Aire and Hunter ceiling fans are in the same league where the noise level is compared. Both brands offer AC motor ceiling fans, which might be considerably noisy.
However, they also use the brushless DC motor, which is quieter than the AC motor.
With both models, you are sure to find good ceiling fans designed to offer whisper-quiet operation.
5. Lighting and brightness
When it comes to lighting and brightness, both Hunter and Minka-Aire brands offer ceiling fans with LED lighting kits, which are quite bright. You can also find fans with dimmable light control features to help control the brightness level.
For example, if you are looking for extremely bright lights for outdoor installation, you can opt for the Minka-Aire F865L-CL/SG Barn Ceiling Fan, which comes with a bright 40W LED light.
On the other hand, the Solaria Outdoor Ceiling Fan with LED Light from Hunter features a super bright bulb with 2000 lumens.
Therefore, the quality of the lighting accessories will depend on the model you have chosen, with both brands offering good selections.
6. Remote control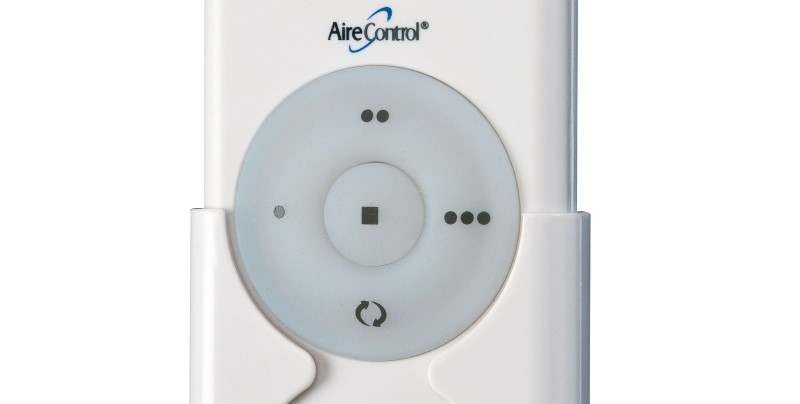 Hunter and Minka-Aire ceiling fans offer a wide range of fans with remote control functions. The remote controls can come with the fan or be supplied separately, depending on the fan model you purchase.
Either way, they are very easy to find. The remote control offers the standard power ON/OFF buttons, speed controls, and lighting control (depending on the model of the fan purchased).
However, besides remote control, both Minka-Aire and Hunter fans have other features, such as wall control, pull chains, and smart control through Bluetooth, smartphone apps, or even voice commands.
Of course, the control features you get will depend on the model of the fan you are buying.
7. Manufacturing location
When it comes to manufacturing location, Hunter is an American-based company that is based in Memphis, Tennessee.
Initially, all their ceiling fans were made in the USA. However, the company has moved its manufacturing operations abroad, and its fans are now made in China.
On the other hand, Minka-Aire is a brand of Minka Group, an American-based company based in Corona, California.
The brand manufactures and supplies ceiling fans designed for the American market. However, their fans are made abroad, with the company owning manufacturing facilities in Taiwan, Hong Kong, and China.
8. Pricing and value for money
When it comes to pricing, you will find a large selection of ceiling fans with different price ranges, from budget-friend to mid-range, and high-end fans with both Hunter and Minka-Aire brands. However, in terms of price, you might find that Minka-Aire's fans are slightly more expensive.
Hunter has a slightly larger collection of budget-friendly (below $150) and mid-range fans ($150-$300) than Minka-Aire. Unfortunately, the latter's high-end fans are also a little bit pricier.
However, both brands offer quality fans in all price ranges. Also, while Minka-Aire fans are slightly more expensive, they come with extra features such as more stylish designs, giving you great value for your money.
Are Minka-Aire fans good?
Minka-Aire is one of the top ceiling fan brands, which offers a great selection of ceiling fans for the American market. In addition, they offer a large selection of fans with varying features and price ranges.
They are also famous for their stylish, cutting-edge designs, on top of their top-tire fan motor technologies, which offer excellent performance with energy-saving benefits. Therefore, they are a good brand to look at when buying a ceiling fan.
Is Hunter better than Minka-Aire?
Hunter is also an excellent ceiling fan brand. They offer fans excellent build quality and use the latest fan technologies that guarantee maximum performance and improved energy efficiency. They are also known for their easy-to-install fans and relatively lower prices.
However, when comparing Hunter and Minka-Aire brands, you will find that both are pretty good, with an excellent collection of fans.
Therefore, neither brand has a bigger edge over the other. As such, it will all come down to your preference, budget, and the model of the fan you will choose.
Top alternatives to Minka-Aire and Hunter fans
Are Hunter and Minka-Aire the only reputable fans, or are there other alternatives? While the two brands have a good standing in the market, they face stiff competition from other ceiling fans brands. These include:
1. Honeywell fans
Honeywell is one of the top ceiling fan brands on the market, known for its creative designs, cutting-edge technology, and excellent performance.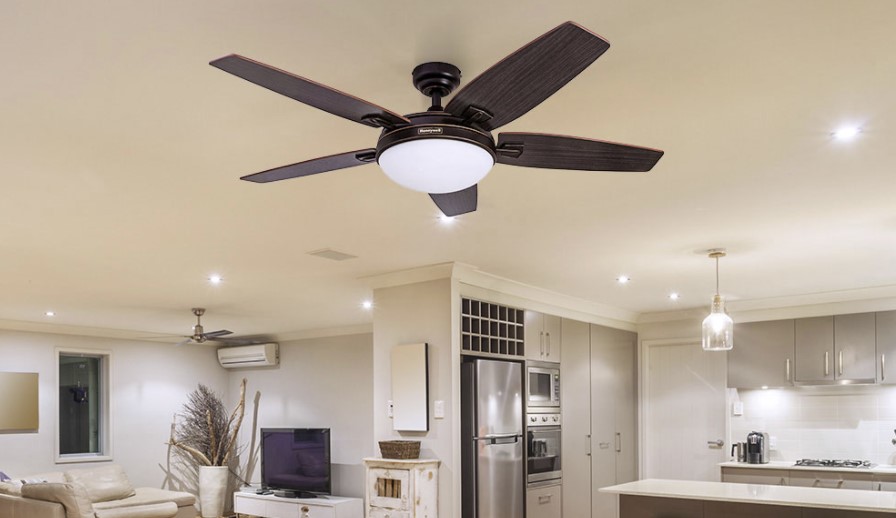 Their fans are also very accessible in terms of prices and have a wide range of options in terms of features, fan size, shapes, blade design, controls, etc.
2. Monte Carlo fans
Monte Carlo is another top ceiling fan brand. It focuses on fashionable designs and features some of the most fashion-forward ceiling fans you will come across on the market.
They are also famous for their exceptional quality.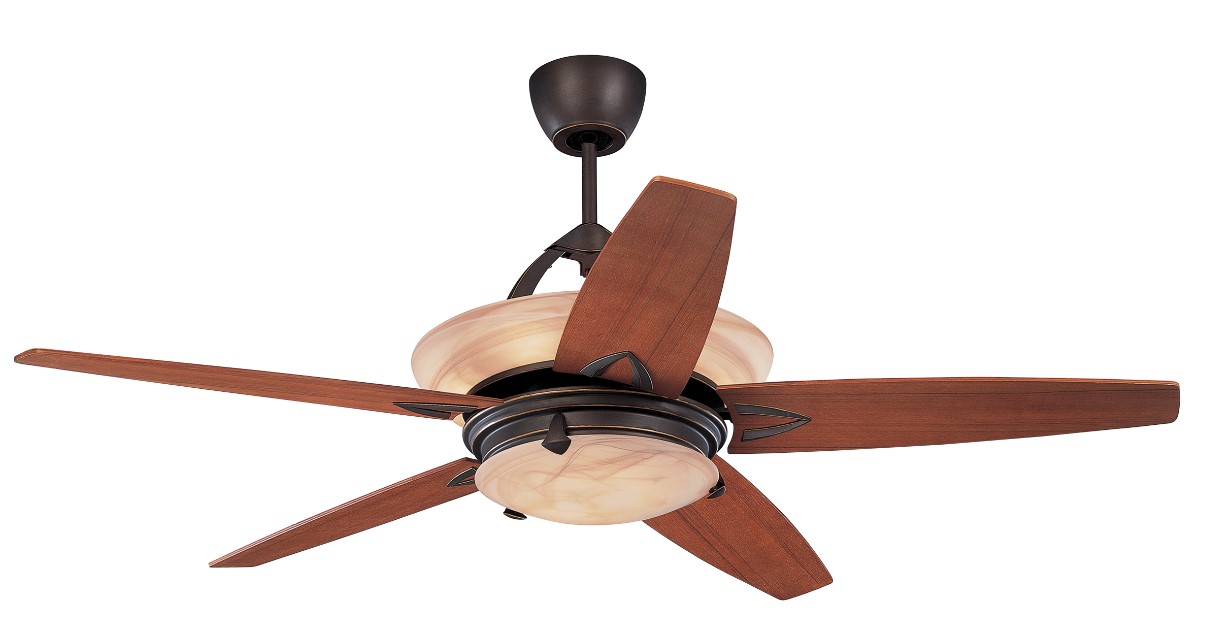 3. Craftmade Fans
Craftmade fans, as the name suggests, are all about craftsmanship. They have a very innovative ceiling fan design.
They also produce quality products at friendly prices, with their ceiling fans starting from as low as $90.

4. Westinghouse Fans
Westinghouse is one of the US's oldest brands dealing with electrical and electronics products. It is known for its lighting products but also makes excellent ceiling fans.
They are famous for their design ingenuity, cutting-edge technology, and product quality. In addition, they offer a large selection of traditional and modern ceiling fans.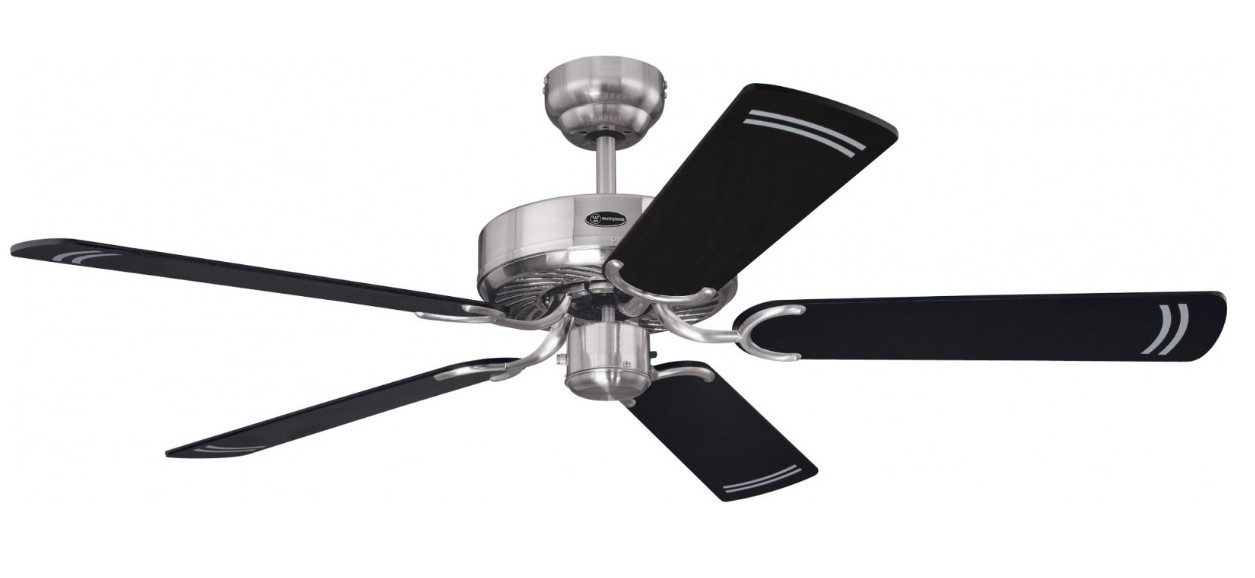 Last words
The above is a detailed guide for Minka-Aire and Hunter fans. Both ceiling fan brands are quite excellent, and they offer a wide selection of fans with great features such as DC motors, whisper-quiet operation, pull-chain, wall controls, remote and smart controls, and reversible motors, among others.
If you want to purchase a ceiling fan, you can consider either of the brands, depending on your brand preference and budget.
However, there are also some other alternative brands you can opt for, such as Honeywell, Westinghouse, Monte Carlo, Craftmade, and others in the market.
More about ceiling fans