One of the things you can do as a homeowner is to take the necessary safety precautions to protect your home and the people inside.
Given that fires are a major cause of loss of lives and property at home, it makes more sense to get a smart smoke detector. This gadget will notify and alert you whenever there is smoke in your home.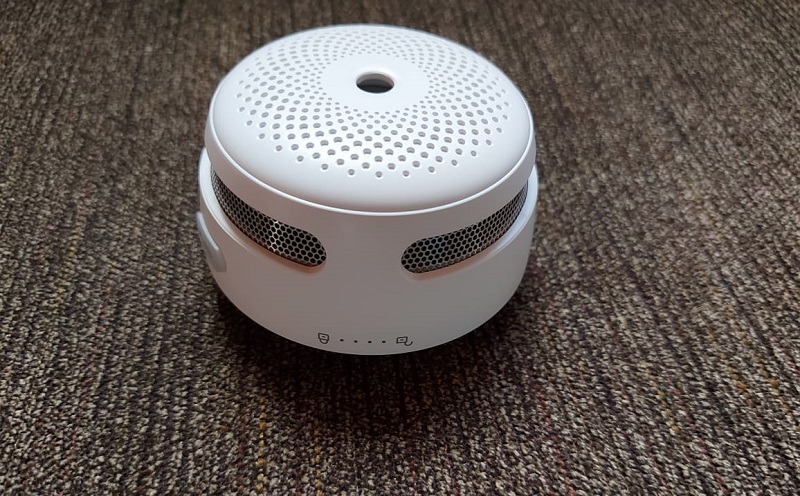 The X-Sense XS01-WT is one of the most popular smoke detectors you can find. But how does it fare in real-life situations? Is it worth investing in?
Enjoy
20% off
all products when you purchase directly from X-Sense's official website.
Visit X-Sense
and use the code
CHTG0120
at checkout to get your discount.
Why you need the X-Sense XS01-WT Wi-Fi smoke detector
The X-Sense XS01-WT has many selling points. Being a smart smoke detector, you can be sure to get notifications about your home 24/7, even if you are not home.
Accuracy is also a critical factor when it comes to smoke detectors. From various tests, the XS01-WT gives accurate information about smoke detection. It also relays the same info accurately via the TuyaSmart/Smart Life app.
Safety is important, but it shouldn't always come at the expense of your home décor. The X-Sense XS01-WT is small and can sit discreetly on your wall or ceiling.
It produces a sharp alarm at 85dB at 10 feet to notify you of smoke buildup in your home. It will also send a notification to your smartphone at the same time.
Design and size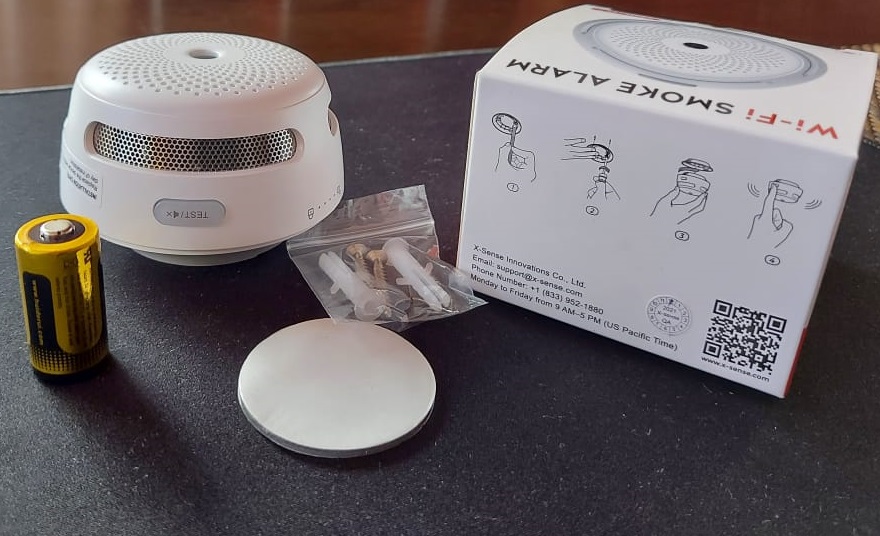 The X-Sense XS01-WT Wi-Fi smoke detector has a compact size that weighs 0.2 pounds or 92 grams. It also measures 3.0 × 3.0 × 1.9 inches (78 × 78 × 48 mm).
Since it is lightweight and small in size, it is easy to carry and has a small footprint that will allow you to mount it onto any ceiling or wall. Also, its design means it can blend into any home décor style.
Apart from weight and height, the smoke detector is made from ABS plastic which is strong enough and does not overheat when in operation.
Advantages and disadvantages of the X-Sense XS01-WT Wi-Fi smoke detector
The X-Sense XS01-WT smoke detector has several pros and cons.
Pros
Easy to install
Its alarm is loud to ensure a faster response
Easy to monitor smoke levels from any location
It can blend into any home décor
Has a replaceable battery
It has an insect-proof screen
Offers rapid and accurate smoke detection
It comes with a 5-year warranty
The X-Sense XS01-WT smoke detector with Wi-Fi connectivity has a compact design that will not take a lot of space when installed.
Cons
You'll have to replace the battery after a year.
You cannot sound the alarm via the app.
It will not notify you if the alarm does not connect to Wi-Fi.
You cannot interconnect multiple units. You have to get the XS01-WR in order to enjoy this feature.
Some users complain that this smoke detector will also go off randomly without notice. However, that will happen if you do not install it properly. Make sure to follow the installation manual for proper placement.
How the X-Sense XS01-WT Wi-Fi smoke detector works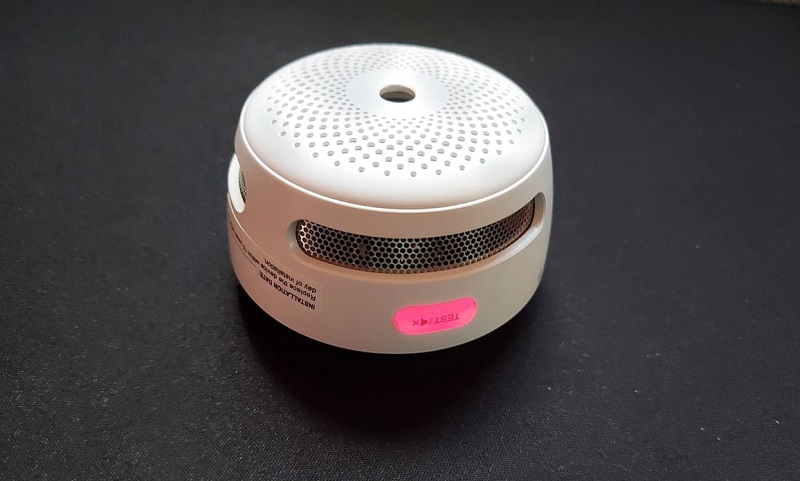 The X-Sense XS01-WT Wi-Fi smoke detector works like any other traditional smoke detector. It has a photoelectric sensor that will detect dangerous smoke in the air and sound an alarm immediately.
But during installation, the first thing to do is connect the alarm to your 2.4 GHz Wi-Fi connection then download and install the app.
So, when the alarm goes off, and you are not at home, you will receive a real-time notification on your phone that gives you enough time to respond.
Apart from notifying you after detecting smoke, you will get instant notifications whenever something is wrong with the battery, smoke sensor, or Wi-Fi connection.
What are the features of the X-Sense XS01-WT Wi-Fi smoke detector?
In our X-Sense XS01-WT review, we found these features that make the Wi-Fi smoke detector an ideal unit for protecting your home against fires.
Photoelectric sensor
The unit comes integrated with an advanced photoelectric sensor that quickly detects dangerous smoke in the air.
Insect-proof screen
The alarm features an integrated screen that will prevent insects from damaging the unit. The screen ensures the alarm's long-term accuracy, sensitivity, and reliability.
Lithium battery
The alarm has a 3V CR123A lithium battery that will work for only a year. You will have to replace it by purchasing a new one from the official store since it is unique.
Silence button
The alarm has a silence button that you can press to cancel false alarms that may occur because of kitchen fumes or cigarette smoking.
You can turn the silence button on using the app, especially when you want to test if the app is connected to the alarm.
TuyaSmart/Smart Life app
Since the unit sends you notifications on your phone, you have to install an app. The alarm uses the TuyaSmart/Smart Life app. You can download it for Android or iOS phones.
After signing up, you can use it to connect the device to your app and ensure a successful connection.
How to install the X-Sense XS01-WT Wi-Fi smoke detector
When you buy the X-Sense XS01-WT Wi-Fi smoke detector, you will get one alarm unit, a mounting bracket, two screws, two anchor plugs, a pin, and a user manual.
Once you have the items, here is how to install the alarm:
Use the mounting bracket to mark two screw holes on the ceiling or the wall.
Drill holes on the two marks you have made.
Insert the two anchor plugs in the holes.
Screw the mounting bracket using the two screws.
Attach the alarm unit to the mounting bracket.
Lock the alarm in by turning it clockwise.
At this point, test the smoke alarm to see if it works. You can test the alarm by pressing the test/silence button.
Expect the alarm to beep three times and the LED indicator to flash red and then flash blue rapidly for a few seconds. That will indicate the alarm has connected and will enter standby mode after the test ends.
How to connect your X-Sense XS01-WT to the TuyaSmart Life app
Download the TuyaSmart Life app from your respective app store and install it on your device
Launch the app
Ensure your smartphone is connected to the same WiFi network that you wish to connect the smoke detector.
Click on Add Device (Orange circle with a + sign)
Wait for the app to detect the X-Sense smoke detector. Don't shift the device to avoid making the network unstable.

TuyaSmart Life app should detect the X-Sense smoke detector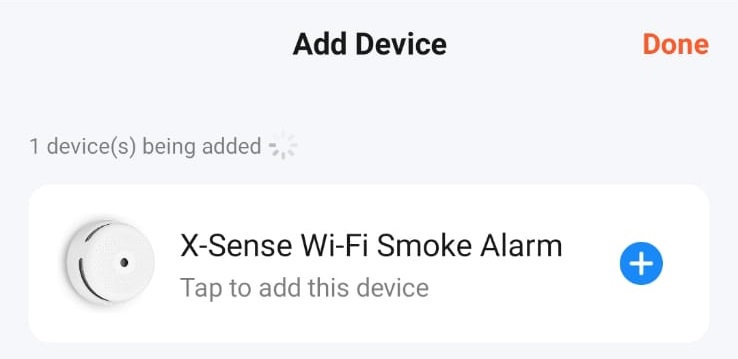 Click on the smoke detector on the app to link it to the device. The smoke detector should blink blue rapidly. You will see a green check mark once they are linked.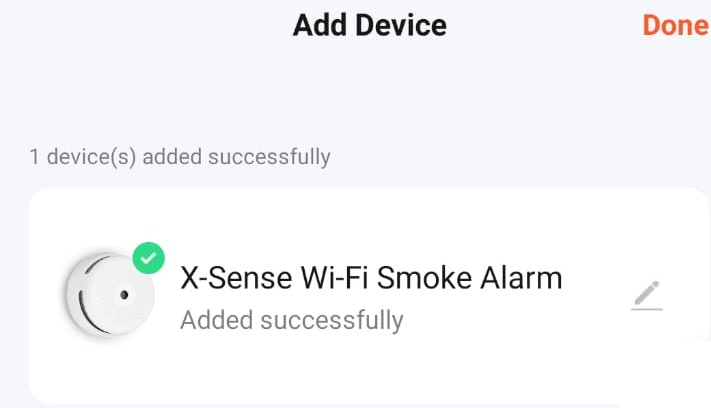 Click on the X-Sense smoke detector on the app to perform a test. Click Test when the Notification Test popup shows up. Your smoke detector should beep to confirm that it is working.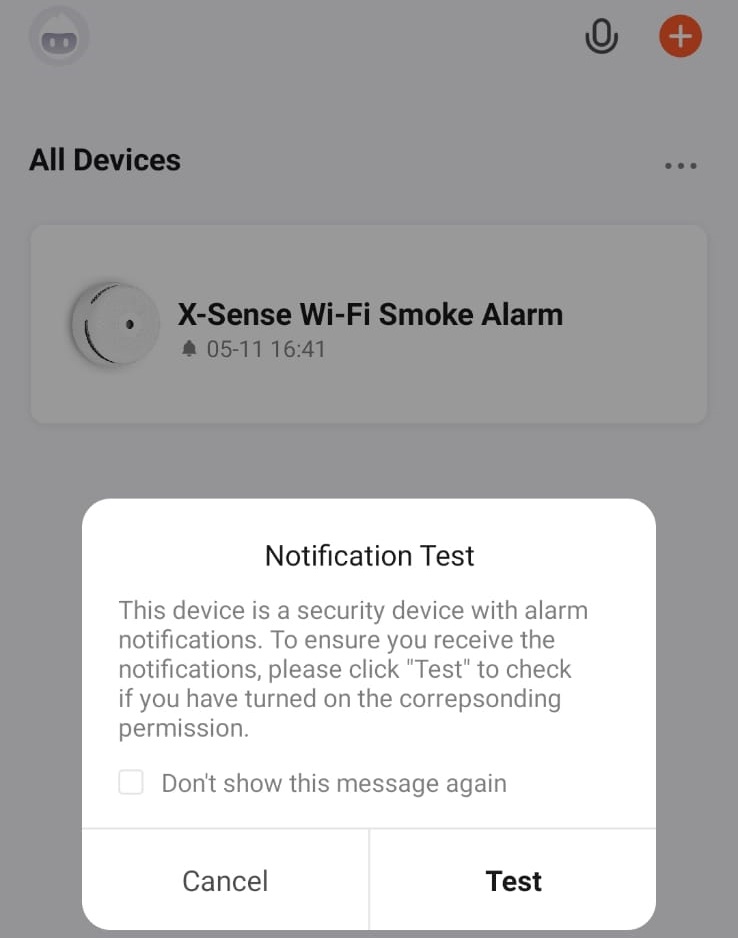 You have now connected the X-Sense XS01-WT to the Tuya Smart app.
I tested the smoke detector in a safe environment and quickly detected smoke. It also sent a real-time notification to my phone with a notification.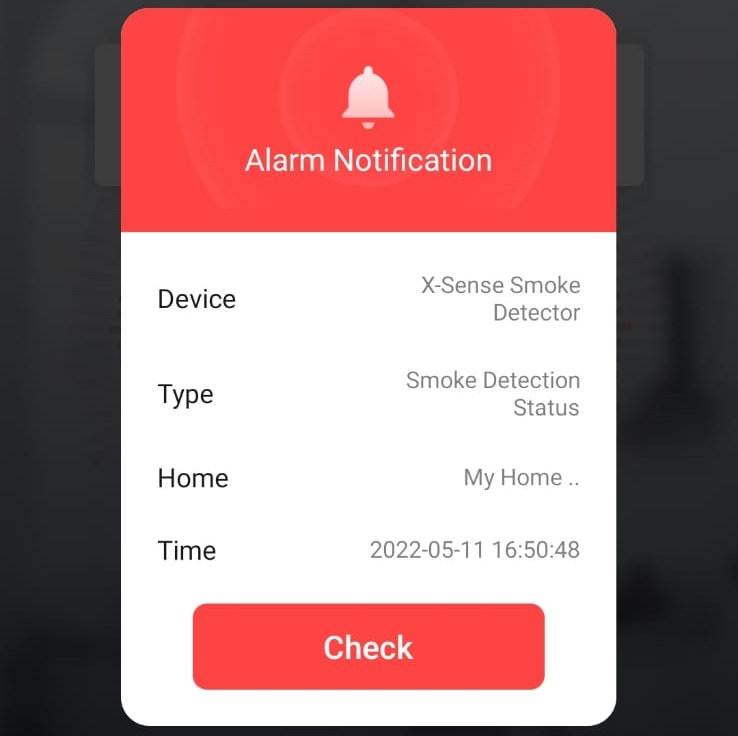 How much does the X-Sense XS01-WT Wi-Fi smoke detector cost?
The X-Sense XS01-WT Wi-Fi Smoke Detector is an affordable smoke detector that costs only $39.99 on Amazon.
But if you want to pay less, you can buy it from its official store at $36.99. Note that the price is subject to change.
Is the X-Sense XS01-WT Wi-Fi smoke detector worth it?
After reviewing the X-Sense XS01-WT personally and comparing it with customer reviews online, it is definitely worth buying.
The smoke detector is accurate, convenient, and will send notifications right to your phone. Besides, it is affordable.
However, it is worth noting that you can't interconnect it with similar smoke detectors so that an alarm sounds on each one of them whenever smoke is detected.
For this, you might want to go with the XS01-WR Link+ that has an 820 feet transmission range.
On the other hand, if you are looking for a combination smoke and carbon monoxide detector, you should consider the X-Sense SC07-W.
Related posts