By now, you must have realized that getting rid of odors from a small or large commercial space isn't easy.
Whether you own a food business or a company that deals in products that have smells, when odors accumulate, it can be difficult to hang around.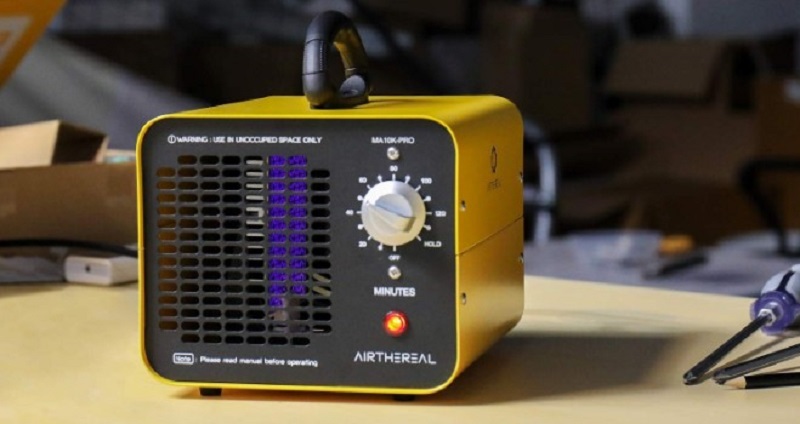 From tobacco smoke and mold to fire damage, garbage, mildew, and kitchen odor, you need a unique and effective method to eliminate these smells.
Remember that overexposure to some odors has major effects on your health besides just causing discomfort. This is why you need a method that removes all odors completely rather than masking them.
When it comes to mold and odor removal in commercial spaces, nothing does a better job than a good commercial ozone generator.
The best commercial ozone generator – Our top 5 picks
Here are the best considerations if you are looking for an effective ozone generator to fight different kinds of odors:
| PRODUCT | OUTPUT | COVERAGE | PRICE |
| --- | --- | --- | --- |
| OdorStop OS12500 | 2,000-10,000mg/h | 12,500 sq.ft | |
| Enerzen High Capacity | 11,000mg | 4,000 sq.ft | |
| Airthereal MA10K-PRO | 10,000 mg/h | 2,000 sq.ft | |
| Mammoth 7,000 | 7,000 mg/h | 2,000 sq.ft | |
| OdorFree Estate 4000 | 1500-2800 mg/h | 4,000 sq.ft | |
1. OdorStop OS12500UV Ozone Generator with UV (Best Overall)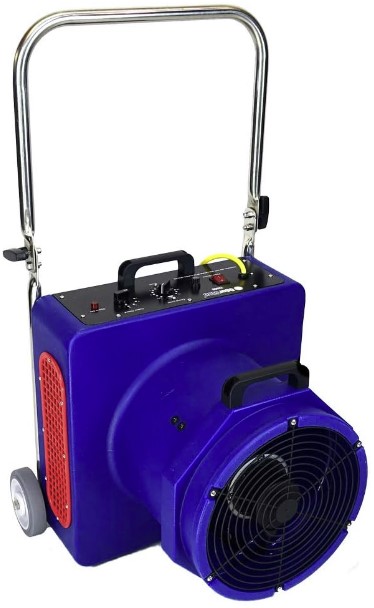 The OdorStop OS12500UV Professional Grade Ozone Generator is the industry's leading ozone generator.
The OS12500UV is perfect for sanitizing and deodorizing medium to large spaces.
It is ideal for homes, hotel suites, offices, apartments, restrooms, condos, and basements.
You can use it to eliminate all odors caused by mold, mildew, smoke, fire, tobacco, flood and water damage, and cooking smells.
Some of its features include:
Variable ozone output from 2,000-10,000mg/h
A 12-hour timer with a hold option
Room coverage of up to 12,500 square feet
Aluminum body
Two plates and Ultraviolet light
The OS12500UV comes with UV light to give it extra sanitizing power. Equipping it with the UV function, the machine can kill bacteria faster, even when the ozone output is low.
Also, its two plates are easy to clean without separating the whole unit.
2. Enerzen Commercial Ozone Generator (Best for large spaces)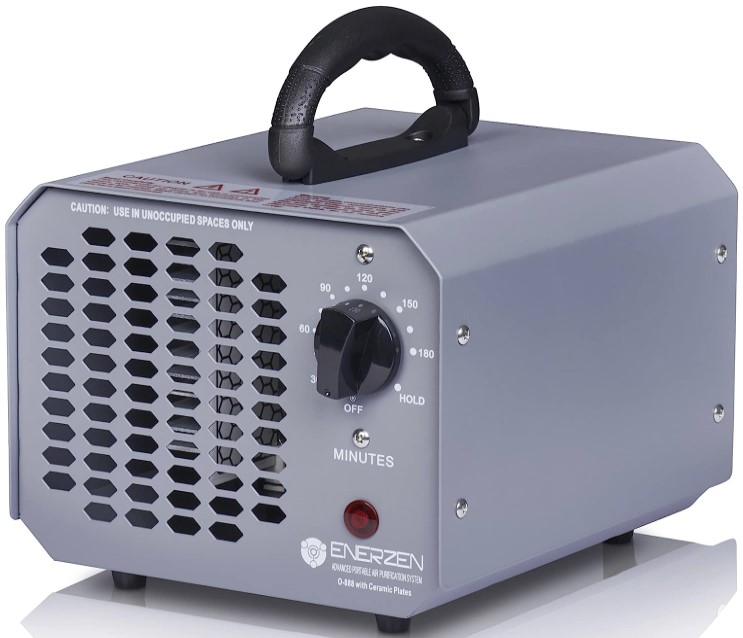 The Enerzen Commercial Ozone Generator is an 11,000mg industrial air purifier, deodorizer, and sterilizer. It has a larger fan that can sterilize large square footage of room space.
As a commercial-grade air purifier, the Enerzen 11,000mg is powerful enough to eliminate virtually all odors.
You can use it to eliminate cigarettes, cigars, paint, dust, smoke damage, water damage, cooking odors, and other airborne smells.
Its features include:
Ceramic ozone plates that provide increased usage hours
Uniform ozone output to minimize the need for re-treatment
Washable stainless-steel filter
180-minute timer with HOLD function
This Enerzen ozone generator unit has a new, improved design that is easy to carry and store. When in use, it produces ultra-low energy to save costs.
It also comes with an industrial-grade aluminum alloy casing which will keep the machine clean for many years.
3. Airthereal MA10K-PRO Industrial Ozone Generator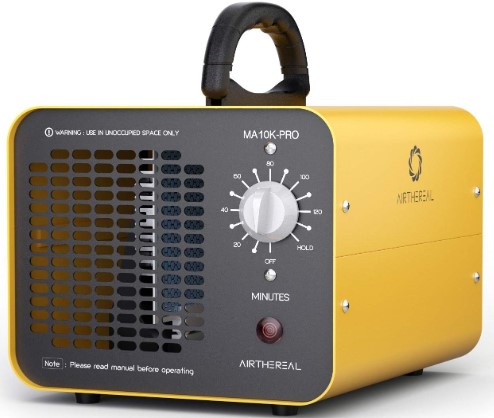 The Airthereal MA10K-PRO is an odor-elimination machine with an ozone output of 10,000mg/h. It is a high-capacity ozone air cleaner for commercial spaces.
Because of its high capacity, you can use it to remove all types of smells from offices, restaurants, hospitals, hotels, schools, laboratories, farms, and more. Some of its features include:
120 minutes timer
Room coverage of up to 2,000 square feet
20,000-hour or 5-year service life
Easy operation
Minimal maintenance of its plates
The Airthereal MA10K-PRO allows you to increase the treatment frequency and duration to eliminate bad smells. Because of its two-hour timer, you can set the machine to run unattended.
According to many commercial ozone generator reviews, the unit works best when used at least twice a week.
4. Mammoth 7,000mg Commercial Ozone Generator (Best for medium rooms)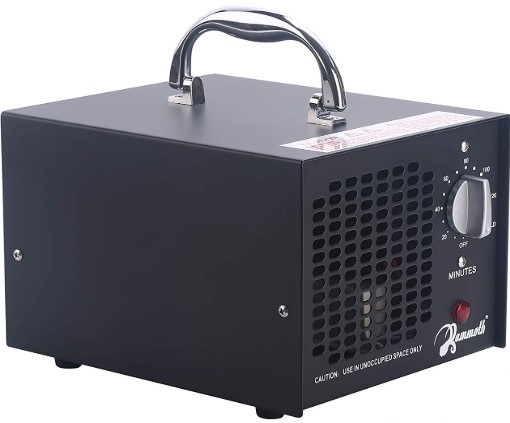 If you are looking for a high-capacity ozone generator for your business, the Mammoth 7,000mg Commercial Ozone Generator is what you should consider.
The Mammoth 7,000mg has an improved design and a larger unit. It can produce up to 7,000mg of ozone per hour. That is higher enough to sterilize larger square footage of room space.
Some of its essential features include:
A larger fan that produces more ozone
Improved timer unit
Proprietary ozone plates that diffuse more ozone efficiently
One-year warranty
The Mammoth 7,000mg is an industrial-grade air purifier that destroys odors instead of masking them. It utilizes activated oxygen technology to oxidize and eliminate airborne contaminants like bacteria and viruses.
During oxidation, the process decomposes the molecular structure of viruses, bacteria, and odors. That neutralizes them to ensure they do not return. Once complete, a room will smell clean and fresh.
5. OdorFree Estate 4000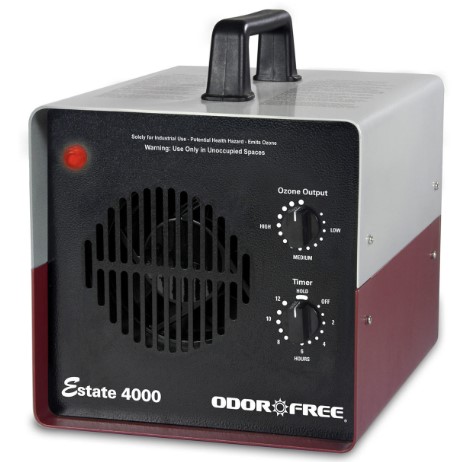 One of the best commercial odor generators on the market is the OdorFree Estate 4000.
The commercial odor eliminator machine is ideal for eliminating all sorts of smells. These include animal, pet, cigarette, chemical, food, cooking, fire damage, fragrance odors, and more.
It has a large ozone output that can cover different types of spaces. You can use it in houses, apartments, condos, basements, cars, gyms, dormitories, hotels, and more.
Some of its features include:
A one to twelve-hour timer with a manual treatment option
Covers rooms of up to 4,000 square feet
Adjustable ozone output from 150mg/hr to 2800mg/hr
Five-year warranty
The OdorFree Villa 4000 works by taking in oxygen and converting it to ozone. After the conversion, the ozone will fill every unoccupied space.
It will then break down all odor molecules and kill microorganisms. Its plates are easy to clean, and the whole unit is easy to maintain.
Why use an ozone generator to fight odors?
Ozone generators are a class of air purifiers that use ozone (O3) to eliminate odors.
The O3 produced is powerful enough to inhibit mildew, mold, and germs. Furthermore, these machines can deodorize all living spaces.
That is because they can neutralize all forms of malodorous smells with ease.
Through proper use, ozone generators can effectively eliminate nasty smells in your business area and ensure they never return.
But you need the best commercial ozone generator to fight odors effectively.
Found your ideal machine?
If you want to buy the best commercial ozone generator, consider one with a large ozone output. Also, the best O3 air purifier is one that can cover a large room of over 2,000 square feet.
Ensure to follow the manufacturer's instructions when using the machines. That is because ozone is dangerous to humans. In most cases, you will have to wait up to two hours after treatment to return to the room.
Related: