We cannot solely depend on our lungs for air purification, especially when it comes to eliminating odors. This prompted the genius invention of ozone generators.
In this guide, you will get to find out the good and bad features of Enerzen 6,000mg commercial ozone generator and whether it deserves your money.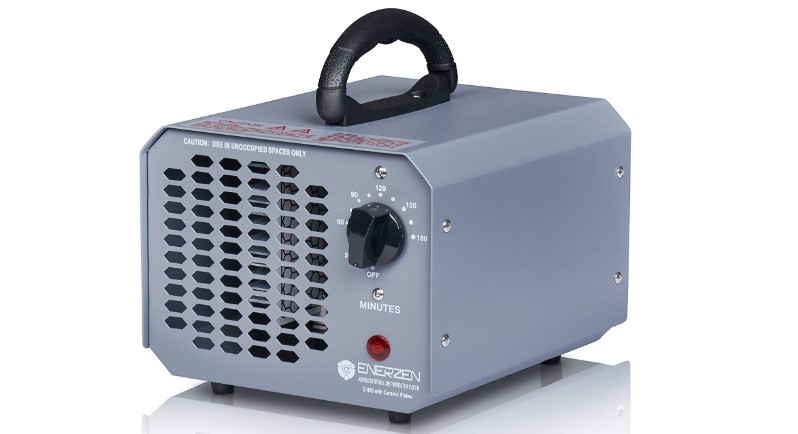 Over the past ten years, Enerzen has earned a reputation as one of the top manufacturers of air purifying appliances, and the Enerzen 6,000mg ozone generator is one of their marquee products.
Find out below whether it lives up to previously set standards.
Pros
Works well to remove persistent odors than chemicals or air fresheners
It has a compact and portable design that allows you to use it anywhere whether in the house or car.
Energy-efficient and comes with a timer that allows you to control how long it will be in use.
Its ozone output allows it to sterilize more square footage.
Cons
The cord is quite short, which might be inconveniencing especially when using it in a large room or car.
The noise level is a bit too high compared to other quality units.
How it works
The Enerzen 6,000mg uses an electric discharge to produce ozone. It works by splitting the oxygen molecules into two, which forms ozone gas.
When pollutants come into contact with ozone, an oxidation reaction occurs, and both parties are destroyed. Ozone then reverses back to oxygen.
The unit comes in handy during times of fire restoration to remove smoke or when you have a mold or mildew problem, as it eliminates moisture. It is suitable for home as well as general commercial use.
Outstanding features
The difference between this Enerzen ozone generator and other industrial ozone machines is its exceptional features. Below is a review of a few of the main ones;
Design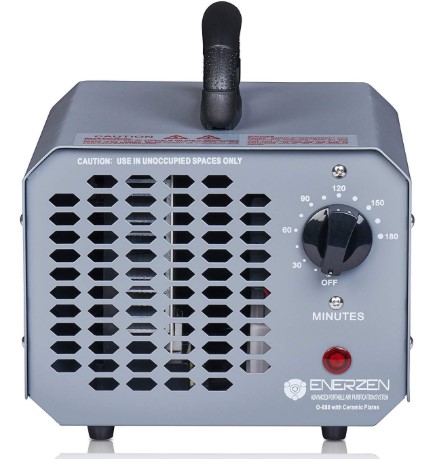 The device comes in a sleek jet-black color that blends with its surroundings. It is also available in gray and blue.
The material is industrial-grade steel which is about 5 pounds. You can stash at only 6.8 x 8 x 5.8 inches in a cupboard, for it is very compact.
Timer
Even though DKMHA did it first, Enerzen seems to be keeping up as they finally added a hold function to their timer. This is after many concerns over the health effect of ozone inhalation.
The timer is, however, very impressive. You can have more productive treatment sessions with variations of up to 180 minutes.
Ozone output
At about 6ooo mg/h ozone production, the Enerzen ozone generator can comfortably eliminate odors in large rooms.
However, consider the Airthereal MA10K-PRO or the OdorStop OS12500 if you need a product that works well in large commercial spaces.
Fan size and filters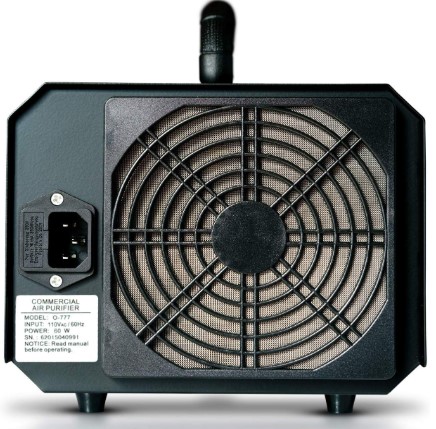 The fan size is 40% bigger than its predecessor, allowing it to cover more room, up to 90 cm (cubicle feet per minute) and purify the air faster.
This touch gave it additional points with eco-friendly enthusiasts, and it will save you electricity.
The filters are detachable and washable. This is very convenient if the device is regularly in use. It also saves you costs since instead of replacing the whole filter unit. You'll just dismantle and wash. The material is stainless steel to prevent rusting.
Price
For a product of its quality and functionality, the Enerzen generator is reasonably priced.
However, you should consider getting premium models such as the OdorFree Villa 3000 or the OdorStop OS2500UV for the best functionality.
Ceramic ozone plates
The ceramic material enables it to improve operating time for a few hours while maintaining consistent ozone output. This will reduce the need for re-treatment as one shot will be enough.
CE and ROHS certification
Ozone can be a huge health hazard. It is, therefore, worth getting products that have taken necessary measures to improve safety while in use. The Enerzen ozone generator has a CE and ROHS certificate.
The CE implies it conforms to European products' health, environment, and safety standards. Additionally, its ROHS certificate guarantees its safe from hazardous materials often used when making electrical products.
Should you buy it?
The Enerzen 6000mg commercial ozone generator is one of the best ozone generators for home use if you are looking to eliminate musty and smoke odors in small or medium-sized rooms.
However, if you are looking for a more powerful product that works for a shorter time and gives better results, consider the OdorFree Villa 3000 or the OdorStop OS2500UV.
Related: