Homeowners have different ways of eliminating bad odors in their homes. Some use harsh chemicals and bleach, while others prefer scented candles and air purifiers. The problem is that most chemicals used are dangerous.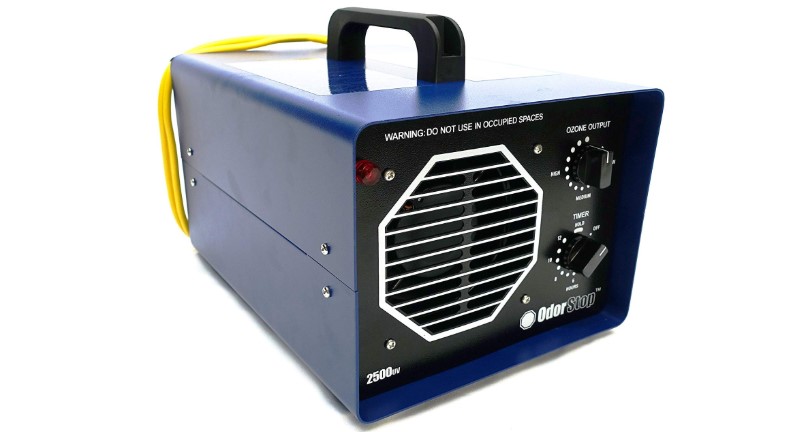 Air purifiers and scented candles, on the other hand, leave behind microbes and odor-causing bacteria. So, what is the best solution? Use an ozone generator. The OdorStop OS2500UV Professional Grade Ozone Generator with UV is one such device, but how does it perform?
The OdorStop OS2500UV, just like any other ozone generator is designed to eliminate odors and kill bacteria that cause bad smells. Unlike air fresheners that mask odors, ozone generators actually remove the odor. Once you deodorize an area, it will smell clean and fresh.
This ozone generator review will be discussing why or why not you should consider purchasing the OdorStop OS2500UV Professional Ozone generator to eliminate odors in your home.
Pros
Ideal for both home and commercial settings
Offers an added benefit of ultraviolet filtration of viruses and bacteria
Can run continuously with the ozone on a low level and kill bacteria at a high rate
Treats an area of up to 2,500 square feet
Has a 12-hour timer with a constant hold option
Has a 30-day money-back guarantee with a 5-year warranty
Cons
It is expensive compared to other similar units
May take longer to remove mold and mold smells
Needs a learning curve for new users
How it works
The OS2500UV generator producers electrically charged ozone, which attaches to the smells that are causing microbes in your home. That attachment modifies the molecular structure of the particles that are causing the bad smell. It then breaks them down and kills them.
When in operation, the generator will produce enough ozone that will go through walls, lighting fixtures, carpets, and air ducts. The penetration will kill the bacteria that are causing those nasty smells in your home.
This ensures the odors do not return to your home. It will deodorize the area and leave it smelling clean and fresh.
Features of the OdorStop Professional Grade Ozone Generator
Some of the features of the Odorstop OS2500UV generator include: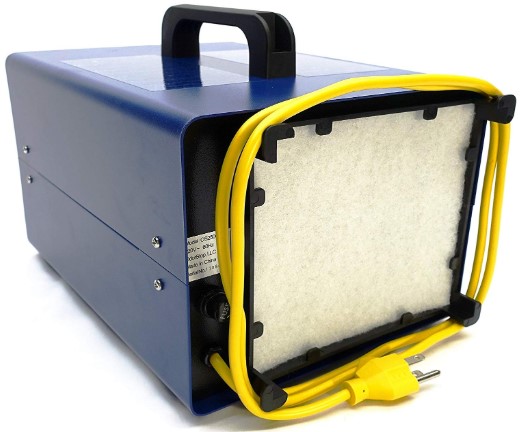 The OdorStop OS2500UV has an aluminum body. It weighs around four kilograms, which means it is lightweight to carry around.
The unit also measures 12.5 x 9 x 7.5 inches. Its size is small enough to ensure you can store it anywhere without taking much space.
The unit can cover a room of up to 2500 square feet. It is the best for sanitizing and deodorizing medium to large areas like hotel suites and homes. That's why it is featured among the best ozone generators for home use.
Although it produces enough ozone to penetrate through walls and ceilings, you have the option of moving it from room to room. Or, you can use the HVAC system, closet return vent, or furnace to circulate the ozone.
The OS2500UV comes with two filters. Both are long-lasting and can help to run the machine for prolonged hours.
Replacement parts are available if needed. You need to clean the filters periodically depending on its usage and the environment.
The unit comes with stainless steel mesh ceramic ozone plates. An advantage with the plates is that they can run for several hours throughout the sanitization process. They are easy to install, remove, and wash.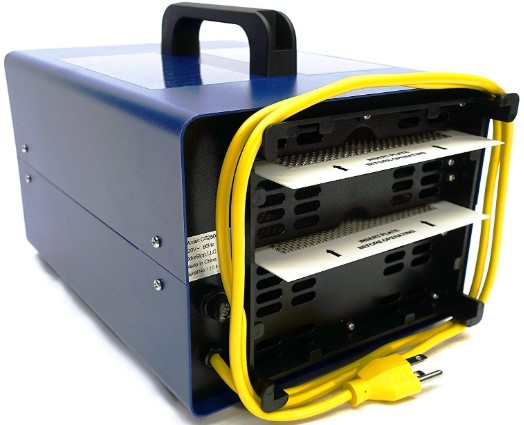 The unit comes with a 12-hour timer that includes a constant on (hold) option. You can set it to run for a few minutes or hours, depending on how much cleaning you want the machine to do.
The unit has a variable output of 100 mg/h to 1080 mg/h (milligrams per hour). Higher output means it will take less time for the machine to eliminate all odors in your home.
Because of the variable output, you can adjust how much ozone it should produce. The OdorStop 2,500mg/h output is ideal for commercial spaces like car garages and manufacturing facilities.
The OdorStop OS2500UV Professional Grade Ozone Generator with UV costs about $200.00. The pricing might have changed from the time of writing this review. You can, therefore, check its current price here.
This OdorStop ozone generator review opines that the amount is higher compared to similar units. Machines with the same ozone output and room coverage cost less than that amount.
However, the price is driven high by this device's strong build and unmatched functionality.
The machine comes with a 5-year warranty. That gives you enough time to use and experiment with it. It also assures you of its general quality.
Should you get the Odorstop OS2500UV?
The OdorStop OS2500UV is among the best for purifying the air in your home. Based on its capacity to work as advertised, this review rates it at 4.3/5.0. If you need a better alternative, check out the OdorFree Villa 3000 but if you want a cheaper option, the Enerzen 6,000mg ozone generator provides value for money.
Related: