The OdorFree Villa 3000 ozone generator is a machine used for killing mold, removing tobacco smell, musty smells, and pet odors at their source. This ozone generator can treat a large space of up to 3,000 square feet and leave it smelling fresh.
The machine is applicable for both home and industrial use and can produce an ozone output from 150 to 1,800 mg per hour. This OdorFree Villa 3000 review shall look at the important features that make the product worth considering.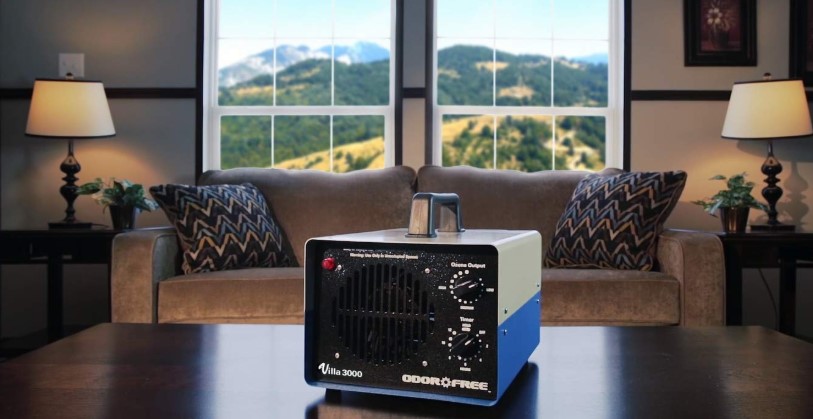 While the OdorFree Villa 3000 can eliminate many indoor odors, it is best utilized for situations that are not ongoing. In other words, it may not be effective at removing odors from commercial kitchens that continuously produce different types of smells.
For the Villa 3000 air purifier to work well and without being a health hazard, you must set it in an unoccupied space.
Pros
Eliminates odors naturally at their source.
It can eliminate many types of smells, including chemical, fire damage, paint, mold, nursing, gym, and food and cooking odors, among others.
It has a convenient 1-12-hour timer that ensures the machine runs for longer and turns off automatically after sanitization.
Easy to operate
Its plates are easy to remove and clean.
Cons
It only comes with three ceramic plates and no extra ozone plates.
Quite expensive compared to similar products.
How it works
When powered on, the Villa 3000 ozone generator will take normal oxygen and convert it into ozone. The ozone will fill a room of up to 3,000 square feet in space.
As a powerful oxidizer, the ozone will break down odor molecules, microorganisms, and pollutants at their source. That will leave a room smelling clean and free of bad smells.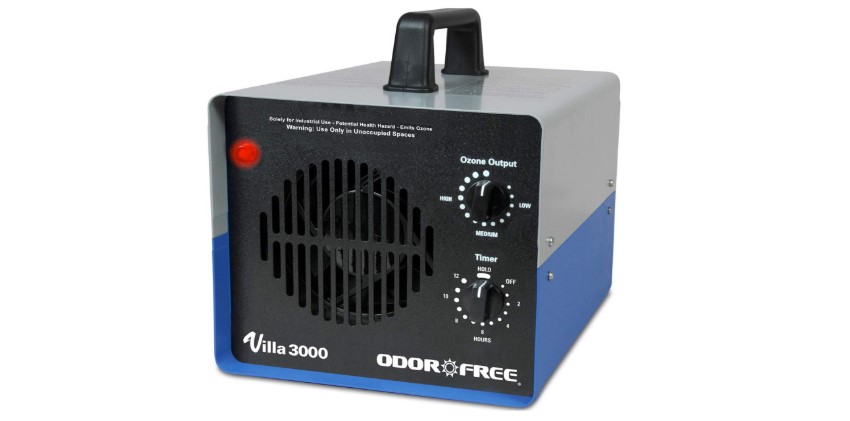 After freeing a room of bad smells, you will not have to saturate it with fragrances. The unit will be effective at attacking mold spores, mildew, and mold.
Since it will produce ozone at high levels, the ozone will deteriorate cell structures of all microorganisms and break down their ability to reproduce.
As the machine fills an entire room with ozone, it will sanitize the interior surface. That includes floors, furniture, closets, ceilings, and clothing. After using this ozone generator for home use, you must wait for at least two hours before occupying the space.
Features of the OdorFree Villa 3000 ozone generator
Here's what to expect when you get this ozone generator:
The ozone generator measures 14.5 x 11.1 x 10.9 inches. It weighs 9.75 pounds (4.42 kg). Because of its design dimensions and weight, it is easy to carry around and does not occupy much space.
The OdorFree Villa 3000 Ozone generator will cover a room space of up to 3,000 square feet. That means you can use it to eliminate odors in the whole house without having to go room by room.
Also, you can use it in commercial spaces such as restaurants and garages.
The machine has an ozone output of between 150 and 1,800 mg per hour. Unlike some machines, this generator has an adjustable ozone output.
More ozone mass provides more ozone dosage into the air. That helps to eliminate bad odors more effectively.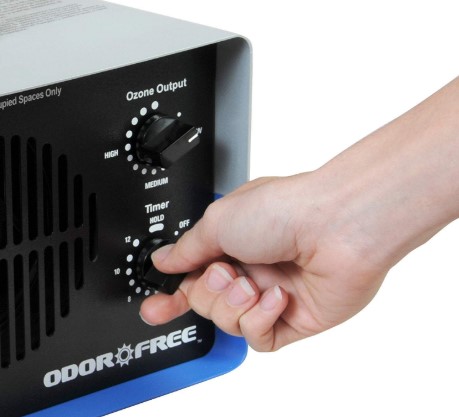 The machine comes with a filter that traps indoor air pollutants. By trapping them, this helps to avoid the creation of a chemical reaction with the contaminants.
It has three ceramic plates that are easy to clean, maintain, and replace. The company that sells the generator provides extra plates if you need them.
The generator has a 1-12-hour timer that you can set depending on the level of odors and the size of a room. You can turn the timer dial to the "Hold" position for continuous treatment.
You can buy the ozone generator from many online stores. Given its current pricing on many online stores, its price is higher compared to similar products such as the Enerzen.
Verdict
Because of its features, design, functionality, and price, this OdorFree ozone generator review rates the machine at 4.5/5.
The OdorFree Villa 3000 Ozone Generator is one of the best machines for eliminating all kinds of indoor smells. It generates an ozone output of up to 1,800 mg per hour, which is enough to break apart odor molecules and kill microorganisms.
Related: