Are you looking to remove lingering odors from your home and sanitize air for breathing?
Well, there are a couple of air purification devices that can mask odors. However, if you are looking for something that can break down odor molecules and eliminate them completely, then an ozone generator is your best choice.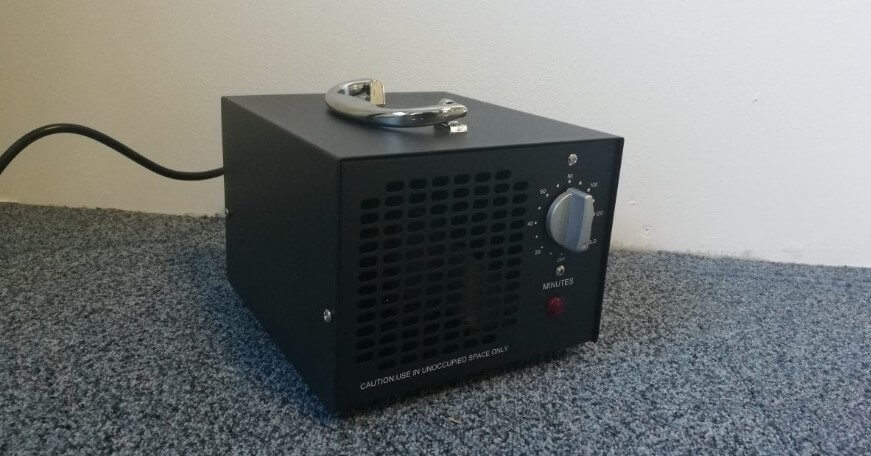 The problem is that too many ozone generators are in the market, and it can be difficult to choose the best.
That's why we have spent hours of research to create this guide that contains reliable information to help you easily choose a reliable ozone generator that you can be sure will be effective in odor removal.
Just make sure to select one that is rated to work effectively on the room size you intend to use it.
Best ozone generator for home use – our top picks
Here are the best ozone generators for home use:
PRODUCT
COVERAGE
(sq ft)
MEASUREMENTS
(in)
OUTPUT
(mg)
PRICE
OdorStop OS2500UV
(Most effective)
2,500
12.5 x 9 x 7.5
1,400
Enerzen 6,000mg
(Best for large rooms)
2,500
6.8 x 8 x 5.8
6,000
OdorFree Villa 3000
3000
14.5 x 11.1 x 10.9
1,800
Airthereal MA5000
1,000
6.8 x 7.4 x 6.8
5,000
Ozone Power 3500
4000
9 x 9 x 7
4,000
Vivosun Mini
(Best portable)
100
7.9 x 5.2 x 3.1
50
Green Air Deluxe 3
3500
14.7 x 12.4 x 10.8
1,680
1. OdorStop OS2500UV ozone generator – Best overall
Our top-rated device, the OdorStop OS2500UV ozone generator, is a machine that helps to deodorize and sanitize medium to large spaces. You can use it at home, offices, apartments, hotel suites, basements, and condos.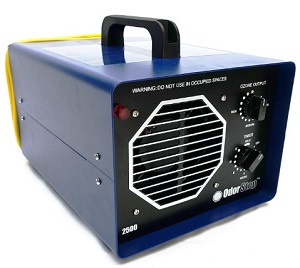 When in use, the unit will eliminate all odors caused by tobacco, mildew, smoke, fire, water and flood damage, cooking smells, and animals. This ozone generator for domestic use is lightweight and has a variable ozone output from 100 to 1,400mg/h.
The OS2500UV also comes with a UV light that offers additional sanitizing power. The UV light will kill bacteria at a higher rate even when running the ozone on low.
Such a feature is useful for motels, hotels, and other areas that cannot run the ozone on high.
Pros
The unit comes with a 5-year warranty and 30-day money-back guarantee.
It is easy to operate. You only have to set the timer and leave.
It is easy to keep the unit clean, remove the plates, inspect, and replace them.
2. Enerzen 6,000mg Ozone generator – Best for large rooms
This Enerzen 6,000mg Ozone generator is a commercial-grade ozone generator, air purifier, deodorizer, and sterilizer that can also be used at home. It is a powerful machine that helps to inhibit mildew, mold, and fungus growth.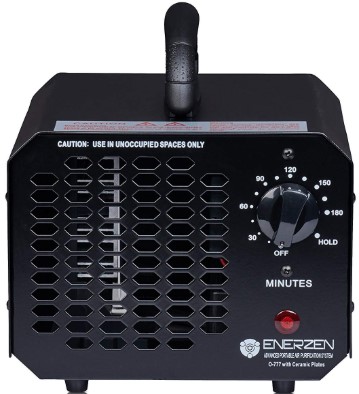 The ozone generator helps to eliminate virtually any odors. You can use it to remove mal-odors from cigarette and cigar smoke, mold, pet odors, paint and cleaning fumes, water damage, dust, smoke damage, and cooking odors.
The Enerzen 6,000mg is a professional grade O3 generator and purifier that can destroy odors and leave behind a fresh smell.
This is unlike other cleaners and purifiers that only mask odors after an operation. A big advantage of the generator is its design. Enerzen 6,000mg has an energy-conscious design.
When in operation, it will guarantee ultra-low energy usage. Moreover, the ozone generator has a durable metal casing. It is durable and will keep it cleaning, purifying, deodorizing, and sterilizing for many years.
Pros
The generator has a lightweight and compact design. You can use it virtually anywhere.
It comes with a timer that allows you to control the purification time.
It can help you save money because of its ultra-low energy usage.
Cons
Has only one control – the timer
The Enerzen 6,000mg Commercial Ozone Generator is the best to use in your basement to eliminate the musty smell.
3. OdorFree Villa 3000 – Best for smoke odors elimination
The OdorFree Villa 3000 is an ozone generator for removing tobacco, musty, and pet odors. Also, it kills mold at their source.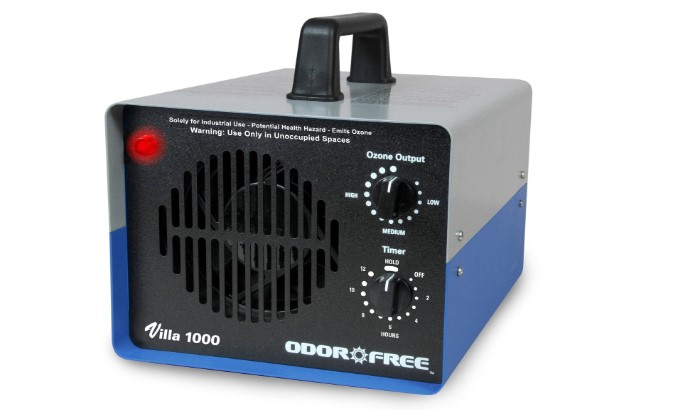 It works by converting normal oxygen levels to ozone filling every inch of an enclosed space. As a powerful oxidizer, the ozone will break down the odor molecules in a room and kill microorganisms.
The unit comes with a convenient 1-12 hour timer. With this timer, you can manually set the ozone generator to treat your space for longer.
OdorFree Villa 3000 ozone generator will cover up to 34,000 square feet of space. Moreover, its output is from 150-1800mh/hr and comes with a filter and plates.
Pros
It is easy to use and maintain the unit.
The unit has a 5-year warranty.
Ideal for treating larger areas of up to 40,000 cubic feet.
Cons
It is expensive compared to other similar units.
OdorFree Villa 3000 ozone generator will fill your room with a strong dose of an ozone treatment to purify the air, remove musty smells, and kill germs. Read the full review of the OdorFree Villa 3000.
4. Airthereal MA5000 – Best for persistent odors
The Airthereal MA5000 is a small ozone air purifier, sterilizer, deodorizer, and air ionizer for smoke, rooms, pets, and cars. It is a machine you can use to remove tough odors from your surroundings.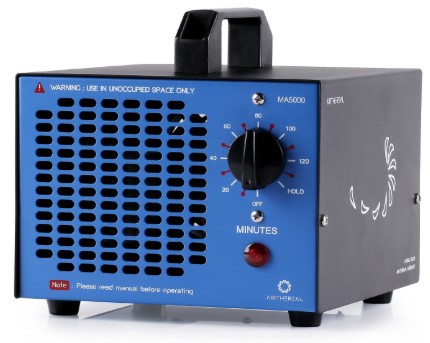 You can use it to sterilize your space from viruses and bacteria. With one setting, the ozone generator will attack odors in your area at their source. After the operation, your surroundings will smell fresh and clean.
The Airthereal MA5000 comes with a timer function. You can set the timer up to 120 minutes to allow the machine to operate. Also, the unit has a Hold mode that will keep it on for prolonged hours.
The unit is ideal for homes, offices, pet areas, cars, a musty basement, and water and fire-damaged areas.
Pros
It is safe, effective, and easy to operate.
It is fast. The unit has a treatment time of 10 to 60 minutes, depending on the space.
The machine has a compact design that makes it portable and energy-efficient.
Cons
May leave a lingering ozone smell if overused in a large room.
It may not be effective at eliminating dust and other particles.
To maintain an airy balance in your home, use the Airthereal MA5000 ozone generator twice a week.
5. Ozone Power 3500
The Ozone Power 3500 is a home and commercial-grade air purifier, cleaner, and ozone generator. It works by controlling and eliminating odors from surrounding spaces. These spaces can include homes, cars, and offices.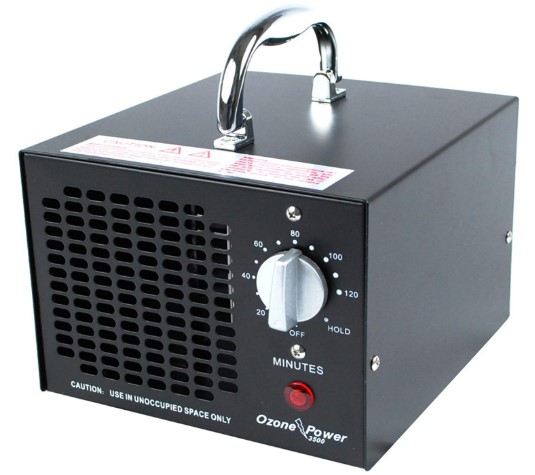 After the operation, the unit will destroy all odors and leave the air pure and clean. You can use the machine to eliminate different types of pollutants. Some of these include smoke, pet odors, paint, and musty basements.
The Ozone Power 3500 unit can treat an area within 120 minutes depending on the size. For the inside of a car, the unit will treat the space within 30-40 minutes. It will also purify a medium to large room within 40-60 minutes.
If you want to clean your basement, expect it to work for 60-120 minutes. An entire house will take 120 minutes to purify and sterilize the space.
Pros
The unit can cover a large area of up to 4,000 square feet.
It comes with a 5-year manufacturer warranty.
The unit works best when running in cycles instead of nonstop.
Cons
The unit does not have a variable speed fan or variable output.
Ozone Power 3500 is one of the most compact and easy to use ozone generators. It is effective and will offer excellent results after an operation.
6. Vivosun Mini Ozone Generator – Best portable
Vivosun is a mini ozone generator that helps to purify the air in rooms, homes, and kitchens. It is an air purifier that is specifically designed for domestic use.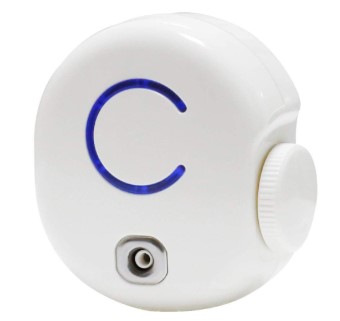 You can use it to clean the air in confined spaces. The unit will work to refresh the surrounding environment.
The machine can remove odors in all rooms and clean the air of pollen, bacteria, fungi, and viruses.
Pros
It is portable, easy to use, and effective.
The unit works quietly with a maximum ambient noise level of 34 decibels.
It is energy efficient.
Cons
Its intensity may reduce after nine months of continued usage.
It is prone to overheating.
If you are looking for a portable ozone generator that will purify the air around you, buy the Vivosun Air Purifier Mini Ozone Generator.
7. Green Air Deluxe 3 Plate – The best technology
The Green Air Deluxe 3 Plate is a HEPA ozone generator and odor-fighting air purifier. When in operation, polluted air passes through the unit's five filters.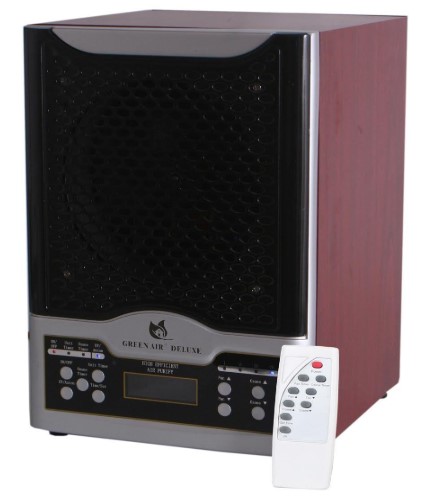 Dirty air first passes through the machine's pre-filter, then to the HEPA filter, odor-fighting filter, and finally to the PCO (Photo Catalytic) filter. Green Air Deluxe is a top-rated ozone generator that features a quadruple air filter system.
Such a filter system ensures the air in your house is clean and pure. Furthermore, the generator features anion emitters. Anion emitters release many negative ions into the treatment space.
The negative ions then attach themselves to airborne dust particles and drop them onto the floor. This advanced function ensures the machine can eliminate dust, animal dander, bacteria, and harmful microbes floating in the air.
Pros
The unit has a blue UV lamp that removes airborne germs and viruses.
It covers a wide area of up to 3500 square feet.
The unit has an unmatched quadruple filter system.
Cons
The unit has an odd interface for setting the ozone timer and fan.
The ozone gas can take longer to dissipate
The Green Air Deluxe is a perfect ozone generator for eliminating all forms of odors.
It can eliminate tobacco smoke, cooking, chemical, paint, and cleaning agent odors.
How does ozone work to remove odors?
Ozone (O3) is a potent gas with a short life cycle. When it comes into contact with a contaminant like odor, virus, or bacteria, it eradicates them through oxidation.
By doing so, the extra oxygen atom (O3) is consumed, and nothing is left.
That means no bacteria, additional particulates, and odor. What is left is clean and pure oxygen. The ozone gas then reverts to oxygen after its consumption.
Uses of an Ozone generator in a home
You can use an ozone generator at home in many ways. These include:
Cleaning the air of dust particles and smoke after a fire.
Clearing indoor air of unpleasant mold and mildew odors.
Eliminating the smells pets produce at home.
Purifying the air in the house.
Providing daily air purification treatment in rooms used often by cigarette smokers, places that are musty from neglect like the basement, and rooms that show signs of mold growth.
You can use an ozone generator to remove odors and airborne contaminants from your home and even your car.
What to look for when choosing an Ozone generator
Ozone generators are versatile and have multiple applications. Some units have different price points and correspond to varying quality levels. Of course, an expensive unit does not mean it has better quality than a cheap one.
While many people look at price when buying ozone generators, buy the unit based on functionality, general design, and features. Things to consider when choosing an ozone generator include:
Ozone output – How much ozone does the unit deliver? For a single room, the unit should deliver 240mg of ozone per hour. For a house less than 1,000 square feet, choose one that can produce 400mg per hour. If your home is more than 2,000 square feet, buy a generator that has an output of 800mg per hour.
Size – Some ozone generators are big others are small. Choose a size that is convenient for you or one you can quickly move from one area to another.
Maintenance – Choose an ozone generator that is easy to maintain and clean. The cost of maintaining the unit and replacing broken or defunct pieces should be low too.
Unit housing – Many ozone generators have stainless steel housing. But choose durable housing for your unit.
Always look at ozone generator ratings before purchasing the unit. Also, consider a warranty and money-back guarantee when buying an ozone generator.
How to use an ozone generator in a home
The best ozone generator reviews would suggest that you exercise safety when using the unit at home.
First, ozone is a highly reactive type of gas and can be dangerous to your respiratory system if inhaled. When using the ozone generator:
Always use it in an unoccupied space – You should not be near your ozone generator when the unit is in operation. It will produce ozone that is toxic to the lungs, sinuses, and air passage.
Use a timer to operate the machine – Ozone generators come with timers. A timer will activate the unit and ensure it runs for a set number of hours. Do not run it for prolonged hours as ozone will harm your home.
Allow the unit time to operate – It should work for at least one hour before shutting off. However, this will depend on your room size or treatment area.
Wait for ozone to settle and revert to oxygen – It will take at least 2 hours for the air in your room to become normal oxygen.
Ozone is a dangerous type of gas, but it is the best thing you can use at home to kill bacteria and remove odors. Always protect yourself when using it. Before using it, read the instruction manual first.
Residential ozone generators produce ozone gas that helps remove odors and kill microorganisms. You can use the best ozone generator for home use to do many things.
For example, you can freshen up your laundry closets, treat tap water, and remove odors from basements.
Other uses of ozone generators
Also, you can use it to cleanse your dentures and toothbrushes. However, the ozone generators mentioned here are meant to produce gas at a high level and should only be used in unoccupied rooms.
An ozone generator mainly works on odors to destroy molecules, bacteria, and spores. The ozone gas is a reactive molecule. It will attach itself to the surrounding molecules and change their chemical structures.
As such, the gas will break down all the odors and leave the air clean and pure. But do ozone generators really work?
Many ozone machine reviews from users suggest ozone generators work most of the time.
You can use an Ozonator to remove odors from things like clothing, the basement, cars, and your home. The best part is that it can remove mold, cigarette smoke, or other smells within hours.
Hopefully, this guide has enabled you to determine the best ozone generator for home use.
The listed ozone generators can remove odors, purify the surrounding air, and kill airborne germs and viruses. Prices for the listed units range from $30 to over $600.
Related: