Are allergies and asthma constant problems that you have to contend with? It can be a really frustrating experience. Luckily, these sensitive reactions to indoor pollution can be managed by acquiring an air purifier.
Air purifiers clean indoor air and eliminate any allergens that can trigger your allergies and asthma. However, there is only one problem –you have to get a good air purifier for the best results. And with many devices on the market, it can be difficult to make the right choice.
That is why we have created this list of the best air purifiers for allergies and asthma. After spending hours researching and testing these devices, we have shortlisted 5 that can eliminate particles and allergens that trigger allergies.
Best air purifiers for allergies and asthma – our top picks!
Here are the best air purifiers for those suffering from allergies and asthma:
1. Alen Breathesmart 45i HEPA air purifier
The Alen Breathesmart 45i air purifier is the best air purifier for allergies and asthma. It is fitted with a 3-1 filtration system that includes pre-filters that capture the large particles.
In addition, its True HEPA-PURE filter cleans out 99.97% of pollen, dander, hair, mildew, fungi, fur, and mold spores while the ionizer removes bacteria and dust. All in all, this feature makes it an excellent air purifier in managing allergies and asthma.
Pros
It contains a SmartSensor to filter out airborne pollutants
Covers an area of up to 800- 1,100 square feet and is appropriate for all room sizes
It cleans 800 square feet every 30 minutes
You can replace the filter every 1-2 years
Cons
Expensive. It may be out of reach to some people.
2. Hathaspace Smart True HEPA Air Purifier
Hathaspace Smart is not only the quietest but also one of the best and most affordable air purifiers for allergies. This device purifies indoor air and at the same time eliminates odors. It has an enhanced True HEPA allergy purifier that clears out 99.9% of allergens such as pollen, dander, pet hair, dust, odors and mold in your living space.
Hathaspace Smart True HEPA also has a carbon filter gets rid of smoke and odors. Its 5-in-1 filtration system will help curb all potential triggers of allergies, especially during spring. This makes it runners up in the list of the best air purifiers for allergies and asthma.
Pros
It has a 2-year warranty
It is appropriate for small and medium spaces of 360 square feet onwards
Has 3 adjustable fan speeds to regulate the speed
It contains an ionizer that rids the air of germs
Cons
It is not efficient for large rooms
May emit a plastic smell on the first use
3. Medify MA-14 HEPA Air Purifier
The Medify MA-14 air purifier is one of the best air cleaners for allergies that is small, compact and high-level performance. It comes with HEPA, which is considered the best air filter for allergies.
The HEPA filters in this device eliminate 99.95% of allergens such as pollen, smoke, and dust which helps to manage allergies and asthma. It also comes with an activated carbon filter which is excellent in eliminating odors and irritating gases.
Pros
Appropriate for small and medium spaces
It cleans 117-470 square feet in 15- 60 minutes
Has an ion generator that eliminates germs and bacteria
It contains a filter replacement indicator
Cons
Has higher noise levels at its best fan speed compared to other fans
It requires frequent filter replacements usually every 6 months
4. Levoit-LV-PUR 131 Air Purifier
The Levoit LV-PUR 131 also features on our list of allergist recommended air purifiers that can help you get rid of pet allergies and asthma. It contains a triple-filtration system that has pre-filters, HEPA filter, and a Honeycomb activated carbon filter for maximum air quality control.
Just like a good number of the best air purifiers for allergies and asthma, this device uses a HEPA filter. Its True HEPA filter that can rid the air of 99.97% of pollen, pet hair, dust, and smoke which are major triggers of asthma and allergies.
Pros
It is efficient for medium and large rooms of about 360 square feet
Cleans 360 square feet within 60 minutes
It does not use (UV-C) light which eliminates asthma sensitivity
It operates with low noise levels of 27 decibels
Cons
Relatively large thereby reducing its portability
It does not clean volatile gases
5. Winix 5500-2 Air Purifier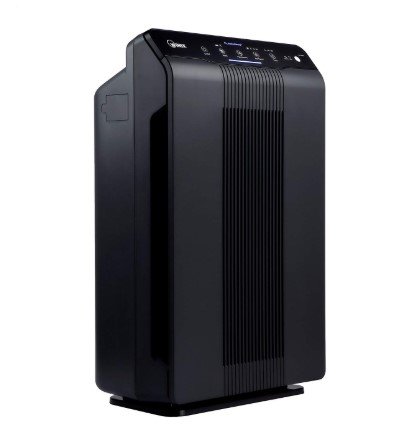 The Winix 5500-2 is an excellent HEPA air purifier for allergies. It provides both air cleaning and odor elimination services through its 3-stage air cleaning process. In addition, it has a True HEPA filter which is also fitted with pre-filters that clean out 99.97% of major allergens such as pollen, dust mites, and pet dander.
The Winix 5500-2 contains an advanced carbon filter that reduces odors, airborne pollutants, and unwanted gases. Above all, it has a unique feature called PlasmaWave technology that enhances its performance by breaking down allergens and air vapors without releasing any ozone which makes it excellent for people suffering from allergies and asthma.
Pros
Appropriate for medium and large rooms of 360 square feet
It has four fan speeds with minimal noise levels
Has a silent night mode for nighttime operation
Cons
Not efficient for small and cramped spaces
Its portability is restricted due to its size
Factors to consider when choosing an air purifier
Your living space: Select one that covers your entire room or home.
Air filter: The best filter for allergies is usually HEPA. However, there are new technologies that work alongside these filters to improve their functionalities.
Type of pollutant: Air purifiers are optimized for different purposes. For example, the best air purifier for pet dander isn't necessarily the best for dust removal or smoke elimination.
Performance: Consider an air purifier's Clean Air Delivery Rate (CADR) and cumulate clean mass (CCM). These measures show the maximum level of impurities it can clean in a set timeline.
Efficiency: The best air purifier should require minimal maintenance without compromising performance.
Conclusion
The above-mentioned air purifiers provide are definitely the best that you can find in the market now. If you are looking for the best air purifiers for allergens and asthma, you cannot go wrong with any of them. Just make sure to select what suits your home best.
Related Articles