Cigarette smells and fumes can cause discomfort to those around you. If you care about your loved ones or would like to gift someone who smokes, getting a good smokeless ashtray should be the first thing on your mind.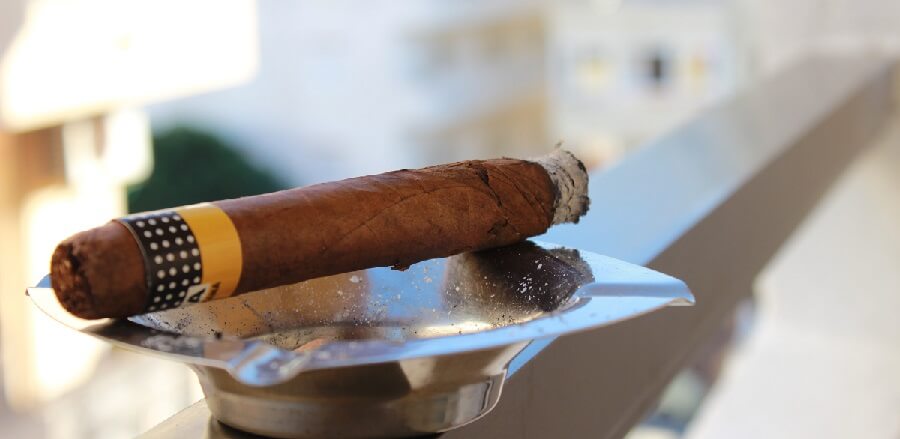 Did you know that a smokeless ashtray has a 90% smoke and particle removal efficiency? As long as you select an effective one, you wouldn't need to worry about lingering smoke or odors that just won't go away.
Best smokeless ashtrays – our top 5 choices
You'll worry less when smoking if you have one of these ashtrays.
1. Holmes Smoke Grabber (HAP75-UC2) – Best overall
The best smokeless ashtray is, without a doubt, the Holmes HAP75-UC2. This device comes with a carbon filter to absorb odors and smoke.


It features an automatic operation with an open lid. The lid will draw in smoke while the carbon filters will purify it to get rid of particulate matter as well as odors.
The unit uses 2 "D" size batteries which will serve you for a couple of months. It is also easy to carry around, and you can use it at home, at the office, or even at a gathering.
What we like
Easy to operate. Simply open the lid to activate and close it to turn it off
Portable and compact
It uses an activated carbon filter to eliminate tobacco odor
What we don't like
There isn't an AC version if you prefer not to use batteries. However, this doesn't mean it performs any worse on batteries.
2. Gratefulbuys Smokeless Ashtray – Best design
This Smokeless Ashtray by Gratefulbuys comes with two carbon filters that do a great job as far as the removal of smoke and cigarette particles from the air is concerned.


The carbon filters are some of the best you can get for eliminating odors caused by smoking tobacco. This indoor smokeless ashtray uses 2 C batteries that will last through hundreds of uses.
What we like
It is super quiet during its operation
Easy to clean after usage
It is made up of high-quality fireproof melamine
What we don't like
It is not rechargeable because it uses replaceable batteries
Batteries not included during purchase
3. Fortgesche Smokeless Ashtray – Best value for money
Another smokeless ashtray that deserves a place on this list is the Fortgesche smokeless ashtray.
This device helps to eliminate tobacco and cigarette smoke to keep your colleagues and loved ones away from the harm brought about by second-hand smoke.


It is basically an ashtray with an air purifier that will get rid of bad odors in your home or office. The unit features a rechargeable 4,000 mAh battery that ensures longer use.
It is also made from a premium material that makes it sturdy and durable.
What we like
It has a rechargeable battery
Easy to clean and operate
Lightweight, portable, and compact
What we don't like
Expensive compared to similar items
4. Takavu RR-2-3-1 Ashtray – Best for use in the car
The Takavu RR-2-3-1 is a practical and effective smokeless ashtray for cars. As a car owner who smokes, you need something that can be placed conveniently so you can't miss it while concentrating on the road.
Besides, it should be able to eliminate the need to roll down windows just to get rid of the smoke or odors that come with it.


This effective device will eliminate the intense lingering smell in your vehicle and keep the air quality fresh. The best part is it has an LED light to make it visible at night and it is very affordable.
What we like
Detachable for easy cleaning
Made of high-density and fireproof material
It fits in cup holders for most cars
What we don't like
The LED light can stop working after continued use
5. S Desita 3-in-1 Multifunction Ashtray – the best technology
The S Desita 3-in-1 Multifunction Ashtray is a smokeless ashtray that helps to remove smoke, dust, pollen, and odor from indoor air.


It is durable, rechargeable, and equipped with a 4,000 mAh battery. The device features a high-strength aluminum alloy housing and a high-speed grinding edge.
What we like
Easy to disassemble and clean
Applicable for use in homes, offices, and cars
It is multifunctional, easy to carry, and available in a variety of colors
What we don't like
It is expensive compared to similar items
6. Iukus Car Cigarette Ashtray
One of the best indoor smokeless ashtrays is the Iukus car cigarette ashtray.
It is a stainless car cigarette ashtray that comes equipped with an LED light indicator, a clamshell design, and high-density fireproof material. You can use it to remove cigarette smoke and odors from your home, office, and car.

Pros
It comes with a 12 month's warranty
It is a multipurpose smokeless ashtray
Easy to clean and has enough space to keep your cigarettes
How does a smokeless ashtray work?
Generally, there are two types of smokeless ashtrays – ionic and carbon-filtered ashtrays. Ionic ashtrays generate negative ions. These ions cling to the tobacco smoke particles in the air.
The particles become negatively charged and pull in the positively charged ones inside the device. As a result, it prevents bad smells from coming out of the unit and allows the negative ions to move into the air and bind to second-hand smoke. In the end, it will leave the indoor air clean and fresh.
A carbon-filtered ashtray has several internal fans that draw in smoke from a cigarette. The unit then cleanses the air using a built-in filter.
Once it passes the filter, it will release odorless and chemical-free air into the surroundings. If you'd love to know more, we have created a detailed guide on how smokeless ashtrays work.
Things to consider when buying a smokeless ashtray
Some of the factors to consider include the following:
Efficiency: Go for a device that has quality filters that can eliminate smoke, particles, and smells effectively.
Portability and compactness: The device should be portable and compact. That will allow you to carry and use it anywhere.
Rechargeable: Buy a rechargeable unit to stop worrying about batteries.
Premium Material: It should have a premium quality material to make it durable and sturdy.
Where can you buy a smokeless ashtray?
According to the best smokeless ashtray reviews, you can buy smokeless ashtrays from online stores. Amazon is an excellent example of an e-commerce shop that sells these units.
Some are also available from local stores at affordable prices. You also have another option of buying these devices directly from the manufacturer.
No more tobacco odors
The best smokeless ashtrays are those that can remove tobacco smoke from indoor air and clean it to ensure it is healthy for people to breathe. You should buy one that is durable, has carbon filters, and is multipurpose.
Related Guides