Does your bathroom smell terribly after use or even after cleaning?
While bathroom smells are common, yours doesn't have to smell terrible –thanks to new odor-fighting techniques.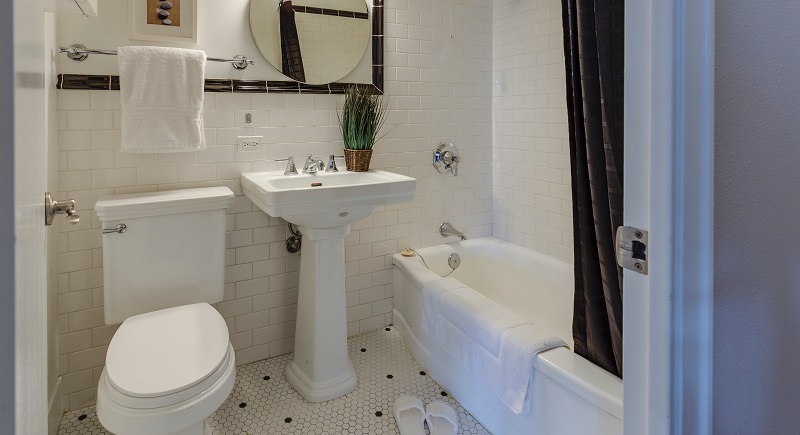 In the past, you could have used normal bathroom air fresheners that only mask toilet smells for a while. Nowadays, there are many brands out there that remove odors instantly and completely. Besides, they leave behind fragrances that aren't overwhelming.
If you are in the market to find the best bathroom air freshener, then why should you get sprays that smell like chemicals when you can use air fresheners that leave the bathroom smelling like a tropical forest?
Best air freshener for bathroom odors in 2023
Here are the best air fresheners to combat bathroom odors:
PRODUCT
LASTS FOR
MECHANISM
PRICE
Moso Natural
24 months
activated bamboo
charcoal
Poo-Pourri
40-50 days
Fragrances
Fresh Products
30-40 days
Fragrances
Air-Wick
40-45 days
Fragrances
Squatty Potty
30-40 days
Fragrances
Fresh Wave
30-40 days
Natural Fragrances
1. Moso Natural Air Purifying Bags – Best overall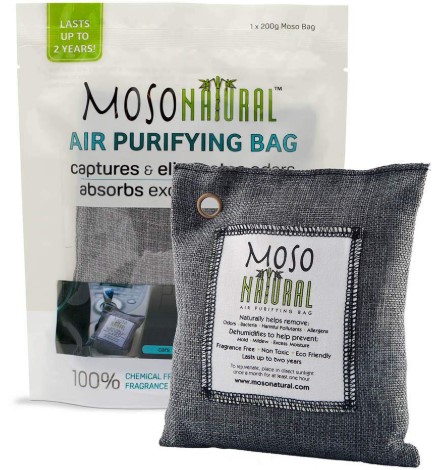 Moso Natural Air Purifying Bags are the swiss army knife for freshening your bathroom. Unlike many other products, these bags are designed not only for combating toilet odors but also purifying the air in the whole bathroom.
The bag contains activated charcoal, which absorbs moisture, allergens, and odors through the tiny pores on its surface. This means you do not have to worry about mold or mildew in the drainage.
If you are looking for the simplest and safest way to create and maintain a dry, odorless environment, then the Moso Natural Air Purifying Bags is all you need.
Not only does this bag last longer than normal bathroom air fresheners, but it can also be 'recharged.'
When you notice that it has become less effective, set it out in the sun for a few hours to rejuvenate it. This will leave it working as a new bag. In fact, it's effectiveness and longevity make it the best activated-charcoal odor remover. You can check out its full review.
Pros
Economical: One pack could last you for about two years.
Safe: Good for use in houses with kids or pets as it has no allergens or harsh products
Odorless: Has no fragrance, so you will not even know it is there
All-Natural: It is made from activated bamboo charcoal which makes it safe and harmless
Cons
It takes a few hours to start working effectively
You will need about two bags for large bathrooms
If you are looking for an odorless product that works and is safe for kids, pets, and the environment, then the Moso Natural Air Purifying Bags should be your first choice.
2. Poo-Pourri Preventive Bathroom Odor Spray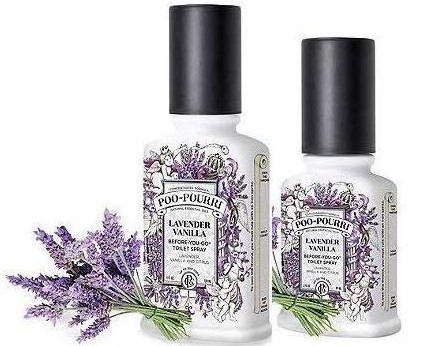 Poo-Pourri is a genius invention that deals with the poo smell before it gets there. This bathroom air freshener is enriched with essential oils and natural compounds that create a film on the water.
One spritz of it before you relieve yourself, and nobody will know you were ever there.
The ingredients are all-natural and hence have no harsh fumes or strong chemically induced fragrances. It is also kid-friendly; just make sure you show them the right portions to use. You don't want them to waste your bathroom odor remover.
Pros
Long-lasting: Small bottle, but it can last for months.
Multiple scents: Has a wide variety of fragrances to choose from
Cons
It has a powerful fragrance which may irritate those who are sensitive
Very cheap and ugly packaging for those into their bathroom presentation
Poo-Pourri is unique in the sense that you get to use it before using the toilet. If you can see past the packaging and you're not very sensitive to strong smells, then this product might just suit you.
3. Fresh Products Toilet Bowl Clip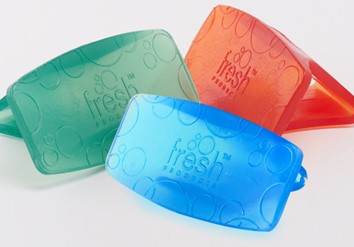 Fresh Products Toilet Bowl Eco Bowl will impress you if you are looking for something discrete and cute.
It fits like a glove wherever you place it, as it has a hook that shrinks with every release of fragrance.
Many opt to put it under the toilet seat or restroom partitions for maximum effect. Though it comes in a pack with eight scents, it is surprisingly very affordable.
Unlike most in the market, the sweetly scented spray doesn't just mask the smell. It also kills bacteria-causing germs allowing you to get the whole package in only one bottle. Impressive right?
Pros
Long-lasting: provides great value for your money
Affordable: priced lower compared to its competition
Occupies less space: you don't want more stuff hanging in your bathroom
Cons
It can be too strong for tiny powder rooms
Some of the scents don't smell like they should
Do you want your toilet to have a fruity scent? As small as this product seems, it can actually leave your bathroom smelling fresh, no matter its size.
The best part is that the bathroom air freshener lasts 30 days, and the bowl clip is recyclable.
4. Air-Wick Scented Oils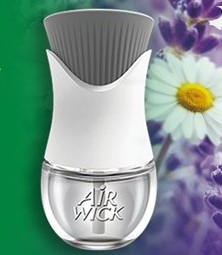 Air-Wick Scented Oils are automated, meaning you do not need to spray them every time you use the bathroom. As per your settings, it releases fragrance every few minutes, ensuring your space always smells nice. The pack comes with five refill bottles that allow you to alternate scents.
For small spaces, you get to choose the fragrance level which works and the interval rate you want it to spritz.
This is a nice inclusion for those with a sensitive sense of smell or allergies. The product claims to contain up to 2400 spritzes per refill which are very impressive.
Pros
Looks great: comes in a cute and stylish design
Automatic: operates itself, and all you have to do is to plug, set and go
Multiple scents: You have a variety of scents to play with per pack.
Cons
Some scents are stronger than they should
It makes a startling noise every time it releases a fragrance
If you are suffering from asthma or allergies, you won't have much of a problem with this product. Besides, it looks great, works automatically, and is reasonably priced.
5. Squatty Potty Unicorn Gold Toilet Spray, Fruity Booty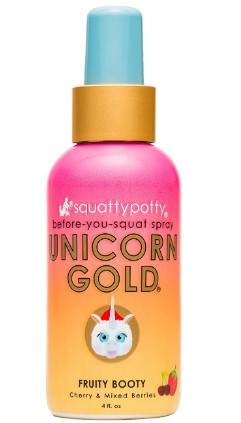 As crazy as it sounds, you can now combat your poop smell with something fresh. Squatty Potty Unicorn Gold Toilet Spray contains real gold colloidal particles that trap odor both above and below the water.
When sprayed above toilet water, the colloidal gold instantly eliminates the nasty Sulphur compounds which make poop unpleasant around the nasal area.
When sprayed onto toilet water, the freshener seals the water line preventing the bad scent from escaping. It is also enriched with essential oils to leave your lavatory with a pleasant tropical smell.
Pros
Bacteria eliminator: Colloidal gold kills all bacteria, even the ones previously there
Non-corrosive: It doesn't leave stains behind even after prolonged use
Cons
A bit too mild, so you need a couple of spritzes for the best results.
This product deals with the Sulphur in poop that is responsible for the bad smell. It is easy to use and quite effective –only if you spray it several times.
6. Fresh Wave Odor Removing Spray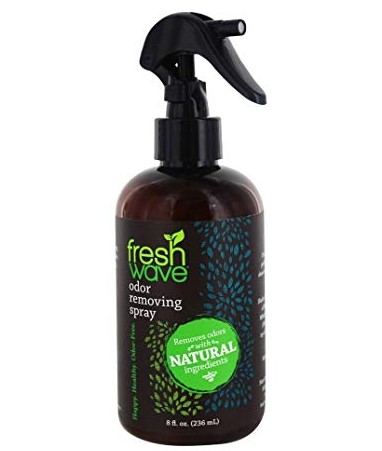 If you love environment-friendly products, then the Fresh Wave Odor Removing Spray should be on your list of the best air fresheners for bathroom odors.
It is made wholly of natural ingredients that eliminate organic and inorganic odors.
Unlike other brands, it doesn't just mask the smell but destroys the whole particles. With a sweet vanilla essence, you are bound to fall in love with the precious aroma.
Pros
Eco-friendly: The spray is biodegradable, and the packaging bottle is recyclable.
All-natural: Made of completely natural ingredients
If you are comfortable with the pricing, you can enjoy keeping your bathroom smelling nice while conserving the environment at the same time.
Time to get rid of those bathroom odors!
A bathroom air freshener will really help with the toilet smells. Get yourself one of these excellent products, and you will not regret it.
After all, they are the best bathroom air fresheners in the market right now; at least, that's what many consumers of these products will attest to.
Related: