There are several reasons why your fridge can develop a foul smell. The most common reasons include food that has gone bad, a faulty fridge, built-up odor, or inefficient air circulation.
Whatever the reason, getting rid of the bad smell can sometimes be difficult, even after you identify and get rid of the source.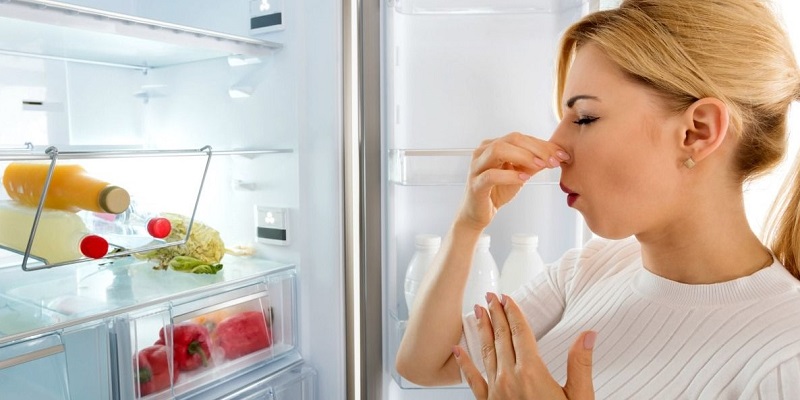 Luckily, it is possible to remove the odor and even prevent a future scenario using refrigerator odor eliminators.
These odor eliminators work in two ways: absorbing the unpleasant smell and releasing a fresh and pleasant smell that neutralizes any "leftover bad smell".
If you are struggling with getting rid of bad odor from your refrigerator, an odor eliminator might be the solution.
Here, we have compiled the best fridge odor absorber that is very effective in getting rid of stubborn smells.
The best fridge deodorizers to use in 2023
If you are looking for the best fridge odor absorbers, below is a list of the top products in the market:
PRODUCT
LASTS
ABSORBER
PRICE
NonScents Refrigerator Deodorizer
6 months
Activated charcoal
Arm & Hammer Fridge Fresh
1 month
Baking soda
Remodeez Refrigerator Deodorizer
6 months
Activated charcoal
Clean+Green Fridge Boost
3 months
Zeolites
Activated charcoal
GreenTech pureAir
20 days
(rechargeable)
Ozone
1. NonScents Refrigerator Deodorizer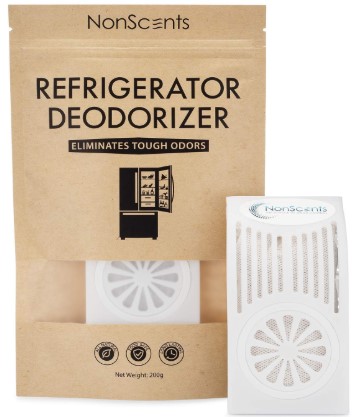 NonScents Refrigerator Deodorizer is one of the top fridge and freezer air fresheners. It is a fast-acting odor eliminator, which removes any foul smells within hours. It also prevents any bad odors from forming, which leaves your fridge or freezer fresh for a long time.
The deodorizer is made using non-toxic, food-safe ingredients. It also comes in a leak and spill-proof container, meaning you can use it anywhere in your fridge. Using it helps to improve the air quality in your fridge or freezer. This helps to keep your food fresh for longer.
One of the drawbacks, however, is that some people have complained of its bleach-like scent, which can be unpleasant if you are sensitive to chemical smells.
2. Arm & Hammer Fridge Fresh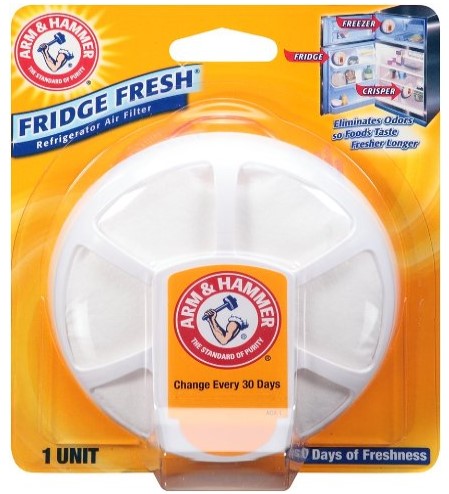 Arm & Hammer Fridge Fresh is another one of the top fridge air filter deodorizers. It is made up of 100% baking soda. However, it comes with a compact container with a suction cup, thus allowing you to place it anywhere, even on the door. Therefore, unlike traditional baking soda, it is much easier to use and does not take up much space.
It comes in a pack of four filters, each designed to be used for 30 days. It also sports an indicator that notifies you when it is time to change. Therefore, you never have to worry about your food being unprotected from foul smells.
3. Remodeez Refrigerator Deodorizer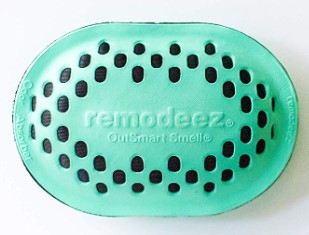 Remodez Deodorizer is one of the best refrigerator odor eliminators on the market. It is made using natural activated charcoal from coconut husks and is designed to be at least 100 times more effective at removing odor and 6 times longer lasting than baking soda. It is a fast-acting fridge odor eliminator that removes stubborn smells, even chemical smells, within hours.
Remodeez Deodorizer is perfectly safe to use, with no toxins or fragrances. It also comes in a compact container, which features dual lock fastening technology, allowing you to fasten it on any dry surface in your refrigerator.
4. Clean+Green Fridge Boost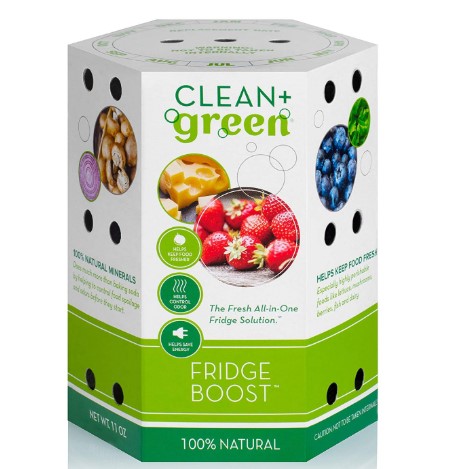 Clean+Green Fridge Boost is a refrigerator freshener that is designed to keep your fridge fresh all day long, thus helping your foods, fruits, and vegetables last longer.
It helps to eliminate stubborn bad odors and neutralizes any new ones before they form, thus protecting your food from contamination/bad taste.
The deodorizer also has the added benefit of optimizing humidity and lowering the fridge temperature. This increases the efficiency of the cooling process, which helps you save energy and money.
5. GreenTech Environmental pureAir Fridge Purifier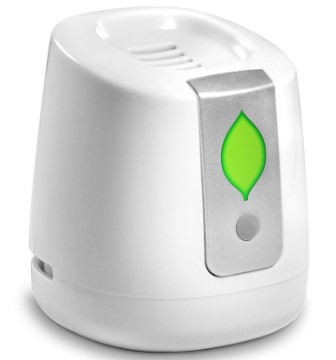 The pureAir Fridge Purifier from GreenTech Environmental is a top odor eliminator that works fast to eliminate the musty smell, foul smell from rotten foods, and chemical smells and gases from your fridge. It also helps to prevent the occurrence of foul smells by killing staph, e-coli, and other bacteria that contaminate food.
The odor eliminator draws its power from a long-lasting battery that lasts 24 days on a single charge. Therefore, with this gadget, you are guaranteed optimal protection all day long, which means a fresh, clean smell every time you open your fridge.
Why you should buy a fridge odor eliminator?
While DIY odor eliminators work in removing odor, they are not as effective as the best odor removers for fridge odors. Here is why:
It keeps your fridge smelling fresh
Nothing is exciting about opening your fridge and meeting with a bad odor that quickly spreads through your house.
Unfortunately, some of the foul smells are very hard to get rid of once they take hold. Fridge deodorizers are, however, very effective in getting rid of these smells.
Once you have gotten rid of the smell source (in case of rotten foods) and cleaned your fridge, the deodorizer will absorb any remaining odor and release a pleasant scent that will leave it smelling fresh.
Bad odors can make your food taste funny
Usually, foul smells will not make your refrigerated food go bad due to the cold temperatures that hinder any bacterial activity.
However, some food substances do absorb smells, which can lead to them tasting funny. Using a refrigerator deodorizer is thus a great way of preventing your food from contamination.
The bad odor that is left unchecked can become a permanent nightmare
Refrigerators use air circulation to ensure that all sections are kept cool. Unfortunately, when your fridge has a bad odor, the foul smell circulates alongside the cold air, resulting in it spreading all over.
On top of that, a fridge's interior is made of plastic, which is an absorbent material.
Therefore, if you leave bad smells unchecked for a long, it can turn into a nightmare that may never end regardless of how hard you try to get rid of it.
Using a fridge odor eliminator helps to prevent the foul smell affecting your refrigerator from spreading. It will also quickly neutralize any new foul smell, thus guaranteeing you will never have to worry about permanent odors.
Once the bad odor has hit your fridge, getting rid of it by cleaning your fridge and/or with home remedies can be a nightmare. Fridge deodorizes, however, offer you a better chance of maintaining a fresh and clean fridge. The above are some of the best refrigerator odor absorbers on the market that are a perfect solution if you are dealing with foul, hard-to-get-rid-of smells.
Related: