Nothing makes a home more inviting and comforting than a fresh scent. Subsequently, if your living space has unpleasant odors, your quality of life may decrease.
In fact, the New York Department of Health points out that exposure to odors can result in a range of health effects. For this reason, you must find the best air freshener for home use.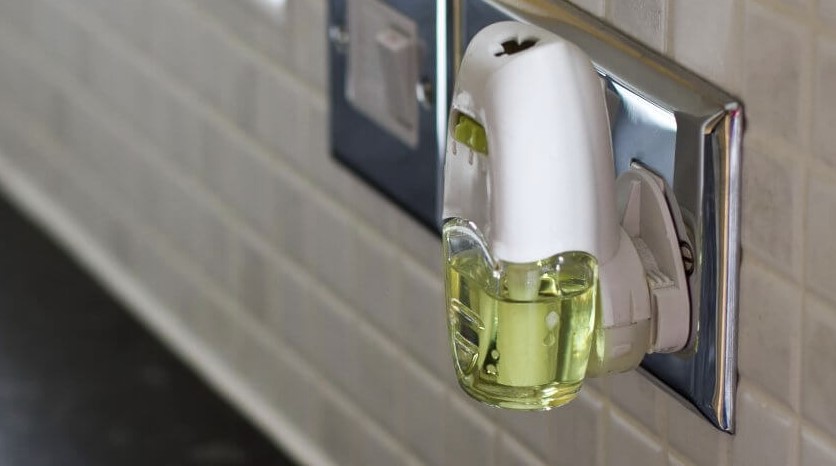 Air fresheners can eliminate odors and provide different and unique scents for your home. However, not all of them are commendable. Some have strong overpowering scents that can leave you, your family, and your pets sneezing. On the other hand, some aren't ideal for people with allergies.
We have, therefore, researched and tested multiple air fresheners to find the best you can use at home. Remember that preferences vary when it comes to fragrances and modes of use. As a result, we have listed the best types to make it easier for you to narrow down your preferred scents.
Best air freshener for homes in 2023 – Our top 5 picks
The best air fresheners for homes (work with pets, too) are:
| Product | Fragrance | Mode of use | Price |
| --- | --- | --- | --- |
| Febreze | Bay leaves | Spray | |
| Air Wick | Lavender/chamomile | plug-in | |
| Citrus Magic | Citrus | Spray | |
| Renuzit | Various | Spray | |
| DampRid | Lavender/vanilla | hang/place | |
1. Febreze Freshener Heavy Crisp Clean
The Febreze Freshener Heavy Crisp Clean is the best home air freshener on the market. It is an aerosol product that can be used in different rooms in the house including the bathroom, living room, and closet.
The ingredients found in the air freshener are water, fragrance, alcohol denat, nitrogen, sodium citrate, and benzisothiazolinone. Others include sodium polyacrylate, PEG-60 hydrogenated castor oil, hydroxypropyl cyclodextrin, and diethylhexyl sodium sulfosuccinate.
It is effective in clearing away odors through its OdorClear Technology and provides a fresh scent for your house.
Pros
It is safe for homes with pets
Its scent is mildly light
Fitted with an easy spray nozzle
It comes in different floral and citrus scents
it provides instant room freshness
Cons
It cannot be used on fabrics
If you have children and pets and you are looking for the longest-lasting air freshener, Febreze Freshener is the best fit.
2. Air Wick Chamomile Essential Freshener

The Air Wick Chamomile Essential Freshener is an automatic air freshener plugin. You can use it in different rooms in the house including the kitchen, living room, bedroom, and hallways.
The ingredients that make it one of the best house fresheners include lavandin oil, linalyl, linalool, geraniol, isobornyl acetate, coumarin, eucalyptol, methyl dihydrojasmonate and citral among others.
The scent lasts up to 45 days per refill, making it the longest-lasting air freshener for home use.
Pros
It is easy to use since it is automated
It comes with 6 refills per package
Fitted with 5 adjustable fragrance settings
It combines lavender with chamomile for a gentle scent
Cons
Contains linalool, geraniol, and citral, which might affect those with allergies
If you are looking for an all-day air freshener for your house that is easy to use, then the Air Wick Chamomile Essential Freshener might just be the right product for you.
3. Citrus Magic Eliminating Freshener Lavender

This brand is one of the strongest air fresheners for home use. It is an aerosol air freshener that uses natural citrus oils to eliminate unpleasant odors in your house.
The freshener is effective for use in closets, basements, living rooms, and bathrooms. Its ingredients are water, baking soda, fragrance, saponified vegetable fatty acid, vegetable-derived odor absorbers, and vegetable-derived emulsifiers.
Pros
It is made from natural ingredients
Safe for pets
It eliminates odors instantly
It lasts 4 times longer than other fresheners
Cons
Its scent is too light for large spaces
It can leave stains on fabric if heavily used.
For a home that is looking for a more natural way to eliminate odors, the Citrus Magic Eliminating Freshener Lavender is the right air freshener.
4. Renuzit Adjustable Freshener After Ounces

This product is one of the best room air fresheners on the market. With its floral and citrus blossoms scents, the cone freshener will revitalize your house.
The scents are quite mild and, therefore, a good product for people with allergies. Its ingredients include water, fragrance, calcium acetate, carrageenan, acid blue 9, acid yellow 23, methylisothiazolinone, and potassium chloride.
To activate the air freshener, you will need to twist and remove the cover and then adjust the level of the freshener to your preference.
Pros
It provides a continuous fragrance
It is fitted with adjustable fragrance settings
A package comes with 6 cones that last up to 30 days each
Its gel is biodegradable, making it safe for pets
Cons
Its efficiency is affected by strong heat or cold
It only efficient in small spaces
If you are sensitive to strong scents or you are searching for a safe and mild freshener for you and your pet, the Renuzit Adjustable Freshener After Ounces ticks all the right boxes.
5. DampRid FG60LV Moisture Absorber

The Moisture Absorber DampRid FG60LV 10.5 Ounce is the best-rated room deodorizer. When you open the container and expose the crystals, they absorb excess moisture in a room and thereby eliminate odors.
You can hang it in any room that tends to accumulate moisture for effective deodorizing and a new fresh scent. The product contains 70-100% calcium chloride, <3.0% potassium chloride, and <3.0% sodium chloride.
Pros
It is economical as one container lasts up to 60 days
It does not contain harsh chemicals
Refillable
It is effective in eliminating musty odors
Cons
It requires stringent storage precautions, such as keeping it away from strong oxidizing agents, including sulfuric acid.
It may cause eye and skin irritation if you are exposed to it for too long
If your house is susceptible to high moisture levels that lead to fabric or item damage, the Moisture Absorber Damprid FG60LV 10.5 Ounce may just be the right product for you. Its highly absorbent nature makes it the best room deodorizer.
Factors to consider when buying an air freshener
Most importantly, before buying an air freshener, there are several factors you should consider.
Scent: There is a wide array of scents available, including spicy, woody, and floral scents. You should find the scent that makes everyone in your home comfortable.
Delivery of scent: You should consider the best delivery method for your home, especially if you have children or pets. Aerosol cans and hot-air fresheners have different scent delivery methods that cause different effects.
Purpose: To find the best air freshener, you may want to consider its purpose in your home. Do you need it for all-day freshness or for a short time to clear certain odors? Such considerations will help you pick the best air freshener.
Size of your house: The size of your house will determine the size of the air freshener you need. If your house is small, then you will need a small air freshener and vice versa.
Conclusion
Air fresheners are a welcome addition to our homes as they eliminate odors and provide unique and relaxing fragrances. Noteworthy, there are many brands out there promising different scents. This guide provides you with the best air freshener for home use in the market. Certainly, any freshener of your choice from the above will help eliminate odors and give your home its unique fresh scent.
Related: