When it comes to cleaning dog urine, many homeowners use traditional cleaners that contain lots of chemicals.
While these cleaners can wash away odors and stains, they can cause short or long-term health issues for pets and children.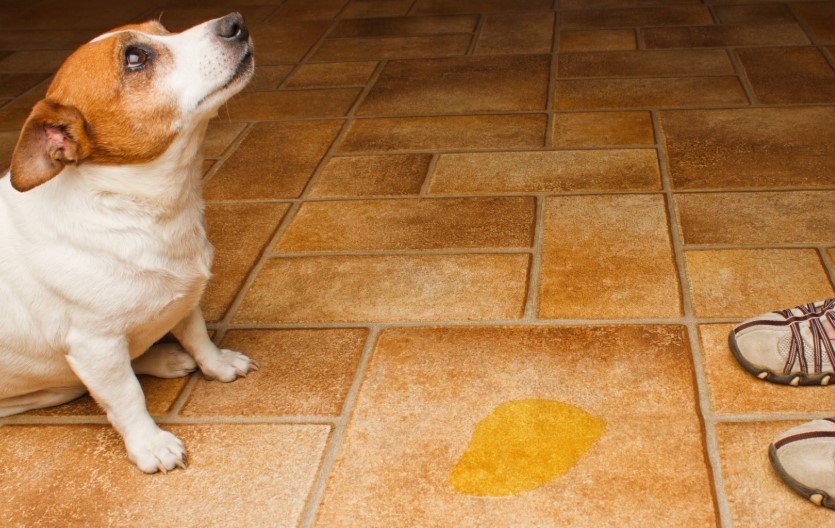 The alternative is to use natural cleaning products. In this case, you need the best enzymatic cleaner for dog urine.
An enzymatic cleaner (also known as enzyme cleaner) utilizes good bacteria and enzymes to decompose odors and tough stains. These cleaners are also gentle on fabrics and surfaces.
Best enzyme cleaner for dog urine in 2023 – detailed reviews
After thorough research into enzymatic cleaners, here are the best cleaning products for dog urine.
PRODUCT
WORKS ON
PRICE
Rocco & Roxie
(Best overall)
All surfaces
Pet Stain & Odor Miracle
(Works instantly)
All surfaces
except silk fabrics
Nature's Miracle Urine Destroyer
(Easiest application)
All surfaces except suede
Simple Solution Extreme
Not ideal for wood
OdoBan Odor Eliminator
(Best for strong smells)
All surfaces
NonScents
Not ideal for light fabrics
Nilodor Urine Digester
Works on most surfaces
1. Rocco & Roxie Stain and Odor Eliminator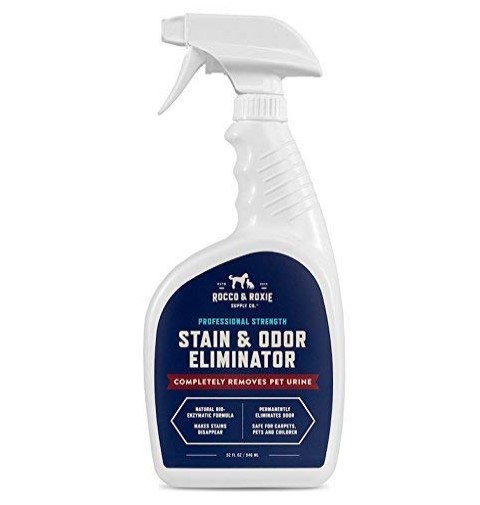 Rocco & Roxie Stain & Odor Eliminator is the best enzyme-based stain and pet odor remover for dogs.
You can also use it to remove cat urine and clean your carpet for other stubborn stains. The product is useful for eliminating odors, stains, and residue.
If your dog leaves behind yellow urine or feces, this professional strength formula will remove it within 24 hours.
Furthermore, this enzymatic cleaner for dog urine is so reliable that it will eliminate stains caused by organic spills and vomit.
Rocco & Roxie Supply Stain and Odor Eliminator contain natural enzymatic bacteria. Spaying the product on a dirty surface will activate the bacteria in the cleaning product.
The bacteria will feed on organic matter and ammonia crystals from the stains and odors until they are decomposed.
Pros
Safe to use around children and pets.
It does not contain hazardous propellants and does not leave residue behind.
It is gentle on the skin and fabrics.
The product is versatile. In other words, you can use it to clean every surface. You can clean dog urine on carpets, litter boxes, furniture, floors, and clothing.
Cons
Not ideal for use on light fabrics
While the product has its cons, it is hands down the best enzymatic cleaner for cleaning dog urine.
2. Pet Stain & Odor Miracle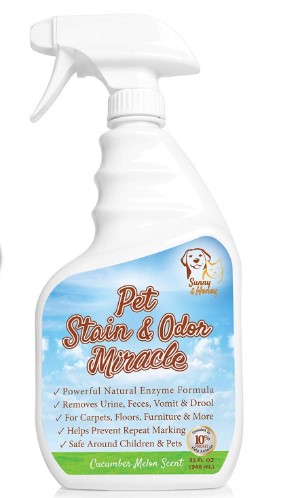 Pet Stain & Odor Miracle is one of the top-rated enzymatic cleaners for dog urine -for a good reason. It is also effective for cleaning cat urine, vomit, drool, and feces.
The enzymatic cleaner can be used to clean all surfaces. You can use it to clean hardwood, carpet, leather, furniture, pet beds, rugs, crates, and car upholstery.
The product can remove odors because it has a pleasant smell. It contains a hint of peppermint, which will leave a nice smell on carpets, clothing, rugs, and car upholstery.
Spraying the product on urine or dog stain will activate the enzymes that will treat and remove odors and stains.
You should clean the affected area immediately for the product to work well. Its formulation will help to absorb all the urine within hours.
However, the powerful formula can still remove old stains from surfaces.
Pros
It can clean all organic pet stains and odors.
Safe to use around children and pets.
Does not leave a sticky residue after cleaning.
Its effects on stains are almost instant.
Cons
Does not work on silk materials.
You cannot use the product with a shampoo
The peppermint smell can be overpowering to some people.
Pet Stain & Odor Miracle is a top-rated urine remover for carpets. It can also clear old stains, including those of spilled milk in car upholstery.
3. Nature's Miracle Urine Destroyer Stain and Residue Eliminator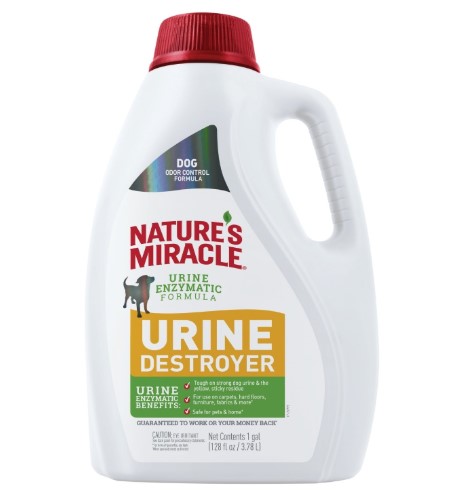 Nature's Miracle Urine Destroyer is formulated to produce bacteria that target dog urine. When sprayed on dog urine, the cleaner will remove yellow stains and residue left behind by the urine.
Nature's Miracle has a formula that will continue to work until it eliminates traces of urine and urine odor.
Unlike other similar products, Nature's Miracle has Odor Locking technology. The technology helps to trap and eliminate dog urine smell on contact.
As one of the most effective urine removal products, it leaves behind pleasant fragrances after cleaning dog urine.
The powerful formula employs a deep incisive bio-enzymatic and oxygen-infused ingredient to remove urine and residue on sticky surfaces.
On contact with odors and stains, the cleaner will remove pheromones and break any re-soiling cycle. You can use it on linens, upholstery, carpets, shower curtains, blankets, clothing, walks, and pet bedding.
Pros
Safe to use around children and pets.
It works on deep-set and old odors and stains.
It works fine even when undiluted in a machine.
Works on invisible stains that show up under black light.
Cons
Has a smell that can be overpowering to some people.
Does not work on suede fabrics.
Although Nature's Miracle Urine Destroyer can help to remove stubborn stains, people with sensitive smells can find it a turn-off.
4. Simple Solution Extreme enzymatic cleaner for dog urine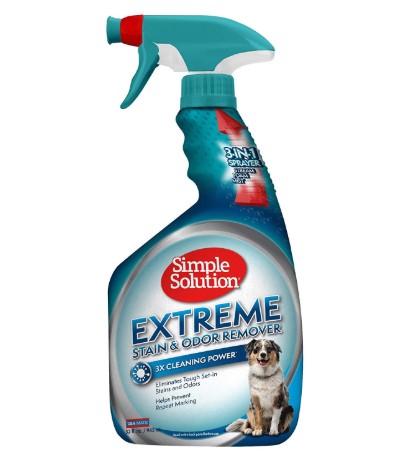 If you are looking for the best dog urine cleaner with three times pro-bacteria cleaning power, you should buy Simple Solution Extreme Stain and Odor Remover.
It is a product designed to remove the toughest organic stains and odors. The cleaner is three times stronger than regular enzyme cleaners.
When you spray it, its enzymatic formula will break down and eliminate odors, and stains and discourage repeat marking by dogs.
The product is made explicitly for organic stains and pet odors. It will quickly and safely remove dog feces, urine, and vomit. Furthermore, the cleaner works well on water-safe surfaces. These include clothing, upholstery, carpet, bedding, and fabric toys.
Pros
Safe to use around children and pets.
Helps to remove stains faster because of its pro-bacteria cleaning power.
Leaves no stains under dark light.
Cons
It may not work well on wood surfaces if dog urine is absorbed in the wood.
To get the best out of this product, you should use it as recommended.
5. OdoBan Odor Eliminator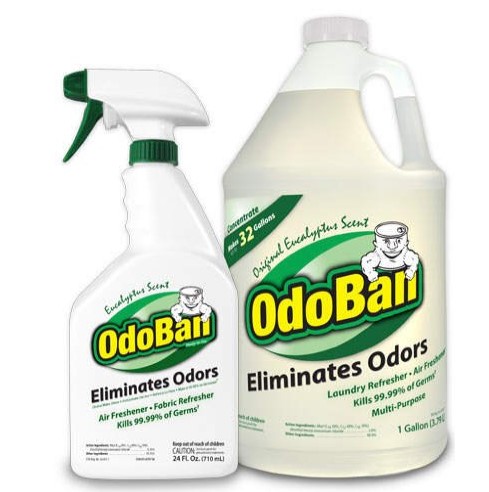 OdonBan odor eliminator helps to clean, disinfect, sanitize, and deodorize household surfaces. It is also a useful product for cleaning industrial and commercial surfaces.
The product will eliminate unpleasant odors from pet urine, feces, and vomit. If you are looking for a product that can neutralize all forms of odors at home, you should buy OdonBan.
OdonBan will eliminate odors from smoke, fire, pipes, cigars, tobacco products, skunks, mildew, garbage areas, water damage, mold, musty smells, and sewer backups.
You can use the product on carpets, upholstery, bedding, drapes, counters, clothes, tiles, drywall, showers, baseboards, basins, tubs, and concrete.
Pros
Does not leave residue on surfaces.
It has industrial strength to eliminate all odors from the house.
Leaves a eucalyptus scent around the house.
Helps to kill germs.
Cons
The concentration is too strong. You must mix one quart of concentrate with three quarts of water for regular home use.
The eucalyptus smell may be overwhelming to some people.
OdorBan is an odor eliminator and a carpet spray that will neutralize all odors even those not related to your pets.
6. NonScents Pet Odor & Stain Remover Spray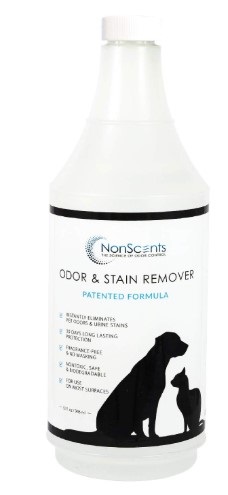 NonScents Pet Odor Remover is the best dog urine remover for home and commercial use.
The fragrance-free product will remove dog urine and odor compounds at a molecular level. The product is multipurpose. You can use it on any organic stain-vomit, puppy pee, feces, and urine.
Furthermore, you can use it to smell brought by stale vegetables, fruits, and food. It is safe on rugs, floors, carpets, and furniture.
NonScents Pet Odor Removal Spray is more powerful than similar products.
It has patented technology that will destroy odor compounds and eliminate bad smells quickly.
The product works better than sprays using baking soda as the main ingredient.
Pros
It is non-toxic and safe for children and pets.
Can show results within one hour.
Leaves the air clean and odor free.
Cons
It will bleach the dark color fabric.
Leaves behind stains on wood and painted surfaces.
The product is the best to buy if you are looking for a non-scented dog urine remover.
7. Nilodor Urine Digester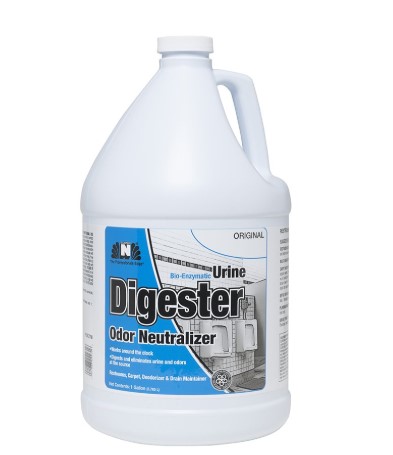 The best thing about Nilodor Urine Digester is that it digests and eliminates odors at the source. Nilodor is a bio-enzymatic cleaner with an odor-neutralizer.
It works well around the clock and leaves a lemon fragrance after use. You can use the product by spraying or mopping around commodes and urinals on carpeting and hard surfaces.
The product contains a selection of strains for enzymes, natural bacteria, and proprietary odour-counteracting agents.
It is powerful at digesting and breaking down organic waste. When sprayed on dog mess, it will clear the smell within hours.
Pros
It is effective on most water-safe surfaces.
It will digest any amount of dog urine on all surfaces.
Cons
The lemon smell can be compared to that of the industrial factory floor
Before using Nilodor Urine Digester, you need to read the instructions on the label first for directions.
Types of enzymatic cleaners
Enzymatic cleaners come in three main types. These include:
Protease: It is an enzyme that breaks down peptides and proteins. It will remove protein-based stains like urine, blood, and wine.
Amylase: This enzyme helps to break down starches and carbohydrates. It is best for eliminating starch-based stains. These can include things like sauces, fruit stains, sugars, pasta, and red clay.
Lipase: This enzyme will break down fats and remove grease and oil stains from the sofa.
When choosing these cleaners, don't forget to select one that has an enzyme that will remove the types of stains you encounter in the house.
For example, if your dog likes playing with tennis court red clay, choose an amylase-based enzyme cleaner.
But if dog piss is your primary problem, choose a protease-based enzymatic cleaner for dog urine. Or, pick one that has a combination of multiple enzymes.
Features of an enzymatic cleaner for dog urine
Some features of enzymatic cleaners include:
Perfume – Most of them are either perfumed or scented. The scented ones can help to remove pet urine odor. But if you or any of your family members are sensitive to strong scents, go for cleaners that don't contain perfume.
Concentration – These cleaners can be more concentrated or less concentrated. If you are dealing with stubborn stains, you need more concentrated ones. The ideal cleaners in this situation usually have an industrial-strength label on their packaging.
Type of delivery – It can either be in a spray bottle or a pour bottle. Always buy a pour bottle because they tend to be large and offer the best value for money. A trick to consider is to buy a separate spray bottle so that you can transfer the liquid to it from the pour bottle.
Dry-out time – Most top-rated enzymatic cleaners will dry within 12 hours. Although some take longer, you must allow the area should dry completely. A longer drying time means the enzymes will have enough time to remove dog pee from your carpet.
How to choose the right enzymatic cleaner for dog urine
All enzymatic cleaners are not made equal. Each of them contains a combination of enzymes or a different type of enzyme. But in general, they all work the same way to break down stains caused by dog pee.
The main problem when choosing an enzymatic cleaner is selecting one with proper enzymes for removing dog urine stains. If you have different types of pets at home, you must pick one that contains multiple enzymes.
Enzymatic cleaners and safety
Generally, enzymatic cleaners are safe and do not have toxic ingredients. Instead, they utilize bacteria and enzymes to decompose odors and stains. But when they aren't in use, these cleaners should be kept out of reach of pets and children.
Some enzymatic cleaners are safe and can be used for laundry and dishwashing. However, always check the packaging first to find out its toxicity level.
Conclusion
Hopefully, this guide has enabled you to identify the best enzymatic cleaner for dog urine. While these cleaners are effective at cleaning dog urine and eliminating odors, their prices are not the same.
These cleaners cost anything from $10 to $50. Prices will depend on the bottle size and the mixture of enzymes contained in the bottle. Pour bottles are usually more expensive than spray bottles.
Related Articles