Out of all the unpleasant smells you can encounter in your home, pet urine is the worst. It is stinky and very hard to get rid of. Besides, it is highly concentrated and contains ammonia.
Cleaning your floors, upholstery, or carpets is the best way to eliminate pet urine. However, you must find the source even to have a chance of removing the odor.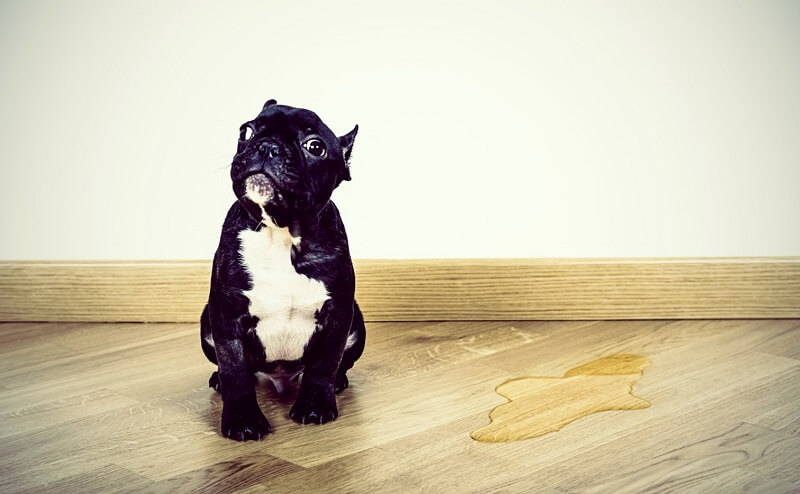 Unfortunately, old pet urine stains are invisible to the naked eye. But what if there was a way to identify the location of pet urine with ease? This is why you need the best blacklight for pet urine detection.
While there are many LED blacklights in the market, not all of them are effective. That is why I have created this review –to help you identify and select the best blacklights to detect hidden pet urine and stains in your home.
Best blacklights for pet urine detection – Our top 5 picks
The top 5 blacklights for pet urine detection are:
| Product | Batteries | LEDs (#) | Wavelength (nm) | Price |
| --- | --- | --- | --- | --- |
| Escolite | 3 AA | 51 | 390 to 395 | |
| Vansky | 2 AAA | 51 | 365 to 395 | |
| TaoTronics | 3 AAA | 51 | 395 | |
| Keenstone | 3 AAA | 2 | 395 | |
| Brionac | 6 AA | 128 | 385 to 395 | |
Here is a detailed review of each product.
1. Escolite UV flashlight black light
The Escolite UV Flash Light is a powerful blacklight torch that comes with 51 UV LED bulbs. It emits intense light in the 395 nm wavelength. It is powered by a 3 AA alkaline battery.
The intense UV light and the compact size make it perfect for spotting cat and dog pee in the house. However, you can also use it in other ways, such as spotting rodent litter, pests (bed bugs, scorpions, vegetable worms), and lighting glow parties.
What we like
Strong and intense illumination
A lightweight, compact design
A strong and robust built
It can be used for multiple purposes
What we don't like
Its 4.5 volts batteries only last about 4 hours of full use.
That being said, if you are looking for a pet urine detector that won't have a problem spotting stains, the Escolite 51 LED blacklight torch is a perfect solution. It is strong and intense and can be used for several purposes.
2. Vansky 51 LED blacklight pet urine detector
The Vansky 51 LED Blacklight is another of the best UV lights for urine detection. It has 51 UV LED bulbs that produce intense and wide flood illumination. It is powered by 2 AAA batteries (3V) and produces a UV light at 395 nm.
The UV flashlight is designed for pet urine detection at home. However, it can also be used for several other applications, including spotting other body fluids, forensic uses, counterfeit verification, spotting insects and rodents, lighting up UV body paint, etc.
What we like
Strong and intense UV light
A durable construction
A compact, handheld, portable design
Wide range of uses
What we don't like
With a 3-volt battery, it isn't suitable for extended use.
However, it is an incredible UV flashlight unit that will help you identify pet urine stains with ease thanks to the bright, intense light and wide flood illumination.
3. TaoTronics TT-FL002 black light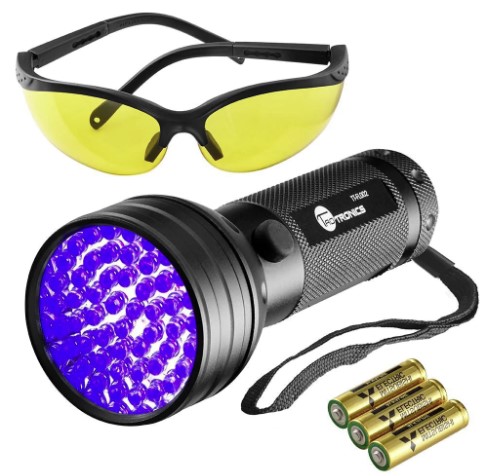 TaoTronics Black Light has 51 LEDs that produce UV illumination in the 395 nm wavelength. This gives it an intense and wide floodlight that makes it easier to spot pet urine, scorpions, or counterfeit money and IDs. The flashlight is powered by 3 long-lasting AAA batteries.
The flashlight also comes with stylish UV safety glasses. This allows you to work easily without fear of harming your eyes with UV rays.
What we like
Intense illumination from UV LED bulbs
It comes with safety glasses and batteries
A lightweight, compact design
Excellent battery life
Multiple uses
What we don't like
It isn't water-resistant. Therefore, it's not ideal for outdoor use.
Doesn't spot wet urine easily
Nonetheless, it is a great purchase if you just want to spot pet urine at home. Its bright and intense light, wide illumination, long-lasting batteries, and ergonomic design make it easy to use.
4. Keenstone 2-in-1 Tactical flashlight
The Keenstone 2-in-1 flashlight has 2 features in a single unit – a 500 lumens LED flashlight (white) and a 395 nm UV flashlight. It features 2 LED bulbs, one for the white light and one for the black light. The torch is powered by 3 AAA batteries.
It is a multipurpose flashlight that can be used for many purposes. The blacklight is perfect for spotting pet urine stains and scorpions and authenticating currency and IDs. The white light is ideal for camping, hiking, hunting, etc.
What we like
Strong, hardy built with aviation-grade Aluminum casing
A super-bright illumination in both white and blacklight mode
Powerful zoom feature for switching between spot and wide flood illumination
A wide range of uses
What we don't like
Basically a tactical flashlight with a UV mode.
However, it is a great unit for detecting pet urine, especially due to its wide-flood and spotlight functions that allow you to spot and identify stains with ease.
5. Brionac 128 LEDs UV black light
The Brionac UV Flashlight comes with 128 LEDs that illuminate in the 385 – 395 wavelength. This delivers a powerful, wide, and super-bright illumination making it one of the best black lights to detect dog urine, cat urine, scorpions, counterfeiting on money and IDs, and stains in the house or hotels.
The flashlight is powered by 6 AAA batteries, which give a more intense light for longer periods.
What we like
A wide and brighter light makes it easy to spot pet urine
Long-lasting batteries for longer use
A hardy body from heavy-duty grade aluminum alloy
Perfect for cleaning the house or checking stains in hotel beds
Heat dissipation to avoid overheating
What we don't like
It isn't water-resistant. Therefore, not the best for outdoor use.
However, if you are just looking to spot pet urine or spot pests and rodents, it is a perfect choice. The super-bright and wide illumination means you won't have trouble finding what you are looking for.
Things to consider when buying a blacklight for pet urine detection
Looking for the best blacklight for urine detection? Below are some of the things to look at to make sure you get the best one:
1. Intensity
You need a strong UV light to be able to spot even the smallest of stains.
For the best illumination, it is a good idea to choose a blacklight with several LED bulbs and high battery capacity.
2. Wavelength
There are lots of blacklights, but not all of them are suitable for dog and cat urine detection. The reason for this is the wavelength of their UV light.
The recommended wavelength for detecting urine from pets is 365 – 385 nm.
3. Portability
Pet urine stains are usually hidden and thus will require some maneuvering to locate them.
As a result, you need a portable blacklight to make your task easier.
What is the best wavelength for urine detection?
Pet urine is only visible under UV light and at specific wavelengths. The recommended wavelength range is between 365 – 385 nm, but 390nm and 395nm are still ideal for detecting urine.
However, other factors affect visibility. These include natural light interference, which is why it is advised to search for spots in a dark environment. Pet urine might also be hard to spot when it is wet.
Lastly, intensity also matters. As a result, your blacklight must be powerful and bright, and you might need to move closer to suspected areas so as to increase illumination.