As a pet owner, you definitely know that pets can piddle anytime, anywhere, and their urine can create a pungent smell in the house.
It is, therefore, important to find an effective cleaning method that does not leave any traces of ammonia.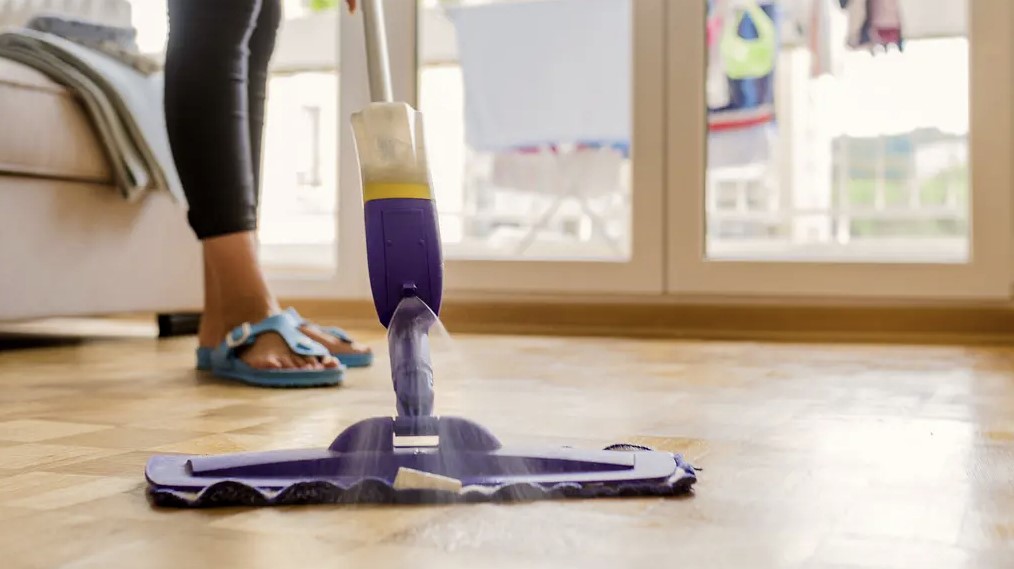 If pet pee is not thoroughly cleaned, the ammonia could bring about serious health effects, including skin, lung, and eye irritation.
That's where steam mops come in handy. Steam mops are a valuable household appliances that can help eliminate urine, bacteria, and germs and preserve your health.
To help you find the best brand for your home, this guide will lay out the best steam mops for pet urine.
This review will include information such as their unique features, settings, which floors they work best on, and their effectiveness in cleaning.
Are steam mops good for pet urine?
Steam mops provide one of the best ways to clean up multiple stains, including pet urine. They work by applying steam on the floors to break down and remove pet urine and waste. In the process, they also sanitize the floors with heat.
You can use the steam mop to clean different surfaces in your house that are notorious for pet urine. Besides, it can be helpful at potty training your pet since it doesn't leave any urine odor behind. This prevents a dog from urinating in the same spot again.
Best steam mops for pets urine – 2023 recommendations
The best steam mops for eliminating pet urine and odors are:
Product
Surfaces
Cord
(ft)
Handheld
steamer
Price
Bissell PowerFresh 1940
Sealed Hardwood,
Ceramic,
Linoleum,
Granite, Marble
23
No
Shark S6001 WM
All floor types
22
No
Bissell PowerFresh 1544A
Sealed Hardwood,
Ceramic, Linoleum,
Granite, Marble,
Above-Floor Cleaning
25
Yes
Light 'N' Easy S3101
All floors, carpets
20
No
O-Cedar
All hard floors
19
No
1. Bissell PowerFresh 1940
If you are looking for a simple yet powerful steam mop cleaner for pet urine, the Bissell PowerFresh Steam Cleaner 1940 tops the list. It is simple to operate as all its buttons are on the front of its lower body, making it easy to operate.
The unit is mostly made of plastic making it lightweight, while the mop is made of microfiber pads that are easy to clean. It comes with a 15-ounce holding tank that will allow you to clean in less than 30 minutes.
You can use the steam mop on different floors, including hardwood, vinyl, tile, marble, laminate, and stone.
Pros
It is simple to assemble
You can easily move it around
It comes with replacement pads including a soft and scrubby pad
It is fitted with adjustable steam settings
Can stand without support
Cons
It is fitted with a short cord
If you live in a small space and cannot stand the smell of washing chemicals while cleaning dog pee, then you will find that the Bissell Power Fresh 1940 is the best steam cleaner for pets.
2. Shark S6001 WM
Shark has always been one of the best brands for cleaners. It doesn't disappoint either in this category as its product, the Shark S6001 WM, is one of the best mops for cleaning pet urine.
The unit is mostly made of plastic, which is light to move around. It also has cord wrap hooks, an ergonomic handle to maximize grip, and a mop fitted with a steam pocket mop system.
The system delivers steam to your hard-stained floor at high pressure, making it the best steam mop for hardwood floors.
It also comes with 3 intelligent steam control setting that allows you to customize the amount of steam needed for different cleaning tasks.
Pros
It comes with double-sided washable pads
Deeply cleanses and sanitizes the floor
It is fitted with touch-free technology
It is fitted with blaster technology for focused cleaning
Cons
Cannot stand without support
If you hate mopping pet urine on a hard floor and you are looking to clean it effectively with minimum effort, the Shark S6001WM will prove to be the best floor cleaner for pet urine.
3. Bissell PowerFresh 1544A
The Bissell PowerFresh Lift-Off Bathroom 1544A is one of the best cleaners for dog urine. Its unit is mostly fitted with plastic to make it light and has an attached microfiber towel and a mop that can utilize either the scrubby or soft pads.
The mop also contains lift-off technology that allows you to effectively achieve above-floor cleaning, making it the best mop for pet owners.
It can be used to clean marble, granite, ceramic, sealed hardwood, and linoleum surfaces, making it the best steam mop for pets.
Pros
It comes with several accessories, including fragrance discs
Safe for pets as it requires no harsh cleaning agents
Easy to control
The heater warms up in 30 seconds
Cons
It does not fit in all spaces
It is expensive compared to other brands
This Bissell model is handy if you are looking for extra functionality while cleaning dog pee. With its different and unique accessories, this steam mop will make cleaning pet urine a breeze.
4. Light 'N' Easy S3101

The Light Easy Hardwood Sanitizing S3101 is another steam mop that provides superior cleaning capabilities. It can be used on many surfaces, including hardwood, laminate, tiles, vinyl, and carpet floors.
The unit is made up mostly of plastic which makes it light. It also has a firm gripping manual control and a mop containing a triple-layered microfiber pad.
These features allow for maximum absorption and provide enough friction to remove stubborn dog pee stains.
Pros
It is lightweight, making it easy to maneuver
It contains a washable mop
Efficient sanitizer
It contains a steamer of 1150W
Cons
It does not have a strong handle
It doesn't come with replacement pads
For a pet owner, this steam mop will clean dog urine from laminate floors and other surfaces with a quick turnaround in drying the cleaned surfaces making the best mop for dog pee.
It will also sanitize your floor, leaving a healthy environment for you and your pet.
5. O-Cedar Microfiber Steam Mop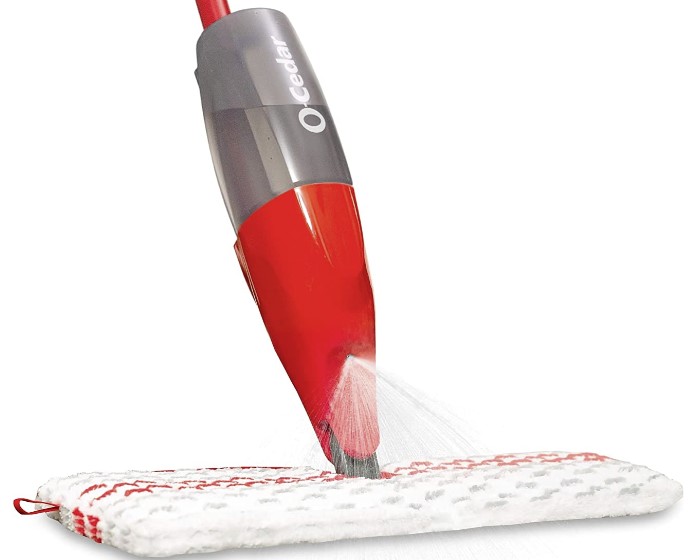 This steam mop is the best tile floor cleaner for dog urine. The unit is mostly made of plastic and is fitted with a triangular head that allows it to cover smaller spaces when cleaning.
The mop has microfiber pads that dry the cleaned surfaces efficiently and quickly. It also comes with a detachable handle for convenient storage. The mop is especially applicable on hard-surfaced floors such as tile and laminated floors.
Pros
Cleans hard-to-reach surfaces
It is light and easy to maneuver
It comes with washable pads
Contains adjustable steam settings
Cons
It contains a small water reservoir
It comes with only a one-year warranty
If you are a small homeowner looking for a steam mop that will clean pet urine on hard surfaces, then the O-Cedar Microfiber Steam Extra Refill will fulfill all your cleaning needs.
Factors to consider when buying a steam mop
Keep in mind the following before you spend on a steam mop:
Effectiveness at cleaning
An effective steam mop will help you clean pet urine thoroughly by removing all bacteria and germs left behind.
The intensity of the steam and pressure determines its effectiveness. Ideally, mops that can deliver a temperature of 200oF and above will allow for effective cleaning of pet urine.
Accessories
The steam mop that you choose should come with accessories that will help you achieve a thorough cleaning.
These accessories can include a mini handheld steamer or replacement pads.
Portability
You should consider a steam mop that is easy to lift since pet stains may be found in different areas of the house.
You definitely don't want something that you can't move without having someone to assist you.
Why use steam mops for urine removal?
There are various reasons why steam mops would come in handy in urine removal. These include:
They do not incorporate the use of cleaning chemicals
Steam mops use natural steam to clean urine stains, therefore, making the floors safe for your pets. This does not entail using harsh cleaning chemicals that can leave behind strong odors.
They also make the cleaning process cheaper as they only require water to create the steam used in urine removal.
They are easy to use
Most steam mops consist primarily of plastic which makes them lightweight.
This important feature allows you to move it around your living space with ease and as frequently as the need may be.
You can use them on different surfaces
Many homes have different types of surfaces. Many steam mops are good for urine removal on different surfaces such as tiles, linoleum, laminate, vinyl, ceramic, hardwood, marble, stone and carpet surfaces.
Sanitization
The steam mops not only get rid of urine but sanitize the floors as well.
Sanitizing the floors means that all bacteria and germs found in urine will be eliminated.
Easy to maintain
They do not require high maintenance as they come with their accessories and attachments. Some of them have replacement pads while others have machine re-washable pads.
Conclusion
Steam mops are effective pet urine removal appliances. They are light, easy to move, and maintain. While there are many brands of steam mops out there, the list above only provides you with the best steam mops for pet urine in the market.
Whichever brand fits your living space best, you can enjoy a hassle-free and effective pet urine removal process.
Related