As a pet owner, you know by now that a pet can cause a big mess in your home.
Hairs, odors, dust, and dirt will always find their way into your house if you have a pet. Pets also shed lots of dander that contaminate the air.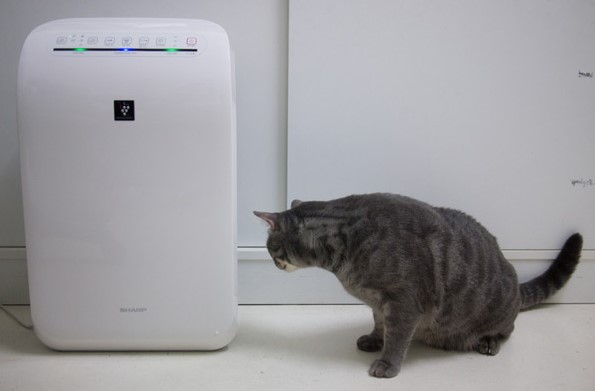 The contaminants can cause or worsen allergic reactions. An effective way of controlling dust and pet dander at home is to buy a good air purifier and a good vacuum cleaner.
Regardless of how you clean your pet or house, some areas will always have lingering pet smells. The best way to eliminate these smells is to use the best air purifier for pet odor.
However, before you spend your hard-earned cash on any of these gadgets, it is essential to know which is the best for your price.
Do air purifiers really get rid of pet odors?
It is not easy to give a concrete answer to this question. Some air purifiers are effective at eliminating pet odors, while others are not. With many air purification technologies and devices today, you have to choose the right one or end up with a device that will not eliminate pet odors from your home.
Best air purifier for pet odor and urine smells in 2023
PRODUCT
COVERAGE
(Sq ft)
FILTERS
NOISE
(dB)
PRICE
Alen BreatheSmart FIT50
(Top choice)
900
HEPA
32-48
Levoit LV-PUR131
360
HEPA
27-40
Hamilton Beach 04384
140
HEPA
Zeolite
40-60
Winix WAC9500
283
HEPA
Carbon
26-50
GermGuardian AC4300BPTCA
153
HEPA
Carbon
UV-C
40-55
Whirlpool WPPRO2000M
508
HEPA
Activated Carbon
40-49
Hathaspace MUG-55
350
Nano Cold
Carbon
Antibacterial
HEPA
UV
Ionizer
18-50
Here are the best air purifiers that will get rid of all pet odors:
1. Alen BreatheSmart FIT50 Air Purifier – Best overall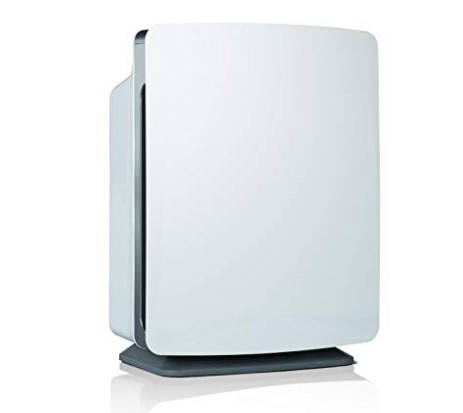 The Alen BreatheSmart FIT50 is the best air purifier for pet odors for many reasons. This unit comes with a HEPA filter for addressing asthma, allergies, bacteria, pet smells, and dust in the house.
This air purifier is fully customizable. It has four filters that work to accommodate the ever-changing purification needs in your home.
An intuitive feature of the Alen BreatheSmart FIT50 is the HEPA-Pure filter. This filter will efficiently and quietly remove airborne allergens from your house. These include pet dander, pollen, mold spores, and dust. Not only does it work efficiently, but it is also good-looking, quiet, and energy efficient.
Pros
The product can purify large rooms of up to 900 square feet.
It has a high filtration rate. The product removes 99% of particles greater than 0.3 microns.
It is energy efficient. The machine uses the same amount of energy as a 65W light bulb.
The Alen BreatheSmart FIT50 is the best air purifier for pet odor. It will remove all smells including those from dog or cat feces and urine.
2. Levoit LV-PUR131 Air Purifier – Best technology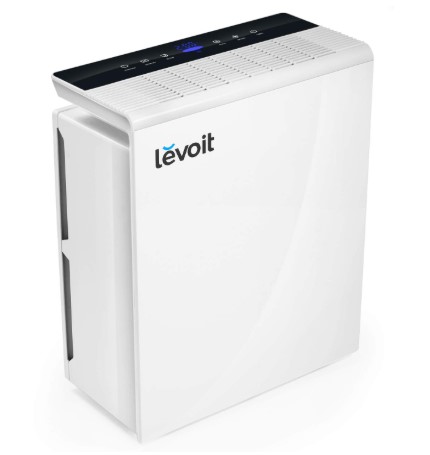 Levoit air purifier is one of the best air cleaners that can help you to eliminate dog urine smells from your home. It comes with a 3-stage filtration system.
The system starts with the Pre-Filter, True HEPA filter, and the Advanced Carbon Filter. With these three filtration systems, the air purifier will remove up to 99.97% of pollen, dust, mold spores, pet dander, and pet odor. Also, the device will filter particles as small as 0.3 microns.
Levoit Air Purifier is 100% ozone-free. It does not use ions or UV light which tends to produce small amounts of measurable ozone. Ozone is a harmful air pollutant.
The device also has a smart auto mode feature that indicates the quality of surrounding air. By doing so, it automatically suggests the ideal fan speed that will purify the air faster.
Pros
The device covers large living rooms of up to 322 square feet.
It meets strict requirements that make it energy-efficient, high-quality, and eco-friendly.
It operates quietly at night when the sleep mode is on.
Cons
You need to replace the air filter every six months.
Levoit Air Purifier will refresh your living space by improving the air quality. The device is the best HEPA air purifier for pet odor and people suffering from stuffy nose.
3. Hamilton Beach 04384 Air Purifier – Quietest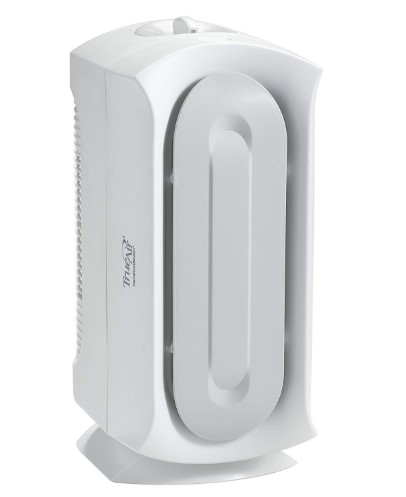 Hamilton Beach 04384 is an air purifier that comes with a permanent HEPA Filter. This air purifier for pet smells also serves as an eliminator for allergies.
It can eliminate pesky pet dander and odors using its triple filtration technology. The permanent pre-filter captures large particles and pet hair from your living room while its two zeolite filters specifically target pet smells. The HEPA filter captures small particles of up to 0.3 microns.
The Hamilton Beach 04384 air purifier is ultra-quiet. Whether at night or during the day, you will not hear it making a sound while it is on. The air purifier has three speeds that give you full control.
You can set the higher speed for faster air cleaning, medium for use during the day, and low for quiet cleaning. By setting the right speed, it will remove pet odors and filter pet dander in room sizes of up to 140 square feet.
Pros
It comes with a permanent HEPA-Filter that never needs replacement, saving you money
Requires minimal maintenance.
Cons
It does not have an indicator to show it needs to be cleaned.
It is not ideal for large rooms.
Hamilton Beach 04384 is definitely one of the best pet odor air purifiers. It works efficiently to eliminate pet smells and dander from your surroundings.
4. Winix WAC9500 Ultimate Air Cleaner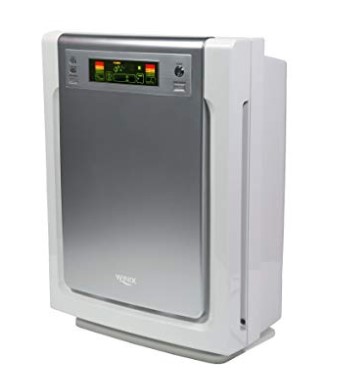 Winix WAC9500 is an air cleaner that features a True HEPA Filtration system. The air purifier for cat urine odor can capture up to 99.99% of airborne pollutants. Some of these pollutants include pet dander and allergens.
This Winix air purifier also comes with an advanced odor control carbon filter. The carbon filter is specially formulated to capture cooking, smoke, and offensive pet odors. Also, the device has a washable pre-filter that captures pet hair and large airborne particles.
Winix WAC9500 has a technology called PlasmaWave. PlasmaWave technology helps to attack air pollutants at a molecular level. By doing so, this helps to neutralize bacteria, viruses, gases, and odors in the air.
Pros
The device adjusts itself to clean the air automatically based on the current needs of the living area.
The machine can cover large areas of up to 283 square feet.
Its filters are long-lasting since you only have to change them annually.
Cons
Its filters are expensive and can be challenging to find replacements.
Winix WAC9500 offers superior control of pet dander and odors. If you are looking for an air purifier for pet smells, this device will help to get rid of household odors and allergens like mold spores, smoke particles, and pollen.
5. GermGuardian AC4300 Air Purifier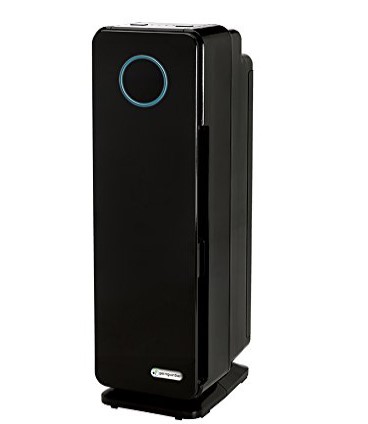 GermGuardian AC4300 is an air purifier that comes with a 3-in-1 True HEPA Filter. It is an air purifier for pets and allergies.
The cleaner also works by trapping smoke, pet dander, dust, pollen, mold, germs, and pet odors. When the cleaner is in use, it will capture up to 99.97% of allergens.
GermGuardian AC4300 has an antimicrobial agent feature called Pet Pure. Pet Pure is added to the filter to prevent the growth of mildew, mold, and odor-causing bacteria.
Moreover, the device features a charcoal filter that reduces common smells from pets, cooking, and smoking. The air purifier also comes with an optional UV-C light technology. It is a technology that works with Titanium Dioxide to eliminate airborne viruses, bacteria, mold spores, and germs.
Pros
The device can filter and circulate room air four times per hour.
It comes with a 3-year manufacturer warranty.
Cons
Less efficient in rooms larger than 153 square feet.
It can make an annoying hissing sound when in operation.
To ensure the efficiency of the GermGuardian AC430 Air Purifier, always clean the filters every week.
6. Whirlpool WPPRO2000M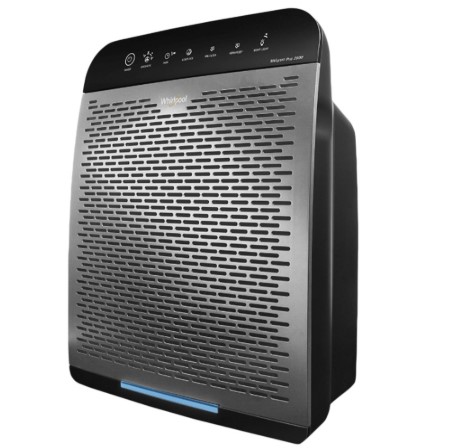 Whirlpool WPPRO2000M is a True HEPA air purifier with activated carbon. It helps to clean allergies, odors, mold, pet dander, germs, and smoke from the air.
The True HEPA filter used in this device captures up to 99.97% of allergens and dust as small as 0.3 microns. Household dust and plant pollen are some of the allergens the device captures when in operation.
The Whirlpool WPPRO2000M allows you to breathe freely in your home. It has an active carbon filter that reduces odors from cooking, smoking, and pets. Also, the air purifier comes with a smart auto mode technology.
The purifier will sense the surrounding air and adjust fan speeds automatically. That means you will never guess whether your living room has clean air or not.
Pros
The product covers large areas of up to 508 square feet.
The device features a quiet partner system making it ideal for bedrooms and offices.
It comes with a 5-year limited warranty.
Cons
The unit's carbon-based pre-filters are not washable. You can only replace them.
Expensive to maintain. You have to buy a replacement.
The unit is large. You cannot mount it on a wall.
The Whirlpool WPPRO2000M is the best air purifier to use if you need a bigger purifier for a large space.
7. Hathaspace Smart MUG-55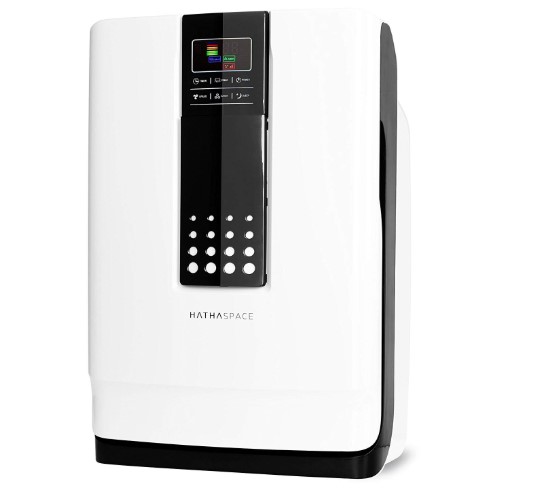 Hathaspace Smart is a 6-in-1, True HEPA air purifier. The device also doubles as an air cleaner and deodorizer for pets, allergies, smoke, asthma, and odors.
It can eliminate pet hairs, dust, allergens, pollen, viruses, bacteria, and mold from your surrounding area.
The 6-in-1 air filter system helps to destroy particles the naked eye cannot see. Also, the True HEPA filter captures up to 99.97% of particulates as small as 0.3 microns.
Hathaspace Smart also features UV-C light. When you turn on the feature, it will kill smaller viruses and bacteria from the air. The device offers an excellent solution for people suffering from asthma and allergies.
With this device, expect symptoms like shortness of breath, congestion, runny nose, and sneezing to reduce in your house.
Pros
The device comes with a 60-day money-back guarantee if it does not relieve allergies and asthma symptoms.
It has an automatic airflow system that monitors air quality in your house.
The unit is ideal for an average room size of 350 square feet.
Cons
It can be loud. The device emits 43 decibels of sound similar to bird calls.
It can be expensive to replace the filters depending on the frequency of using the machine.
If your home has a problem with uncontrollable pet dander, pet allergies, smoke, and unpleasant smells, the Hathaspace Smart air purifier can help you to eliminate them. The device acts as both an odor eliminator and an air cleaner.
Things to consider when choosing an air purifier for pet odors
Air purifiers for pet odors come in all sizes and shapes. The devices use different types of technologies to filter the air and remove pet smells. When it comes to choosing a unit, consider the factors below.
1. Type of filter
The three primary types of filters are:
UV light filters – These filters will kill bacteria in your surroundings. They will also protect you from pollen, hazardous gasses, and fine particulate matter.
Activated carbon filters – The filters use activated charcoal to capture organic matter and chemicals in the air. Air purifiers with these filters will also trap volatile organic compounds.
HEPA filters – These filters trap particles as small as 0.3 microns. They will capture pollen and particulate pollution such as PM2.5.
If you live in a polluted environment, buy an air purifier that comes with a HEPA filter. It will help you to clean pet allergens and pollen. You can also buy one with an activated carbon filter or charcoal air purifier for pet odor if you want to end bad smells.
2. Area covered
Some air purifiers for pet odors only cover a small area of your room. Ideally, you should buy an air purifier that covers an area larger than your room.
If your room is 150 square feet, for example, buy an air purifier that covers 250 square feet.
3. Features
Most air purifiers for pet odors come with many features. It is up to you to decide which features are ideal for you. Some of the features that come with these devices include:
Remote and digital controls
Multiple fan speeds
Handles
Indicators for filter change
Programmable Timers
Caster wheels
Air quality sensors
These features add convenience to the general operation of an air purifier. Furthermore, they give you control over the unit's performance.
As you will see from my pet air purifier reviews, I suggest you should also consider the energy efficiency of the purifier.
Hopefully, you have gained a lot from our best purifiers for pet odors reviews. The listed products will help to eliminate smells caused by your dog or cat.
When choosing an air purifier, ensure it can cover a large space, kill germs, and eliminate pet dander. Also, the best pet odor eliminator should be energy efficient to save your energy bills.
Related: