Are you tired of operating your ceiling fan manually? In this age, nearly every household has an automated electrical device.
Therefore, having to pull a chain every time you want to run your old ceiling fan can be pretty frustrating. But what if you could automate your ceiling fan and turn it into an intelligent device.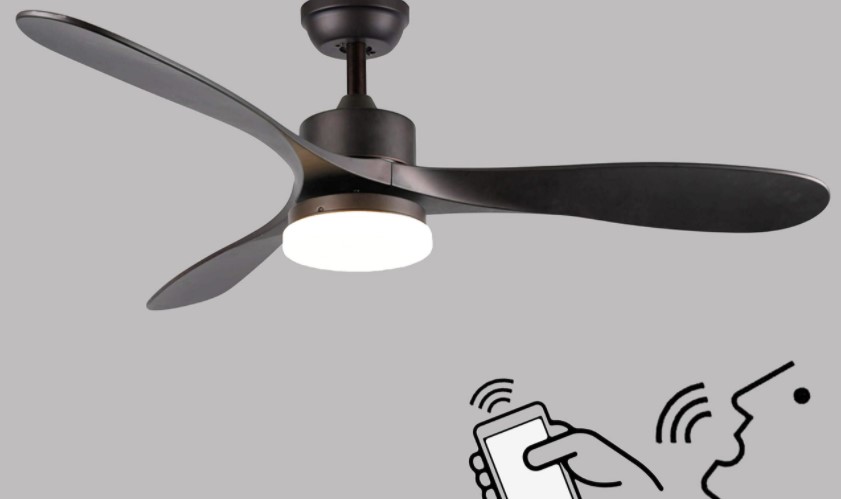 Instead of replacing old ceiling fans, you can make them smarter for seamless control in several ways. The best solution includes smart switches or intelligent remote controls, which allow you to operate the fan remotely.
Below, we will take a detailed look at how you can make an old ceiling fan smarter. We will also look at some of the top products available on the market for automating your fan.
The best way to turn your ceiling fan into a smart fan
As mentioned, there are two top solutions for automating old ceiling fans. These are:
Smart switches
Smart remote controls
Smart wall switches
A smart switch is one of the top solutions to turn your ceiling fan into a smart one. It replaces the wall switch of your old ceiling fan with only a few wiring adjustments.
The switch comes with on/off and speed control functions for the fan. Some controllers will also come with light control functions – for turning on and dimming ceiling fan lights.
Smart ceiling fan switches connect to a smartphone app through Bluetooth or a Wi-Fi network. This allows you to control the fan from your phone, even when you are away from home.
Some smart switches even feature Alexa or Google Home Assistant voice control options.
Smart remote controls
The smart remote control is the next top solution for turning your old ceiling fan into a smart fan. Smart remotes work with ceiling fans that use standard RF and IR remote controls.
The process of controlling your ceiling fan with a smart remote can be different depending on the type and model of the fan. However, what usually happens is that the smart remote syncs with the standard remote, taking over its functions.
Therefore, you can control various functions such as on/off, fan speeds, and ceiling fan lights. You will primarily control the fan via a smartphone app over Wi-Fi, but some smart remote devices allow for voice controls.
Top accessories to turn your ceiling fan into a smart fan
If you are looking for smart ceiling fan control solutions, below are some of the top products on the market.
1. The Bond Device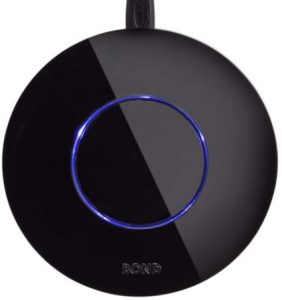 Do you have a ceiling fan that uses an RF or IR remote control? You already have a little bit of automation. You don't need to keep using wall switches or pulling chains.
However, these remotes are easily misplaced, lost, or damaged. If you want to avoid these hassles and achieve smart control of your ceiling fan, the Bond device is a perfect solution.
Bond pairs with your old ceiling fan remote control, taking over its functions. It then connects to your smart devices (smartphones, tablets, and voice command assistants), giving you smart control of your fan.
The Bond device is not limited to ceiling fans; it works with a wide range of household appliances. These include lights, fireplaces, Air Conditioners, motorized window shades, humidifiers, smoke detectors, doorbells, and more.
Bond can take over most functions as long as your appliance uses an RF or IR remote control. And the best part is, you can connect all these devices to a single Bond device, thus giving you a central smart control hub for everything in your home.
2. Treatlife Smart Fan Control and Light Dimmer Switch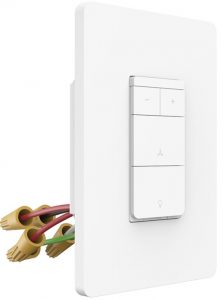 Smart remote control for your fan might sound fantastic, but maybe you also prefer wall switch controls. If that's the case, then you need a smart wall switch.
The Treatlife smart ceiling fan wall switch is one of the products on the market that caters to such preferences. It replaces the standard wall switch of your old ceiling fan, giving you better and seamless control.
The controller is dual-purpose and designed for use with ceiling fans that also come with lights.
It offers on and off functions for both ceiling fans and lights, 4-level ceiling fan speed control, and a light dimming function.
Treatlife smart switch connects to the Wi-Fi network, allowing you to control your fan and lights through the Treatlife smartphone app.
The app offers a random and scheduled remote control, whether in the house or away from your home.
More than that, it supports voice command assistants and works perfectly with Google Home Assistant and Alexa.
3. Enbrighten Smart Fan Control Switch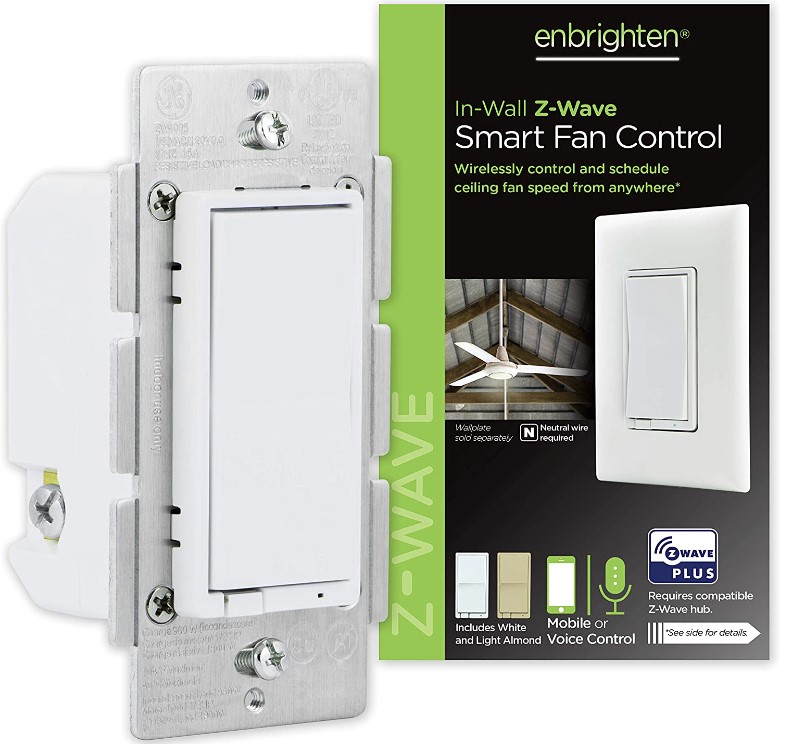 Are you looking for just a ceiling fan controller – with no light control options? A single-purpose wall switch is best suited for the job. The Enbrighten Smart ceiling fan control is one such option on the market.
The wall switch replaces your old ceiling fan switch with a simple wiring upgrade. You will then enjoy on/off and adjustable speed control for your ceiling fan.
The controller also supports Wi-Fi connectivity, allowing you to control your smart fan remotely through an app on your smartphone.
Note: The Enbrighten Smart Fan Control Switch (and other similar switches) doesn't support ceiling fans with lights or those already using standard remotes.
4. BroadLink RM4 Pro Smart Remote Control Hub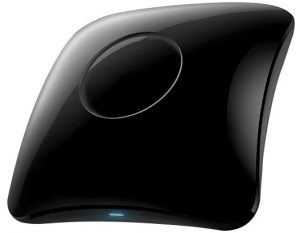 BroadLink RM4 Pro is a smart hub that offers you remote control functions for many household appliances. It works very similarly to the Bond device in that it connects to a Wi-Fi network, then pairs with IR and RF remotes, taking over their functions.
Likewise, the BroadLink RM4 Pro connects to a Wi-Fi network, allowing you to control your appliances through a Smartphone app or voice command assistants (Alexa, Google Home Assistants, etc.).
However, the BroadLink RM4 Pro has a broader range of household appliance support. Aside from ceiling fans and ceiling fan lights, you can also connect TVs, Air conditioners, cable boxes, audio devices, projectors, lights, and more.
BroadLink RM4 Pro is also advanced in that it offers inbuilt voice control for some of the appliances.
It also allows for custom automated schedules, where you can create different scenarios for when any of the connected devices come on or off or changes mode.
5. Hunter SimpleConnect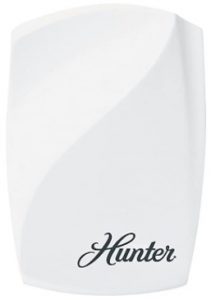 The ceiling fan controllers above use a Wi-Fi network to offer smart control. The Hunter SimpleConnect controller is a bit different – it uses Bluetooth technology.
The smart controller is designed for use with old ceiling fans with a pull chain. Unlike other controllers that replace wall switches or standard remote controls, it comes with a receiver that is wired into the ceiling fan canopy.
The receiver then syncs up with the controller, allowing you smart remote control through a Bluetooth app.
Since remote control is through Bluetooth and not over the internet, you cannot control your ceiling fan remotely when away from home. However, you can program your controller, allowing it to turn the fan on or off at specific times.
FAQs about smart ceiling fan control
These are some of the most commonly asked questions about ceiling automation control kits.
Can you turn any regular ceiling fan into a smart fan?
Yes. While there are different ceiling fan models, several smart fan control options cater to all ceiling fans.
Therefore, depending on the model you have, you can find a smart control solution, a wall switch, an intelligent remote control, or a Bluetooth controller wired into your ceiling fan.
Can smart bulbs be used in ceiling fans?
While it is technically possible to use smart bulbs in ceiling fans, it might not be advisable, especially if you want to control the bulb through the fan mechanism.
This is due to the dimming function of most ceiling fans, which can affect the electricity supply reaching the bulb, which can then damage it.
What kind of rewiring is needed to turn your ceiling fan into a smart fan?
The wiring, or lack thereof, will depend on the ceiling fan controller you use. Some controllers, such as the Bond device (and others similar to it), don't need any wiring.
On the other hand, smart wall switches will require minimal wiring, while the receivers installed into the ceiling fan canopy might require advanced wiring work.
If you have a standard ceiling fan, replacing it with a smart model can be expensive, not to mention time-consuming. However, with the intelligent ceiling fan controllers listed above, you don't have to go through all these hassles.
Smart ceiling fan controllers can turn your dumb ceiling fan into a smart one with a few changes. Choose the controller that works best for your fan, and forget about manual switches, pull chains, and standard remotes.
With some controllers, you can even create a central hub for several other appliances in your home.
Related