Ceiling fans are the most cost-effective devices for increasing comfort in your home during summer and winter. But there's one little problem –most of them are noisy. They produce whirring or humming sounds that may keep you awake all night.
Luckily, major manufacturers have created some of the quietest ceiling fans with light for use in the bedroom. And that's what I will share with you here –a list of the 5 quietest ceiling fans.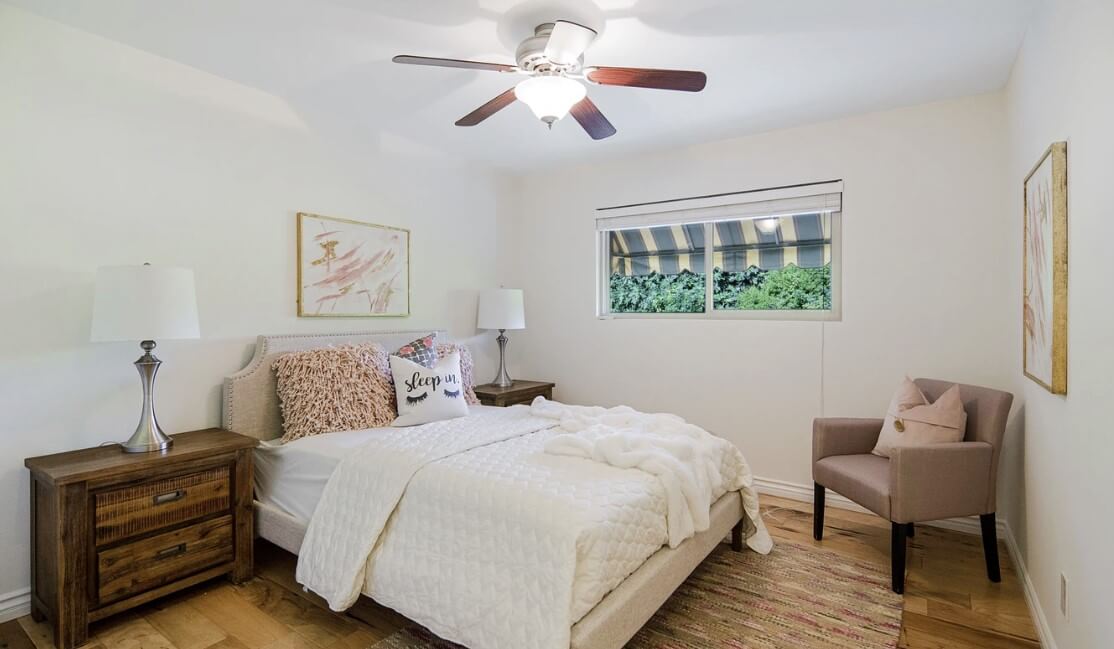 Things to consider before purchasing the quietest ceiling fans
When looking for an ultra-quiet ceiling fan, you should pay close attention to the following:
Your room size: Choose a unit that fits the size of your room for maximum performance. For example, a 100 sq. ft. room needs a fan with blades of at least 36-42 inches.
Motor: The motor determines whether a fan will be quiet or not. Go for a high-quality motor with sealed bearings and heavy-duty windings.
Installation: Your preferred quietest ceiling fan for bedroom use should be easy to install, preferably in less than an hour.
5 quietest ceiling fans for use overnight in bedrooms
The quietest ceiling fans with lights that won't deprive you of sleep when used in the bedroom are:
Blade
length
(in)
Blades
Room
size
(sq ft)
Bulb(s)
Watts
Price
Harbor Breeze Mazon
44/52
3/5
100/400
18
Hunter Dempsey
44
4
100
18
Reiga
52
3
250
24
Westinghouse 7224700
24
6
100
16
Honeywell 50614-01
52
5
324
13.5
1. Harbor Breeze Mazon 44-inch with brushed nickel flush mount

If you want a ceiling fan that is not only quiet but also combines performance and unique style, the Harbor Breeze Mazon ceiling fan is for you. It is an ideal unit that fits perfectly into small rooms.
The fan comes with a dimmable integrated light kit that produces 18 watts of power. It also includes a 3-speed reversible motor that you can control using a remote.
What we like
Its LED bulb offers energy-efficient illumination
Ideal for bedrooms of up to 100 square feet
The fan has a reverse airflow feature to allow you to change its direction seasonally
What we don't like
Its LED light is dim and not ideal for task lighting
The Harbor Breeze Mazon 44-inch indoor ceiling fan is ideal for your bedroom if you want a unit that is easy to install, elegant, and fits your décor.
2. Hunter Dempsey indoor low profile ceiling fan
The best thing about the Hunter Dempsey ceiling fan is that it comes with a multi-speed reversible motor. It is a whisper wind motor that passes down ultra-powerful airflow with noiseless performance.
You can change its direction from updraft to downdraft so that it can serve you both in the winter and during the summer. The whisper-quiet ceiling fan for the bedroom comes with an LED light and remote control.
What we like
You can place it in several rooms, including the living room, bedroom, and lounge
It fits flawlessly in a home's modern interior design
Ideal for rooms with low-height ceilings of 8-9 feet
What we don't like
It requires a complete installation to work, which may be confusing and time-consuming
The Hunter Dempsey indoor low-profile ceiling fan is the best for homeowners that want a silent ceiling fan that is energy-efficient and comes with dimmable LED lights.
3. Reiga 52-in ceiling fan
Many quiet ceiling fans with lights for bedrooms do not come with bright LED lights. If you prefer to have a unit with one, the Reiga 52-in Ceiling Fan is ideal for you.
It has a remote control, 6-speed settings, and a 3-color temperature switch. The machine is reversible, has a strong DC motor, and is noiseless when in operation.
What we like
It features a perfect design that can blend with any décor
The fan is large enough to cover rooms of up to 250 sq. ft.
It is easy to install because of its well-balanced hanging system
What we don't like
It does not have a dimmable function
The Reiga 52-inch ceiling fan with an LED light kit is one of the best quiet ceiling fans for the bedroom. It is low profile, has a solid quality, and offers greater control because of its timer feature.
4. Westinghouse Lighting 7224700 Quince
If you have a small room that requires proper airflow, this Westinghouse Lighting ceiling fan with light is worth considering. It is a contemporary indoor 24-inch LED unit that fits houses of up to 100 sq. ft.
The machine is reversible and has an integrated 16-watt dimmable LED light kit. As one of the most advanced noiseless ceiling fans, it has a high-quality motor that produces proper air movement throughout your bedroom.
This feature also ensures quiet performance both in the winter and summer.
What we like
It does not require extra bulbs during installation
You will enjoy a lifetime motor guarantee
It offers year-round comfort and dependable performance
What we don't like
The fan comes with non-standard bulbs, which can be challenging to replace
Among all the available quiet ceiling fans for bedrooms, the Westinghouse Lighting ceiling fan is the best for small spaces.
5. Honeywell Ceiling Fans 50614-01 Carnegie
Honeywell produces some of the most advanced fans for home use. The 50614-01 Carnegie, for example, is an industrial-grade unit that is large enough for rooms of up to 324 sq ft. It can illuminate your home with three LED bulbs encased in clear glass.
The ceiling fan has a quiet, reversible motor with three-speed settings to allow you to operate in the summer and winter.
What we like
Comes with five different mounting options
It offers adequate airflow in any room
It has a limited lifetime warranty
What we don't like
Installation is more difficult compared to other fans
If you want an industrial-grade ceiling fan that offers adequate airflow for a large room of up to 324 sq. ft., the Honeywell Ceilings 50614-01 Carnegie is the ideal option.
When most people think of what they want from their bedroom ceiling fans, proper air movement and smooth operation are always top on the list.
Also, a ceiling fan for the bedroom must be precision-made using high-quality components. But most importantly, the fan must be a quiet electronic device that is well installed.
The quietest ceiling fans do not wobble and produce enough wind to maintain your ideal comfort level. If you are searching for a unit, I hope the guide above has been quite helpful.
Conclusion
When looking for the quietest ceiling fans for your home, you must consider several factors before purchasing. Ideally, go for units that come with a remote, are easy to install, allow for proper airflow in your home, and offer various speed settings.
Also, go for reversible fans so you can use them in the winter and summer. Overall, I hope our quietest ceiling fan reviews have been helpful in selecting the right fan that can run all night in your bedroom.
Related