If you want to improve indoor air quality, start by reducing pollutant sources in your home. These sources can include cigarette smoke, pet dander, chemicals, fragrances, and dust. The best and easiest way of achieving this is to use a high-quality air purifier.
GermGuardian vs Honeywell air purifier is one thing that often comes to mind when discussing air purifiers. So, which is the best between these two?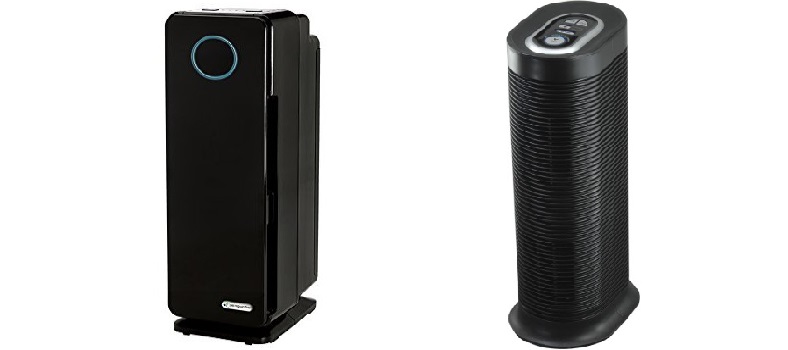 GermGuardian and Honeywell have been in the industry for a long time, and they develop and sell quality air purifiers, sanitizers, and humidifiers.
Their air purifiers are so advanced that deciding between the two can be challenging. However, I've spent hours researching and testing these products to help you choose the best among them.
GermGuardian AC4300 vs Honeywell HPA160 comparison
I've compared these humidifiers across different areas to help you determine which one is right for you, depending on how or where you intend to use it.
Room coverage
Room size helps to determine which air purifier is suitable for your home. That is because air purifiers have different CADRs (Clean Air Delivery Rates). These rates measure the amount of air a purifier can filter in a minute.
If you have a large room with a high ceiling, you need a machine with a higher CADR. Such a device will clean a substantial amount of air in your room quickly and effectively.
But if you have a small room, an air purifier with a lower CADR rating will do the trick.
GermGuardian AC4300: The GermGuardian AC4300 is a 22-inch 3-speed air purifier that can cover rooms of up to 153 square feet. Its CADR ratings for dust, pollen, and smoke are 107, 116, and 99 respectively.
Honeywell HPA160: The Honeywell HPA160 is 25.59 inch in height and comes with four air cleaning levels. It can cover rooms of up to 170 square feet. Its CADR ratings for dust, pollen, and smoke are 120, 130, and 110 respectively.
Verdict
The overall CADR rating for the HPA160 is higher than that of the AC4300. A higher CADR rating means the unit is faster and efficient at filtering the air.
In general, the Honeywell HPA160 HEPA tower is the better air purifier to buy if you consider room coverage and CADR rating.
Winner: Honeywell HPA160
Filtration Efficiency
The filtration efficiency of an air purifier depends on the types and number of filters the machine has. Filters in an air purifier play a significant role.
They determine how much of pet dander, chemicals, and other contaminants the unit can clean from the air. An air purifier should have an advanced filter system and the right technology to end germs and bacteria from the air.
GermGuardian AC4300: The GermGuardian AC4300 air purifier has a 3-in-1 filtration system. It is a system that consists of a HEPA filter, charcoal filter, and UV-C light technology. The HEPA filter captures up to 99.97% of allergens and dust as small as 0.3 microns. Its charcoal filter helps to reduce common odors from cooking, smoking, and pets. UV-C light technology works with Titanium Dioxide to end airborne viruses, bacteria, mold spore, and germs.
Honeywell HPA160: The Honeywell HPA160 air purifier has four cleaning levels (germ, general clean, allergen, and Turbo) and two filters. It has a pre-filter and a True HEPA filter. The pre-filter combines with an activated carbon filter. Both help to absorb odors, volatile organic compounds, gasses and trap large particles. Its True HEPA filter works continuously to capture up to 99.97% of particles as small as 0.3 microns.
Verdict
The addition of UV-light in AC4300 makes the machine better at purifying the air compared to HPA160.
UV-C light effectively inactivates bacteria, viruses, mildew, fungi, and mold by breaking down their DNA. Also, it helps prevent secondary allergies related to airborne allergens.
In our GermGuardian and Honeywell HPA160 review, we recommend you buy the AC4300 if you need a higher filtration efficiency.
Winner: GermGuardian AC4300
Size and portability
Not all air purifiers can purify the air in large rooms. Most of them can only cover rooms of up to 500 square feet. Even if you have a house with such an area, the purifier may only purify the room you have placed it in.
That means walls can be an obstacle to how much area an air purifier can cover. As such, you need a machine whose size is enough to carry around.
GermGuardian AC4300: The GermGuardian AC4300 is a standalone air purifier that measures 8.9 x 5.4 x 22 inches and weighs 9.45 pounds. It can only cover an area of 153 square feet.
Honeywell HPA160: The Honeywell HPA160 is also a standalone air purifier. It measures 13.2 x 10.9 x 28 inches and weighs 15.25 pounds. The machine covers an area of 170 square feet.
Verdict
Both machines are small and portable. But the GermGuardian AC4300 3-n-1 air purifier is lighter than the Honeywell HPA160. It is the ideal machine to buy if you factor in size and portability.
Winner: GermGuardian AC4300
Maintenance costs
An air purifier will operate more efficiently when you maintain it properly. Before buying, determine how much you will incur in the form of maintenance costs.
If your air purifier has a carbon or HEPA filter, you will have to replace its filter from time to time.
The filters trap all forms of particles, and that means they will be clogged up at some point. When this happens, the unit will not clean indoor air anymore.
GermGuardian AC4300: The GermGuardian AC4300 unit has both a carbon and HEPA filter. You will only need to replace one single filter every 6-8 months depending on the use of the machine. Its recommended filter is GermGuardian model FLT4850PT which costs about $30 on Amazon.
Honeywell HPA160: The Honeywell HPA160 uses a HEPA filter that combines an activated carbon filter. You will need to replace only one filter every three months if you use the machine for eight hours daily. Its recommended filter is the HRF-H2. Honeywell will give you two filters when you buy the replacement filter at about $50 on Amazon.
Verdict
The maintenance cost of the GermGuardian AC4300 air purifier is lower than that of the Honeywell HPA160. You will only spend at most $59.84 to replace its filters in a year.
You will spend about $99.98 to replace Honeywell HPA160 filters.
Winner: GermGuardian AC4300
Keep that indoor air healthy
The choice between GermGuardianAC4300 vs Honeywell HPA160 air purifier may not be easy. Both are two advanced purifiers capable of cleaning indoor air to make it clean and pure.
This Honeywell and GermGuardian AC4300 review and comparison has focused more on the most essential areas.
However, there are also other factors to consider based on your preferences. Overall, the best air purifier between these two is the GermGuardian AC4300.