Disposing of baby diapers can be a headache.
While a majority of parents throw them in the trash can, the smell tends to be too strong to bear, especially when you have several days before the garbage crew comes to pick it up.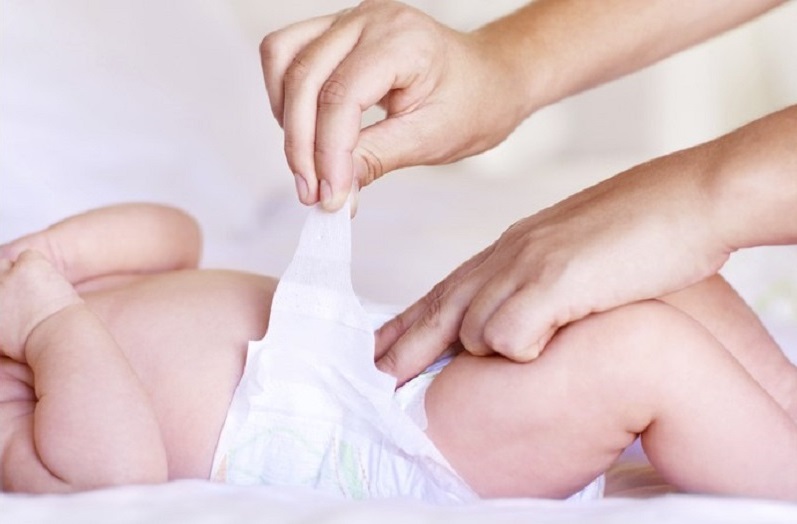 Besides, the simple activity of tossing plastic-wrapped diapers into the trash bin poses several health hazards, particularly to the sanitation workers. An alternative solution is to use the best odor control diaper pail.
An odor control diaper pail provides a practical option of storing used baby diapers until the sanitation workers come to pick up the garbage. The containers also give parents a useful solution for keeping their homes clean and smelling fresh.
An advantage of using these modern trash cans is that you can place them even in a baby's room. Once you throw in the diapers and seal, the pail will prevent unpleasant smells from stinking up or escaping into your home.
Beware that there are many products out there that claim to be odorless but they'll leave your home with a terrible stench. To help you stay away from these products, we have created a well-researched list of the best odor control diaper pails.
Comparison chart: Best diaper pails for smell
This comparison table will make it easier for you to choose a diaper pail that best suits your needs:
Diaper pail
Capacity
(max diapers)
Best features
Price
Dekor Plus 2-12021-1
60
-Triple odor control
- Hands-free
Munchkin 15901
40
-Hands-free
-Compatible with
many refill bags
Ubbi Steel 10006
55
-No refill bags needed
-Made from stainless steel
Playtex Diaper Genie
30
- Hands-free
- No bending
Dekor 2-11121-1
45
-Hands-free
- Cost-effective
Which is the best odor control diaper pail?
If you are a looking for an ideal diaper pail smell solution, then you should choose between these 5 odorless diaper pails:
1. Dekor Plus Hands-Free Diaper Pail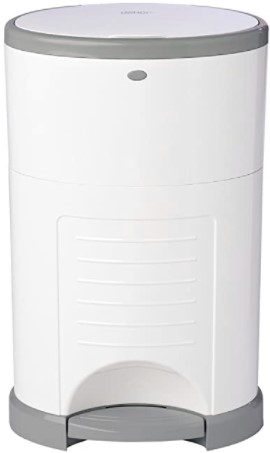 Dekor Plus is a hands-free and practical diaper pail that is three times more effective in controlling odors. It has a powder-scented refill that protects your home against foul smells.
The odor pail odor absorber will hold over 20 diapers per each refill. Its refills are continuous liners that do not have perforations. That means you can throw in as many diapers as you want without wasting the kitchen bag.
Pros
It is multi-functional, meaning you can use it in the bathroom, kitchen, garage, and even dispose of pet poop.
It is easy to clean and empty after it reaches its capacity.
It is useful for collecting cloth diapers.
Cons
Although it is hands-free, you will have to push on the trap door once it is near full.
As a parent, buying the Dekor Plus Hands-Free Diaper Pail is ideal for you because it is easy to use, can hold many size one diapers, and does not allow odors to escape even when emptying.
2. Munchkin Step Diaper Pail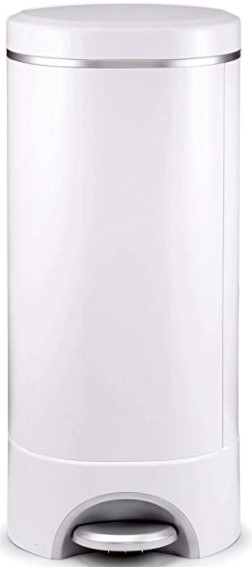 Munchkin Step Diaper Pail is a top-rated diaper pail that offers a practical way of controlling odors from baby diapers in your home. It comes with a patented self-sealing system that contains foul smells, whether you open the lid or not.
As a hands-free pail, it also has a childproof locking system that keeps babies from opening it up. Furthermore, it is easy to clean and large enough to hold up to 180 size-one diapers.
Pros
Its self-sealing mechanism helps to twist refills tight every time you close the lid to ensure no stink blast.
It has a sleek aesthetic that looks great in any baby nursery.
It has a lavender-scented puck that continuously absorbs smells even when the unit is not in use.
Cons
It is expensive compared to similar items.
If you want the best diaper pail that works well with both snap and refill rings and toss and seal refill bags, consider the Munchkin Step Diaper Pail.
3. Ubbi Steel Odor Locking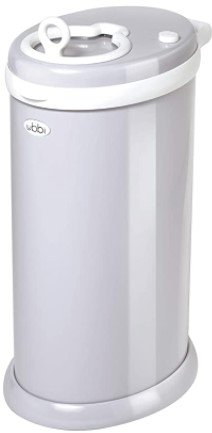 Ubbi Steel Odor Locking is a non-porous diaper pail that will keep bad smells inside the unit until you empty it. Since it is a steel container, it is not prone to breakage, unlike plastic.
Also, it has a childproof lock system that prevents kids from opening it and finding their way inside the chamber.  The pail can hold up to 55 diapers.
Pros
You can use it with any regular, tall kitchen bag or cloth liner.
It has a rubber seal around the rim and sliding lid that ensures the unit is airtight and will keep diaper pail from smelling.
The sliding lid helps to minimize air disruption when throwing in diapers.
Cons
As a stainless steel can, it does not absorb odors well. It stinks whenever you dump diapers or empty it.
The advantage of the Ubbi Steel Odor Locking diaper pail is you do not need to buy any bags, refills, or inserts when using it. That helps to save you money.
4. Playtex Diaper Genie

Playtex Diaper Genie is a complete pail that comes with built-in odor-controlling antimicrobial properties to prevent bacteria growth. It is a hands-free diaper pail odor remover that requires no bending since it has a foot pedal that makes it easy for you to open it up and dispose of the diapers.
The refill bags can hold up to 270 newborn diapers, saving you time that you would otherwise have spent going to the trash can.
Pros
It has a carbon filter that captures the smells that are trying to escape.
Its anterior tilt bin makes it easier for you to change the bags.
It is of the right height to allow for easy tossing of diapers.
Cons
The lack of a handle makes it challenging to lift the lid, especially for those on wheelchairs.
The Playtex Diaper Genie has a bag system that is easy to use and clean. It does not fill up quickly or waste your money on buying extra kitchen bags.
5. Dekor Classic Hands-Free Diaper Pail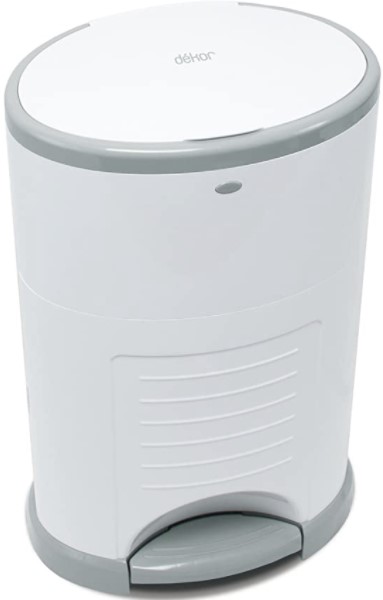 Dekor Classic is a hands-free diaper pail that comes with powder-scented refills to protect your home against odors.
Each refill has a continuous liner that can hold more diapers and save you money since you will not need to buy extra kitchen bags. The unit offers a convenient and odor-reducing option of disposing of human and pet waste.
Pros
It has a spring-loaded trap door for the easy dropping of diapers.
Its self-closing whisper lid quietly shuts down once you release the foot pedal.
It is easy to empty the container and clean it.
Cons
It is not the best for disposing of cloth diapers.
The Dekor Classic Hands-Free Diaper Pail is a functional unit for parents in need of a diaper garbage can that is big to hold more diapers, is effective in eliminating odors, easy to use, and allows for seamless cleaning.
How do diaper pails work?
A diaper pail consists of a large plastic container and lid. It uses a system that seals used baby diapers individually in a scented film. The film helps to protect your home against odors and germs.
After removing the diaper from your baby and throwing it into the pail, the container will employ a mechanism to seal off the scent.
It will then absorb the odors and keep indoor air fresh. You will not even notice the unpleasant smell when emptying the unit or throwing in more diapers.  When used frequently, the device will prevent you from taking out the diaper to the garbage.
Factors to consider when purchasing the best odor control diaper pail
If you are on the market for the best odor eliminator diaper pail, pay attention to the following factors:
1. Capacity
Most diaper pail reviews recommend you choose a unit that can hold as many diapers as possible. Ideally, it should store at least 20 diapers, depending on the size of the baby.
2. Hands-free
An excellent diaper pail should be hands-free. It will allow you to step on a foot pedal and drop the soiled diaper without touching it. That is helpful to maintain decent hygiene levels.
3. Odor control
Different types of diaper pails use different mechanisms to control odors. Some use carbon filters, and others work with plastic bags built with layers.
While both work well, carbon filters are the best because they will prevent you from purchasing refill bags.
What are the advantages of using a diaper pail?
A diaper trash can comes with many advantages for parents. These include:
You can place it in a baby's room without having to worry about hygiene or foul smells.
It is easy to use since many of them come with a foot pedal that you can open conveniently anytime you want to toss away diapers.
It can contain odors and prevent them from slipping into the room.
It is easy to clean and deodorize the unit after use.
Many diapers pails today come with a child-lock safety system. Its function is to prevent kids from opening the unit and exposing themselves to unhygienic matter.
How do you clean a diaper pail?
Diaper pails can contain the smell of feces from escaping into your room. But since it is a closed system, it means that bacteria will grow and thrive in that environment.
Therefore, you must clean the unit after tossing away the diapers. Here is how:
Remove all accessories from inside the unit.
Saturate a sponge using warm, soapy water.
Next, scrub every part of the container, both on the inside and outside.
Hose down the pail and allow it to dry in the sun. The sun will help to kill any bacteria and residue left while cleaning.
When cleaning the unit, ensure to use gloves. Also, designate one sponge that you will be using to scrub the container. If the diaper pail has a strong odor and intense stains, sprinkle some baking soda to make things easier for you.
Conclusion
The best odor control diaper pail is one that is easy to use, can hold many diapers, and allows for seamless cleaning. When in need of a unit, go for the that has the best odor control mechanism, especially those with carbon filters. Also, consider a trash bin that limits you from buying extra kitchen bags.