The GermGuardian AC4825 is a 3-in-1 air purifier that comes with a HEPA filter, pre-filter, and activated carbon filter.
It is an advanced system that captures and removes microscopic allergens, large particles of pollutants. It also reduces odors created from cooking, pets, among others. But over time, the GermGuardian AC4825 filter can get clogged with pollutants and lose its effectiveness. That means you must replace it to improve your air purifier's filtration efficiency.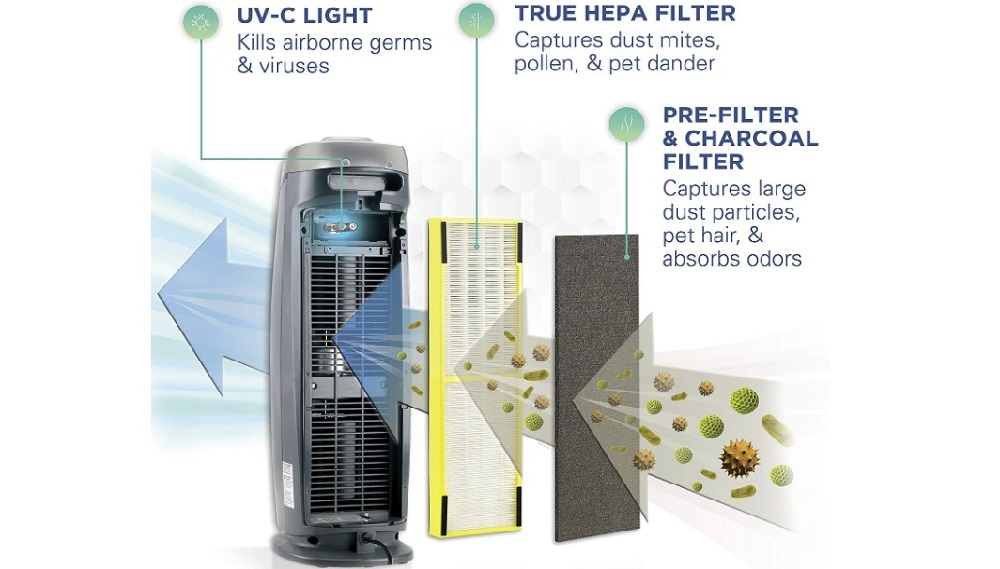 Before replacing the filter, you need to ensure you select the best option available. But, which one should you choose? Consider the following factors before buying a replacement filter for the AC4825 air purifier.
Compatibility – It must be compatible with that of the AC4825 unit.
Effectiveness – It should have the same capacity to capture the maximum pollutants as the original unit.
Installation – It should be easy to install into the air purifier.
How long do GermGuardian filters last?
The filters can last for several months or years, depending on usage. If used in a residential environment, replace them after two years. But if you are using them daily in a commercial setting, check them after six months.
You should also replace them immediately they get muddy. Alternatively, you can clean the carbon filter layer to extend its life.
How do you reset the HEPA filter on the GermGuardian?
To reset the HEPA filter:
The pre-filter and HEPA filter attach using Velcro. Unfasten it and place it out of the plastic bag
The reset light will illuminate
Replace the new filter
Put in the pen tip into the reset area of the HEPA system
Next, restart the system, and you are good to go.
Best replacement filter options for the GermGuardian AC4825
Here are the best GermGuardian replacement filter replacements to consider.
1. Germ Guardian FLT4825

The FLT4825 is the best replacement filter for the AC4825 unit. It can reduce up to 99.97% of allergens as small as 0.3 microns, including mold spores, dust, and pollen.
As a combination filter, it comes with a True HEPA filter and pre-filter or activated carbon filter. The unit measures 1.3 x 4.8 x 15.8 inches and weighs 5.6 ounces.
2. Germ Guardian FLT4850P

The FLT4850P is a replacement filter B for various GermGuardian air purifiers, including AC4825, AC4300, C4900, and AC4850PT. It comes with a True HEPA filter, activated carbon layer, and pre-filter. Some of its features include:
Safe pet pure treatment
Anti-microbial agent
The filter also combines various technologies to ensure it matches with your air purifier to fit well into the unit.
3. Veva Premium 2 HEPA Filters

If you are looking for the best GermGuardian HEPA filter that can fit into your AC4825 unit, the Premium HEPA filter from VEVA is what you need. It comes in a package that contains:
Two HEPA filters
Eight extra activated carbon pre-filters
The replacement filter B can eliminate nasty odors and capture most dust particles and allergens. Although VEVA produces the filter, it will not work with the VEVA 8000 air purifier.
4. Junhui FLT4825 Filter

When replacing a filter for the AC4825, it is essential to buy a genuine unit. Junhui produces a True HEPA genuine replacement filter for the AC4825 air purifier.
A package of the FLT4825 comes with two filters that can help to prolong the life of your purifier and eliminate allergens and nasty smells. You will also get:
An installation guide
Eight carbon filters
The True HEPA filter measures 15.75 x 4.72 x 1.1 inches.
5. Filter Bros FLT4825 HEPA Filter B

The FLT4825 HEPA Filter B is an advanced Germ Guardian air filter replacement for the AC4825 unit. It offers ultra-high performance in capturing colored and odorous substances from airborne liquids and gases. The filter comes with:
50% thicker odor-absorbing activated carbon pre-filter
HEPA filter
The unit weighs 6.2 ounces and measures 15.8 x 4.8 x 1.3 inches.
6. Fette Filter HEPA Filter and Pre-Filter

The Fette Filter HEPA Filter and Pre-Filter can capture airborne pollutants and allows for maximum airflow in a room. It can catch dust, pollen, animal dander, and purify the air in your house.
When you buy a unit, you will get:
Two replacement filters for the AC4825 air purifier
Activated carbon filter
The filters combine various technologies that ensure noiseless operation.
7. Cabiclean FLT4825 True HEPA Filter B

The FLT4825 from Cabiclean is a professionally designed replacement filter B for various GermGuardian air purifiers. You can install it in your unit to remove odors from the air, as well as gases and liquids. Therefore, when you buy a package, you will get:
Two HEPA filters B
Eight carbon pre-filters
The item will fit like a glove in your GermGuardian air purifier.
Conclusion
Make sure to replace the GermGuardian AC4825 filter every six to eight months. Consequently, when looking for a GermGuardian AC4825 replacement filter, ensure it is compatible with your unit. In addition, go for a device that will remove up to 99.97% of particles as small as 0.3 microns.
Related: