A space heater is excellent for heating a single room.
Unlike central heating, space heaters don't consume much energy and can be used where needed and when required.
If you have been using central heating, you are definitely aware that most of your electricity bill comes from the heater warming up areas that aren't even in use.
Using a space heater can save you a lot of money on energy costs. As long as you select the best space heater for a large room, you shouldn't experience any issues when warming up any room.
In addition, space heaters are portable. You can easily move them from one room to the other when needed.
Top 5 space heaters for large rooms in 2022 (reviews)
Space Heater
Coverage
(sq. ft)
Wattage
Price
Dyson Pure HP04
1,200
1,575
Dr Infrared Heater DR-968
1,000
1,500
AmazonBasics DF1501
1,000
1,500
Heat Storm HS-1500-PHX
500
1,500
Vornado AVH10 Vortex
300
1,500
If you are looking to buy a space heater for a large room or one with a high ceiling, these are the best options you can find:
1. Dyson Pure Hot + Cool HP04 Air Purifier & Heater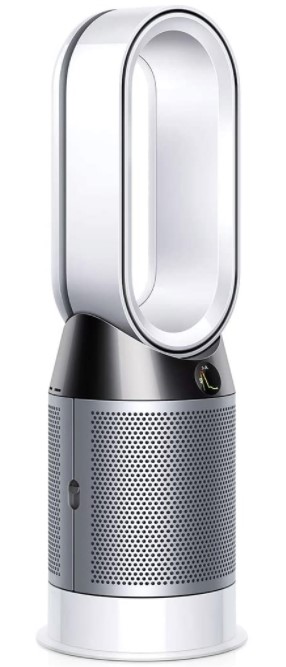 The Dyson Pure Hot is the best space heater for a large room. This electric heater combines an air purifier and a fan. If you love smart tech, then you'll be impressed to know that it is the smartest heating and coolest gadget around.
You can use it at home for long-range, fast, or even room heating. It features a thermostatic control that helps to warm an area up to the right temperature.
Other features of the appliance include:
Remote control for operating the unit remotely.
Alexa voice control for turning on or off the device.
The fan helps to cool the house in the summer.
Pros
It provides real-time reports on indoor air quality, temperature, and humidity.
It can maintain and adjust room temperature.
The Dyson can heat a room of up to 1,200 square feet.
Cons
If you are looking for a space heater that will automatically heat, purify, and cool your home, the Dyson Pure Hot Heater is all you need.
2. Dr Infrared Heater DR-968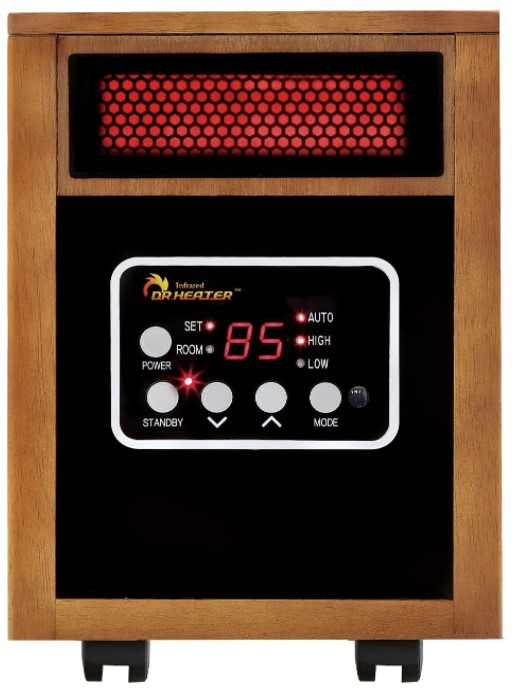 Dr. Infrared DR-968 is a portable 1500-watt space heater for extra-large rooms that features an auto energy-saving mode. It is one of the best space heaters for large rooms due to its dual heating system that optimizes the heat transfer rate, ensuring that it distributes more heat across a room.
With its remote control, you can change the temperature and turn the unit on or off from a distance. You can also program it to heat your area without your input. Some features of the device include:
A programmable 12-hour timer that shuts off the unit automatically.
Dual heating technology to increase heat distribution.
Energy-saving auto mode.
Pros
Auto adjusts the temperature to prevent overheating.
Energy-efficient. It delivers 60% more heat than similar devices.
It works quietly to heat a room.
Cons
It produces a characteristic smell when new that some homeowners may find disturbing.
Dr Infrared Heater DR-968 is best for those who need a portable space heater they can use in any room. It is definitely one of the best space heaters for large rooms that can you find at its price.
3. AmazonBasics DF1501 Portable Eco-Smart Space Heater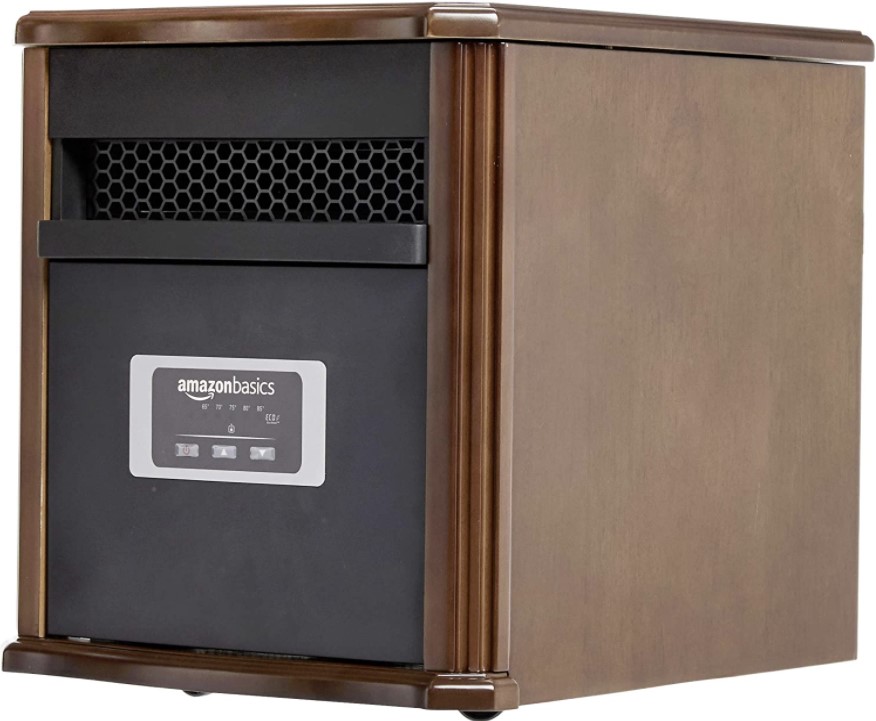 The AmazonBasics DF1501 Portable Eco-Smart Space Heater boasts an elegant wood finish and features an adjustable electronic thermostat. It has an LED display that tells you the temperature of your room.
Its intuitive features include an overheat sensor for ensuring heating safety and remote control. It also comes with two power settings of 1000 and 1500 watts, and a 12-hour timer.
Pros
It uses only 12.5 amps of power to heat up to 1,000 square feet.
Only produces 39 decibels of noise when operating.
It offers supplemental heat in occupied rooms.
Cons
The outer material can be prone to damage if not handled with care
As a homeowner, consider purchasing the AmazonBasics Portable Eco-Smart Space Heater because it is energy efficient, easy to operate, and comes with useful safety features.
4. Heat Storm HS-1500-PHX-WIFI Infrared Heater – best wall-mounted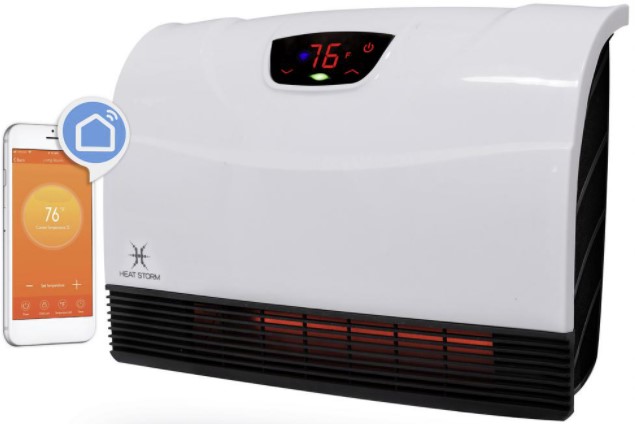 The Heat Storm HS-1500-PHX is an infrared heater that is perfect for heating living rooms, bedrooms, and other spaces in your home.
The HS-1500-PHX is the best wall-mounted electric heater for a large room. This smart device allows you to control the temperature from a remote location using your phone. It consumes 1500 watts of power whenever it is in use.
Pros
It is space-saving since you can mount it on the wall.
Its grill is safe to touch.
It warms up a room quickly.
Cons
It has a bright blue LED light that can be distracting at night.
If you want a wall-mounted space heater that can warm up to 500 square feet, the Heat Storm HS-1500-PHX Infrared Heater is worth having.
5. Vornado AVH10 Vortex Heater – best for large basements
The Vornado AVH10 Vortex Heater features auto climate control, two heat settings, digital settings, and a fan option.
It is the best space heater for a large basement, living room, bedroom, and other areas that you need to warm up. Its integrated carrying handles make the unit easy to carry around from one space to another.
Pros
It helps to maintain the ideal room temperature in all seasons.
Its two heat settings and a fan-only option are useful for tailoring the heat output and energy consumption.
It comes with advanced features that help to ensure safety when in operation.
Cons
Makes some noise which might distract those who are sensitive.
The Vornado AVH10 Vortex Heater is useful for homes that need a space heater that maintains the ideal room temperature in all seasons.
How much electricity does a space heater consume?
Most residential space heaters on the market today use a maximum of 1,500 watts per hour. However, many manufacturers have also come up with devices that consume as low as 200 watts.
When buying the unit, ensure to check its wattage on either the user manual or the print. That will allow you to know how much electricity it will consume in an hour.
For example, if you buy a unit that has 1,500 watts, it will consume 1.5 kilowatts of electricity. If you run it for 24 hours, it will use 1.5 x 24 = 36 kilowatts per hour.
Multiply the number by the rate your power company charges for electricity (say 10.48 cents) you get $3.77 per hour.
For a detailed breakdown, check out this space heater electricity consumption guide. It also explains ways to minimize electricity costs when using a space heater.
How to save energy costs when using a space heater
If you are planning to buy a space heater, here is how you can lower your monthly heating costs:
Heat for a few hours: Reduce the number of hours you are heating your home. Only use the unit when you need it.
Air-tight your home: Start by sealing off any spaces that might bring in cold air from the outside. Close your windows and doors during the day to keep warm air inside.
Use a low-wattage unit: Rather than buying a device that consumes 1,500 watts, consider going for a smaller one that only takes in 200 watts.
Also, consider a unit that comes with a thermostat. It will help you to set the heat to a temperature that will only keep your room warm without wasting energy by overheating the whole area.
How long should you leave a space heater running?
The duration to leave your space heater on will depend on various factors. These include the size of your room, the temperature of the house, and your comfort level.
In general, leave the unit running for the number of hours you are using it. If it is not in use, consider switching it off.
Also, if you think the temperature of your house is comfortable for you, then you do not need to use the device.
If you tend to forget switching it off, or you need to find your home at the right temperature, consider purchasing the best smart space heaters for large rooms.
Factors to consider when buying a space heater
If you are on the market for an energy-efficient heater for a large room, here are some things to put into consideration.
Remote control: The remote control aims to help you operate the unit from a distance. You will use it to turn the heater off or on while on your couch or bed.
Thermostat: It is a feature that allows you to set your heater so that it can turn on when the temperature in your room is below a specific limit. The advantage is it can help you to save energy.
Heating capacity: Consider buying a space heater based on the area of a room it can cover. In other words, look at its wattage. These devices use at least ten watts to heat a square foot. If you buy a unit with 700 watts, it will only cover 70 square feet.
Noise levels: Since it is an electronic device, a space heater will produce noises when in operation. Consider purchasing one that is not noisy by looking at its decibels level.
Other things to consider in the unit include safety features, warranty, and energy-saving capability.
Conclusion
The best space heaters for large rooms are those that can maintain or adjust room temperature automatically without your input.
Also, consider a unit that has safety features and prevents overheating. As a homeowner, go for an appliance that helps to save energy and comes with two or more heat settings.
Read Also