Are you looking for an efficient yet simple to use thermostat for your home? How about trying a programmable thermometer with a large screen display?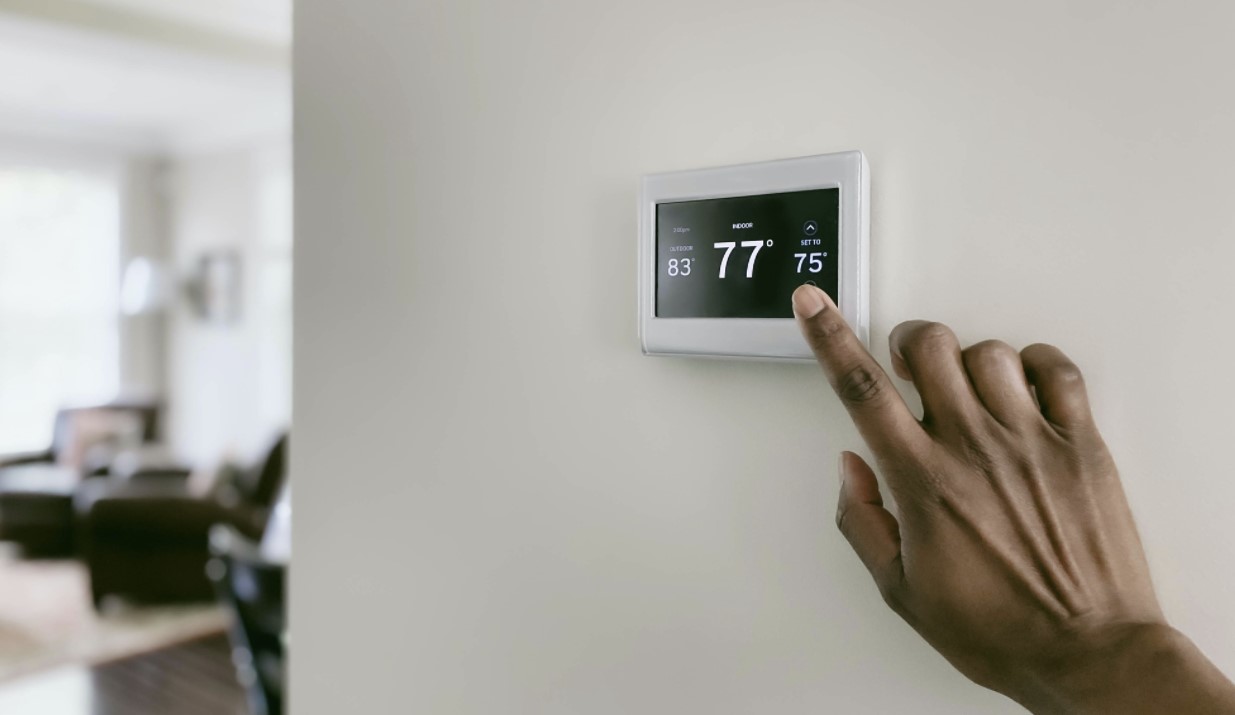 A programmable thermostat can be an excellent tool for your home. With one, you can set schedules for up to a week, automatically controlling your house's temperature. However, they can be a hassle to use if their display is too small or complicated to use.
Large-screen programmable thermostats come in handy if you are elderly, have vision issues, or don't like small displays. Combined with the programmable function, you can easily set up your thermostat and allow it to do the rest of the work for you.
Unfortunately, choosing an excellent programmable thermostat with a large display might not be easy as it seems. But worry not!
Below, we have researched and compiled a detailed list of the best large-screen programmable thermostats on the market.
Top 3 programmable thermostats with a large screen
What to look out for in a large display digital thermostat
Already, you have two features to look out for when choosing a programmable thermostat with a large display – programmability and large screen. However, there are several other factors to consider:
1. Friendly display
When choosing a thermostat, not only should be the display be large, it should also be user-friendly. For example, the text in the display should be large enough to see without issues.
The screen should also have enough illumination and bright colors and contrast for readability.
2. Programmable options
The thermostat should have a variety of scheduling options. For example, some thermostats have day and night modes, 7-day schedules, 5 + 2 days' schedules (weekdays and weekend), among others.
The set up procedure shouldn't be complicated either.
3. Intuitive user interface
Aside from a sizeable friendly display and programmability, the thermostat you choose should also be easy to navigate.
The user interface should be intuitive, allowing you to move through the settings with ease. If possible, the thermostat should even have dedicated buttons to bring up various settings.
4. Voice control
Voice control is another great feature in a thermostat, especially if you have sight issues. A thermostat with voice controls also makes setting schedules an easy and effortless task.
Top 3 best large-screen programmable thermostats – detailed reviews
We have researched and chosen some of the best large-screen programmable thermostats using the above considerations and other facts such as quality and price. These are our top picks:
1. Honeywell Home RTH9585WF1004 Smart Thermostat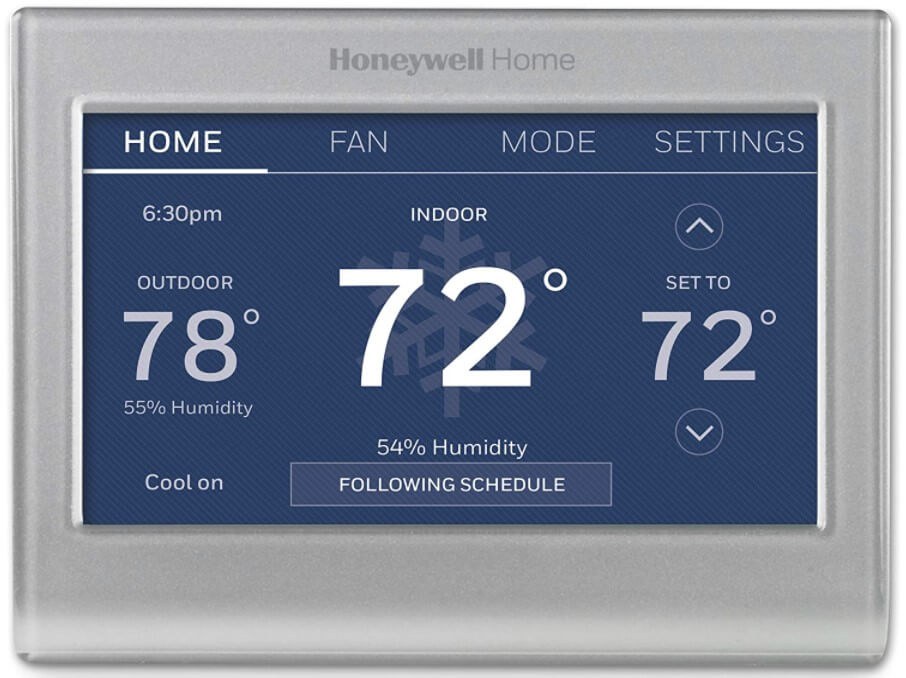 Are you looking for easy to use yet high-performance large-screen thermostat? Then, you might want to try the Honeywell RTH9585WF1004 Smart thermostat.
Honeywell RTH9585WF1004 home thermostat comes with a large screen measuring 4.5 by 3.5 inches. It also features rich colors and bright illumination, which makes it easy to see the display.
The Honeywell large-screen thermostat also comes with a simple user interface. Unlike most thermostats, you won't experience a steep learning curve.
It has a simple menu with four main options (Home, Fan, Mode, and Settings). On top of that, navigating the menu is effortless, thanks to its responsive touch screen.
The Honeywell RTH9585WF1004 thermostat also offers smart connectivity, connecting via Wi-Fi to a smartphone app (available on Android on iOS). It also comes with some basic voice control features.
Unfortunately, one major con of the thermostat is that it might require some professional help to install.
Why we love it
It has a large, colorful display with customizable theme options
Comes with a voice control function and smartphone app connectivity
It is easy to use with a simple, intuitive user interface
Offers monthly energy consumption reports to help you track your HVAC bills
With its large and colorful display, large texts, and easy to use interface, the Honeywell is the perfect large thermostat for the elderly, people with sight issues, or those in need of a simple but performing thermostat.
2. Lux Products TX9600TS Touchscreen Thermostat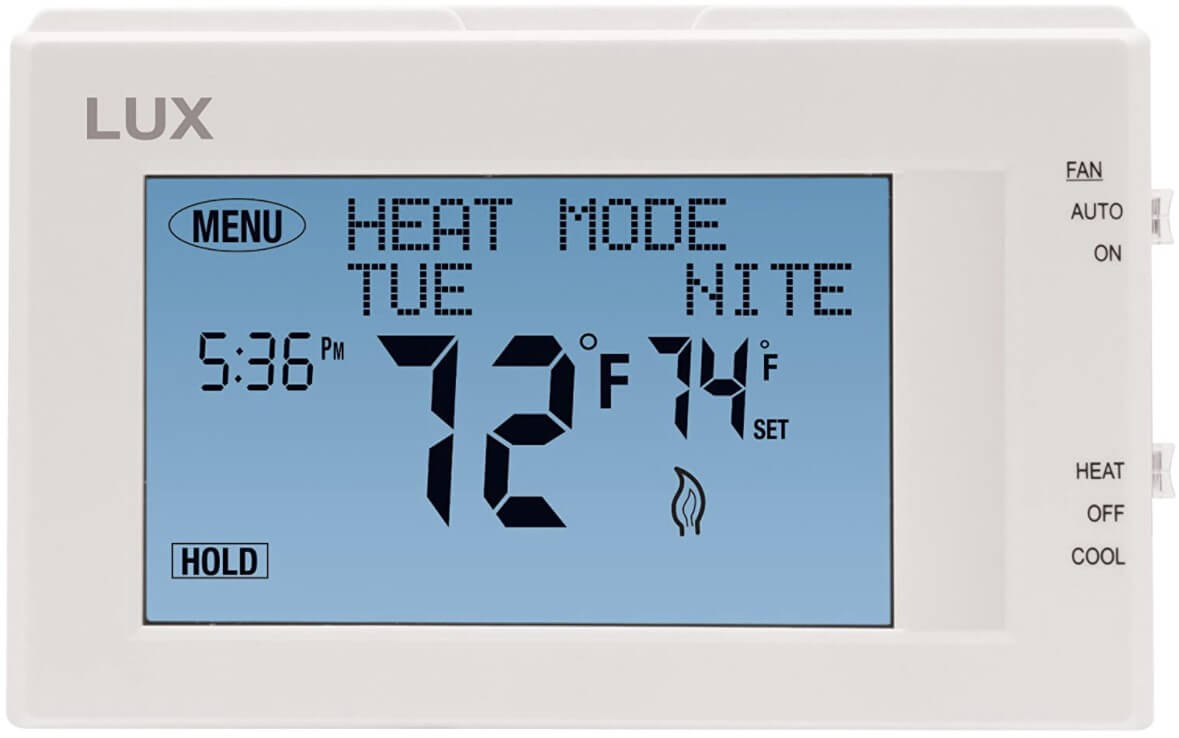 Are you looking for a simple but highly functional large touch screen thermostat that will give you great value for your money? How about trying the Lux Products TX9600TS thermostat?
Coming from Lux Products, the TX9600TS is a digital thermostat with large numbers and excellent illumination. It is also straightforward to operate. It's simple and intuitive interface makes it ideal for the visually impaired or the elderly.
The Lux TX9600TS comes with hassle-free program modes, allowing you to set schedules for each day and up to four specific periods per day. It also has an air filter lifetime notification and a vacation hold mode for up to 30 days.
When it comes to price, the Lux TX9600TS is one of the most affordable large-screen programmable thermostats. And despite this, its performance is impressive and will help you save money on heating and cooling bills.
Nonetheless, it is not without issues. The top among them is that it is not compatible with all HVAC systems using baseboard heating.
Why we love it
Large texts and excellent illumination makes it easy to see the display
Several programmable options and an air filter life timer
It comes with energy reports to help you monitor and track your consumption
The Lux Products TX9600TS thermostat is excellent if you want something affordable that doesn't compromise functionality and performance.
3. PRO 1 IAQ T955 Touchscreen Thermostat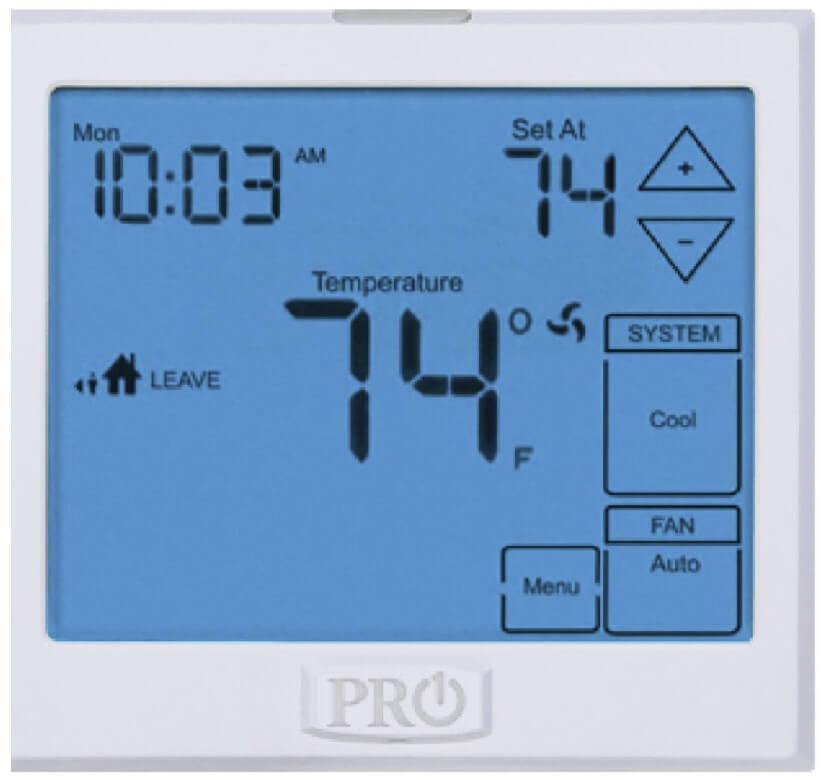 Are you in need of an excellent large-display thermostat for the visually impaired? Then, the Pro 1 IAQ T955 Touchscreen Thermostat is an ideal solution.
The Pro 1 IAQ T955 programmable thermostat comes with a large 13 square inch display that offers a hassle-free viewing experience. It also features large texts (in bold black fonts) and a contrasting bright blue background.
As a result, it provides an easy viewing experience for even the visually impaired (however, it is not ideal for blind individuals).
The thermostat comes with simple but efficient program options, allowing you to choose between a 7 Day and a 5-1-1 Day schedule. It also comes with wake, leave, return, or sleep program options, allowing you to switch between different schedules seamlessly.
Another thing you will love about the Pro 1 IAQ digital thermostat is its sleek and stylish look. It is also packed with several other features such as filter change warning, lockout, and compressor delay protection.
However, it has one or two issues, the main one being that it keeps the AC running for a while longer after the desired temperature is achieved.
Why we love it
Large, easy to read display with large texts and excellent backlight
Several program options that you can switch back and forth with ease
Can use both batteries or the C-Wire electric connection to run
The Pro 1 IAQ T955 is an excellent product if you are looking for a thermostat with the largest screen and a friendly display.
How does a digital thermostat work?
When it comes to thermostats, there are two main options: a digital or an analog one. So, what is a digital thermostat, and how does it work?
Before looking at digital thermostats, it is best to look at the analog ones first.
Analog thermostats are older, manual thermostats used to control temperature before the onset of the current technology. They use a bimetallic strip – two metal strips connected – which close or open as the temperature increases or decreases, controlling the HVAC circuit.
On the other hand, digital thermostats use thermistors – a resistor whose electrical resistance changes with temperature. They also come with a microcontroller, which measures the resistance, then converts it to the actual temperature.
Most digital thermostats are also programmable, allowing you to set the desired temperature that the thermostat should maintain. They also provide a readout of the current temperature, among other functions.
The primary difference between digital and analog thermostats is their accuracy. A digital thermostat is more accurate, which translates to more efficient HVAC control.
As a result, it can save you a lot of money in the long run. However, they are much more expensive than analog ones.
Can a thermostat be wrong?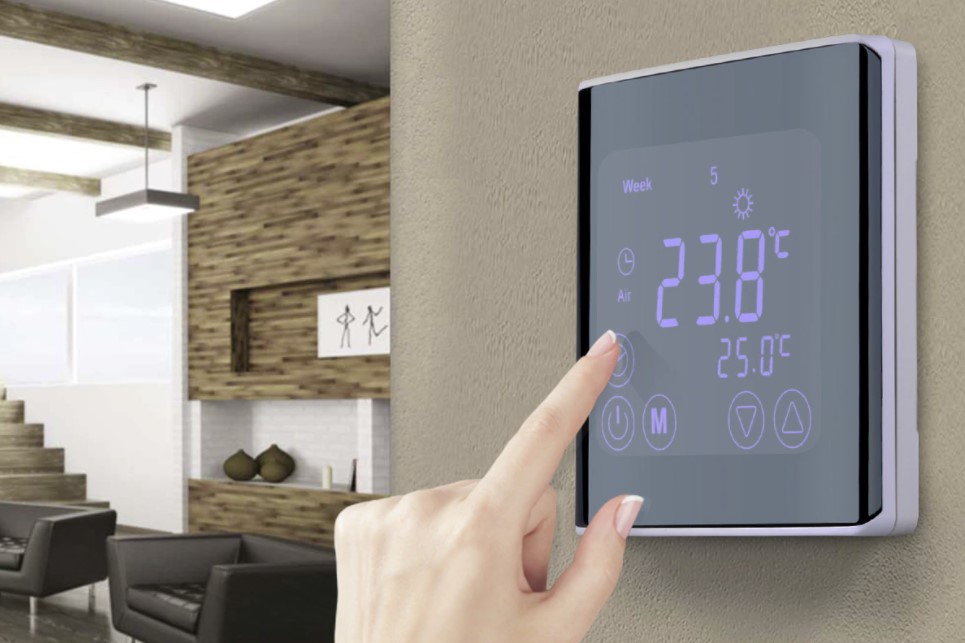 Ideally, your thermostat should be showing you the exact temperature of your premises in the readout display. However, this is not always the case.
Sometimes, it can show the wrong temperature, resulting in a less efficient operation of your HVAC system, consequently leading to high energy consumption.
So, why would a thermostat be showing the wrong temperature? There are several reasons for the faulty readings, such as:
A malfunctioning sensor that is not measuring or recording the wrong temperature
An old thermostat that has become outdated, worn out, and less efficient
Wrong placement of thermostat, leading to sensor interference – for example, near cooling or heating ducts, devices releasing cold or hot air, in direct sunlight, exterior walls, doors, windows, among others.
How to know if your programmable thermostat is damaged
A thermostat is supposed to help you maintain a constant temperature in your home, ensuring the efficient running of your HVAC system. Therefore, it can cause you several problems if it is damaged.
But how can you know whether your thermostat is faulty or operating optimally? Well, there are a few warning signs to be on the lookout for.
These include:
A temperature that is too cold or too hot from your preferred temperature setting
Little or no change to the temperature after adjusting the thermostat
Your HVAC system running for long sessions non-stop or refusing to turn on
Short cycling of your HVAC system – turning on and off too frequently
Your programmed settings keep being deleted or overridden by the thermostat
With any of these signs, you will need to call a technician to come to check on your thermostat. Some of the issues causing it to be faulty can be fixed, while others might require replacing the unit.
Final thoughts
Are you looking for the best large-screen programmable thermostats? The above are some of the top options on the market.
Aside from offering large displays and scheduling options, they also come with several other features that make them ideal for the visually impaired, older people, or any other typical homeowner.
All in all, they are simple to use and operate and provide excellent HVAC control, which helps to save energy and keep your heating or cooling bills at a minimum.
More buying guides