An eczema flare-up is one of the worst experiences you can have. Your skin will not only feel itchy and full of blisters but may also become red, cracked, and inflamed.
One of the causes of an eczema flare-up is drastic changes in temperature and humidity. This means that you need to keep the environment inside your home constant at all times. In cold weather, the air indoors may become dry leading to an eczema flare-up. Luckily, you can avoid such a situation by using the best humidifier for eczema.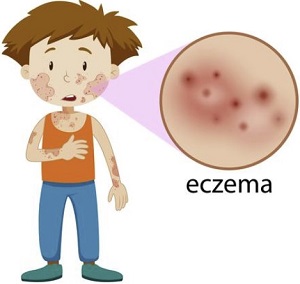 Humidifiers work to alleviate eczema symptoms by enabling you to maintain the required humidity levels at home. In this case, it is recommended to maintain between 30-60% relative humidity to prevent itchy and dry skin.
As an eczema patient, you definitely want to make life easier and more comfortable. That is why you need a humidifier. The problem, however, is that not all humidifiers are great at alleviating eczema symptoms.
This is why we have created this guide: to help you settle for the right humidifier for eczema in the shortest time possible. You will no longer have to endure the frustrations that come with ineffective products.
Top 5 humidifiers for eczema and allergies – Quick look
Here are the recommended humidifiers for eczema that will help to prevent a flare-up:
Is a humidifier good for eczema in babies?
Humidifiers are ideal for babies with eczema since they add moisture to indoor air. The device will retain moisture content that will help to moisturize your child's skin.
Additionally, the humidifier will relieve eczema and congestion. Make sure to go for a cool-mist humidifier instead of the warm mist humidifier, in this case.
Features to consider before buying a humidifier for your home?
Some top features of the best humidifier for eczema include:
Humidistat – The humidistat will shut off the device when your room reaches a specified humidity level.
Filter Indicator – The indicator informs you when you need to change or clean the filter to avoid spreading back pollutants into the air.
Automatic Shut-off – It is a feature that prevents the device from running continually and burning out when the water reservoir runs empty.
Water Indicator – As the unit continues to run, the water tank will drain at some point. Therefore, the device should have an indicator that informs you when to refill the water tank.
Other features to consider include LED display, user-friendly controls, and mist output, among others.
What are the best humidity levels for eczema?
For most people with eczema, the right level of relative humidity should be between 30% and 60%. When this level exceeds 60%, it means the air is too wet. Very wet conditions can provide a breeding place for pests and mold. Additionally, it may cause rot in your home.
Relative humidity below 30% is dangerous for people with eczema. The air is dry at this degree. It can cause many health hazards, including dry and itchy skin.
Best humidifiers for eczema and allergies  – 2022 detailed reviews
| Humidifier | Coverage | Runtime (max) | Price |
| --- | --- | --- | --- |
| TaoTronics cool-mist humidifier | 350 sq ft | 30 h | |
| Homech quiet ultrasonic | 450 sq ft | 60 h | |
| Pure Enrichment MistAire | 250 sq ft | 16 h | |
| Everlasting Comfort humidifier | 500 sq ft | 50 h | |
| Geniani top fill cool mist | 220 sq ft | 18 h | |
Here are detailed reviews of the top humidifiers to choose from if you or your loved one is fighting eczema:
1. TaoTronics cool-mist humidifier – Best overall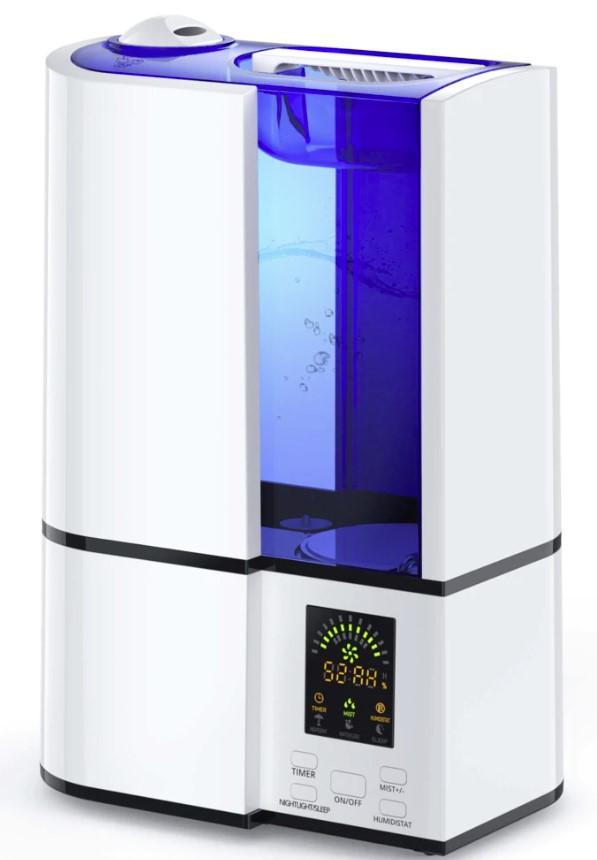 The TaoTronics Cool Mist Humidifier is the best humidifier for eczema. This 4-liter humidifier model is designed for small-sized rooms of up to 350 square feet. Its water tank capacity can last between 12 and 30 hours, depending on the settings to humidify a room.
You can use the unit in baby rooms, offices, and nurseries, among other areas where you want to control the relative humidity. Some of its features include a Humidistat, LED Display, nightlight and sleep mode, and auto shut-off.
Pros
Produces a low ambient sound of 38 dB
Has three mist levels that allow you to set your preferred relative humidity
Its micro-porous cartridge filters the water from micro-organisms and bad odor
Cons
Its filter is not useful in reducing the amount of white dust the device produces.
Bottom line
The TaoTronics Cool Mist Humidifier is an ideal unit for those looking to alleviate eczema symptoms quickly.
2. Homech quiet ultrasonic humidifier – Quietest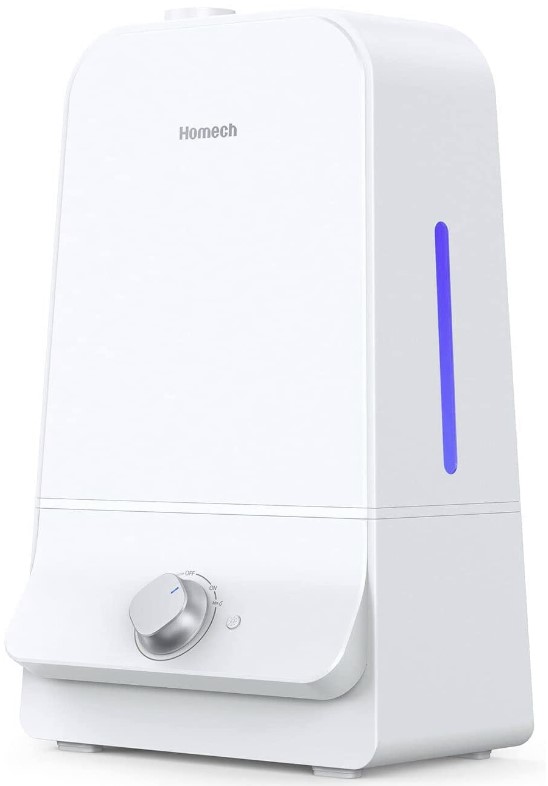 The Homech Humidifier is a quiet ultrasonic device that produces cool mist in a home of up to 450 square feet. It has a tank capacity of four liters that can operate for between 12 and 60 hours.
You can use the unit in your bedroom or baby's room to maintain relative humidity. Some of its features include auto shut-off, 360 degrees nozzle, mist output of 300ml/hr, and a dustproof sponge.
Pros
Operates quietly at 26 dB
The 360 degrees nozzle ensures even distribution of humidity in a room
Easy to clean
Cons
Lacks a light indicator for detecting water levels.
Bottom line
The Homech Quiet Ultrasonic Humidifier is for those who want a unit that is easy to clean and maintain, offers a longer runtime, and absorbs acoustical waves.
3. Pure Enrichment MistAire ultrasonic humidifier – Best for small rooms

Pure Enrichment MistAire is a premium ultrasonic cool mist humidifier that features a 1.5-liter tank, night light function, automatic shut-off, and 360-degree mist nozzle.
The unit is useful for moisturizing the air in your room continuously for up to 16 hours. Its water tank can give you coverage in small rooms of up to 250 square feet.
Pros
Easy to carry around due to its compact size
Its water tank is easy to fill
Cons
The small spaces in the lid are hard to clean.
Bottom line
The Pure Enrichment MistAire Ultrasonic Cool Mist Humidifier is an ideal unit for eczema treatment in small homes.
4. Everlasting Comfort humidifier – Best for large rooms

If you want a humidifier with a large water tank capacity that will prevent you from frequent refills, go for the Everlasting Comfort Humidifier. The unit is a cool-mist ultrasonic device with a 6-liter reservoir. It works well in large rooms of up to 500 square feet and can last up to 50 hours of continuous use.
Some of its features include an LED nightlight, essential oil tray, auto shut-off, and mist output of 270ml per hour.
Pros
Produces near-silent frequency when operating
Maintains a consistent humidity level of 43% and above
Has an essential oil tray for you to add your favorite scents
Cons
Tends to break easily after several months of use.
Bottom line
Because of its big water tank capacity and runtime of 50 hours, the Everlasting Comfort Humidifier is the best for large rooms. You can control its mist output depending on the air condition, which makes it an ideal humidifier for babies.
5. Geniani top fill cool mist humidifiers

The Geniani top fill is a two-in-one cool mist humidifier and essential oil diffuser for rooms of up to 220 square feet. It features a built-in intelligent sensor that will maintain the right humidity level in your room automatically.
You can use the unit in baby rooms and other spaces to ease allergy symptoms and reduce skin problems.
Pros
You can adjust its speed settings to choose the right relative humidity level
It is quiet because it produces 38 dB noise
It has a large tank that will last 18 hours before refilling on a high setting
Cons
Produces a lot of white dust that gives you extra cleaning work
Bottom line
The advantage of choosing the Geniani top fill cool mist humidifier is that it has a large water capacity, is easy to refill, clean, and move from one room to another.
Can humidifiers help with eczema?
When talking about a humidifier and eczema, it is vital to understand how people react to cold temperatures. If you have eczema, you will tend to experience itchy and dry skin during the winter or cold seasons. The temperatures are sometimes not stable and the air is usually dry.
Dry air means low humidity, which is the primary reason for the symptoms. A humidifier can help to counteract the effects of inconsistent temperatures by adding moisture to the air in your home. It will combat the dry air, which causes skin conditions.
Factors to consider before purchasing a humidifier for your home
When ordering your humidifier, pay attention to the following:
Type of humidifier
Humidifiers come in various types. You can buy portable or console models. Under these models, you will also find cool mist humidifiers that include evaporators, impellers, and ultrasonic humidifiers.
Also, the market has many hot-water humidifiers or steam vaporizers. A cool-mist model is the best to use around children. It will help to prevent the hot water in the unit from causing burns if spilled accidentally.
Size of your room
Humidifiers have different sizes designed for specific spaces. You can choose a small model if your room is not more than 300 square feet. Medium-sized models are those for houses that measure up to 500 square feet.
If your place is more than 500 square feet, consider going for large units. In homes that have many rooms that need more humidity, installing a central humidifier will be applicable.
A tip for you is to check the specifics of the device before purchasing it.
Tank capacity
The tank capacity of a humidifier is the maximum amount of water the device can hold at any given time. It usually varies from 0.5-6 gallons.
Generally, the tank's size will determine how frequently you must refill it. Therefore, go for a unit whose capacity can last up to three days on a low setting.
Runtime
The runtime of a humidifier will depend on its water tank capacity. If you choose a unit that has a 3-gallon tank, expect it to run for up to 16 hours at the maximum speed before you can refill it.
Is it better to use a cool mist or warm mist humidifier?
A cool or warm mist humidifier can add moisture to your house and combat the effects of dry air. You can use either device because both are efficient. A cool-mist humidifier is the best for homes with children. Its downside is that it can accumulate bacteria growth if not maintained properly
On the other hand, the hot water from a warm mist humidifier can injure your child if spilled accidentally. Furthermore, the device has higher energy consumption. However, its advantage is that it can reduce bacteria and germs and prevent them from growing in the unit.
Conclusion
When choosing the best humidifier for eczema, select one with a large enough water tank capacity, produces low noises when operating, and is safe to use around children.
You should also consider one that features a humidistat, intelligent sensor, and auto shut-off. It is also helpful to buy a device that can ease allergies and reduce skin symptoms caused by dry air.
Related Guides