When on the market for a new cooling system, a central air conditioning unit is one option you can choose.
But is it the best choice for your home and your needs? Not entirely because you can opt for a window or portable air conditioner.
The problem with a window or portable unit is they only provide one-room cooling. An alternative is to purchase the best ductless air conditioner for multiple-zone cooling and heating.
A ductless air conditioner, also known as a mini-split system, offers a quick and easy way to cool a room when it is hot and warm it when it is cold. It will cool down or heat your living spaces without ductwork.
An advantage of these machines is they do not require a large footprint on your floor like portable air conditioners. Furthermore, they will not take up your entire window space like a window air conditioner.
Besides, you can go for a wall-mounted, ceiling recessed, and floor-mounted ductless mini-split air conditioner.
Although ductless mini-splits are an expensive option because of the extra components and complex installation process, the advantage is they prevent you from installing ductwork if none exists in your home.
As a result, the units are more affordable than upgrading your central air conditioning.
3 best ductless air conditioners in 2022
How to choose the best ductless air conditioner
One of the primary reasons to buy a ductless air conditioner is to increase room-by-room temperature control or lower energy costs. But buying one can be challenging because of the many options involved.
If you are unsure where to start, here are some factors worth determining before choosing the best ductless air conditioning unit.
Cost
Generally, the cost is the most significant factor to consider when buying a mini-split system.
An affordable model can take you back close to $1,000 and an expensive one around $5,000 (including installation and extra components). You will have to pay a higher cost if you want a powerful or multi-zone unit.
The number of zones
You can buy a single-zone or a multi-zone ductless air conditioner. A single-zone unit will cool one room, while a multi-zone will take care of several rooms.
However, if you need an aircon that works in several rooms without incurring huge energy bills, consider multi-zone air cons.
The number of BTUs
The power of a ductless air conditioner is measured in BTUs. A higher BTU means the air con will cool a larger space more effectively.
Understand that BTUs will depend on your room space. For example, a 150 square feet room requires an AC with 5,000 BTUs, and 1,000 square feet requires 18,000 BTUs.
Features
Ductless air conditioners can have different features, depending on the manufacturer. The most essential ones are a remote control, programmable timer, reusable filter, heating feature, and dehumidifier function.
Another crucial factor to consider is energy efficiency. Buy a ductless ac unit that has Energy Star certification or has the SEER rating.
You should also go for one with the standard 110-120-volt outlet rating. While you can opt for a 220 or 240 A/C, it will require a significant increase in installation costs.
What is the best ductless air conditioner in 2022?
Here are detailed reviews of the top ductless air conditioners on the market today:
1. Pioneer WYS024G-19 ductless air conditioner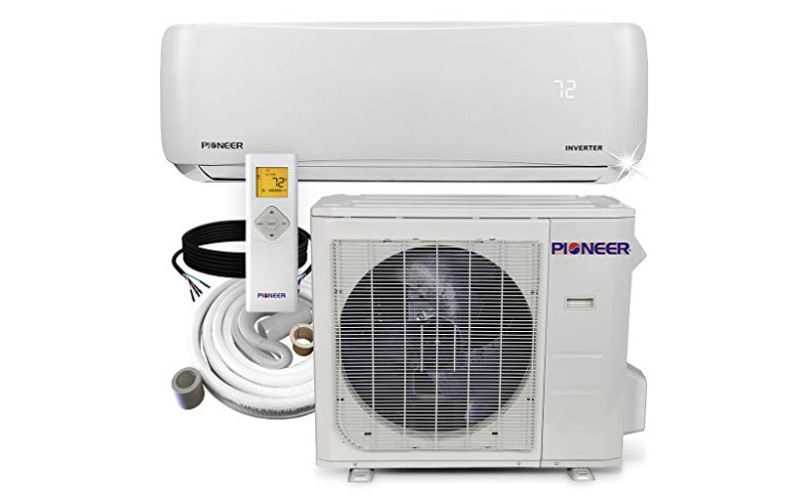 Pioneer WYS Series is the best ductless mini-split air conditioner & heat pump for rooms of up to 1,300 square feet.
It is an ultra-silent and beautifully built mini-split A/C that is perfect for home or light commercial use. It comes with a temperature sensor built in the remote controller.
This Pioneer air con will sense its surrounding temperature and adjust the room temperature more accurately to give you more comfort.
In addition, the mini-split has a timer function that allows you to set the system to start or stop running at a specific time.
You can use the ductless air conditioner for both cooling and heating your home. It comes with every needed component in the box, including an easy-install 16ft copper piping kit, PVC line cover kit, and a bracket for mounting the unit outdoors.
Furthermore, it has a variable speed compressor that provides high-efficiency levels when in operation.
Although it is pricey, the price is justifiable because it combines air conditioning, heating (with a reverse cycle heat pump), dehumidification, and ventilation.
Why buy it?
Wireless remote control.
Whisper-quiet operation.
Durable galvanized metal construction.
Energy-efficient.
Ideal for large rooms.
If you are looking for an ultra-high efficiency inverter plus ductless mini-split heat pump system, the Pioneer WYS Series with 24,000 BTU is what you need.
2. Cooper & Hunter 19 SEER Ductless Mini Split AC/Heating System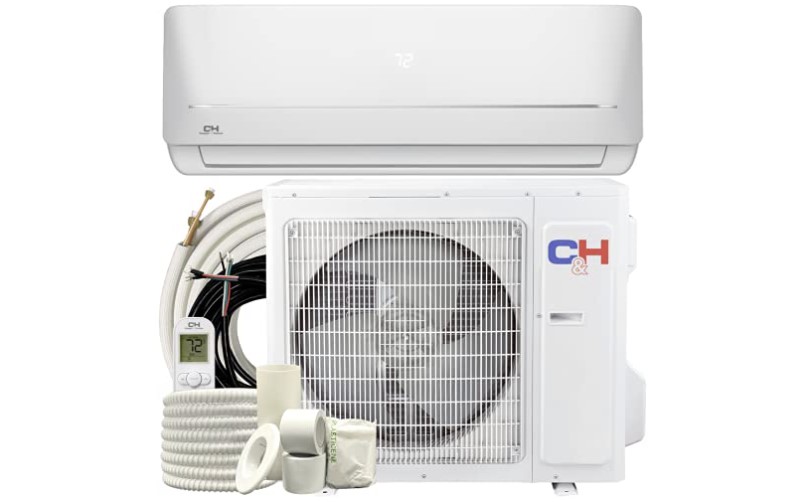 The Cooper & Hunter Mia Series is a 9000 BTU mini-split air conditioner designed for homes that measure up to 400 square feet.
It is the best split AC unit for homeowners looking for one that is easy to install, hence cutting down on installation costs. The A/C comes with a 16FT copper line set, communication wires, and a drainage extension for installation.
Since it is a 9,000 BTU unit with a 110-volt rating, this Cooper & Hunter AC is best for cooling multiple rooms or zones without incurring significant energy costs. Also, when the mini-split is in operation, it does not produce much sound, whether inside or outside.
Some of its features include a comfortable sleep mode, self-cleaning function, and inverter technology.
Although the ductless air conditioner comes with components that make it ready for installation, the entire process requires a professional.
However, when properly installed, it will keep the humidity down while cooling your room.
Why buy it?
Ready for installation.
Quiet operation.
7-year warranty.
Consider buying the Cooper and Hunter 9,000 BTU Mini-Split because of its standard features, including an LED Display for easy operation, multiple fan speeds, and a timer.
3. Della 12000 BTU Mini Split Air Conditioner Ductless Inverter System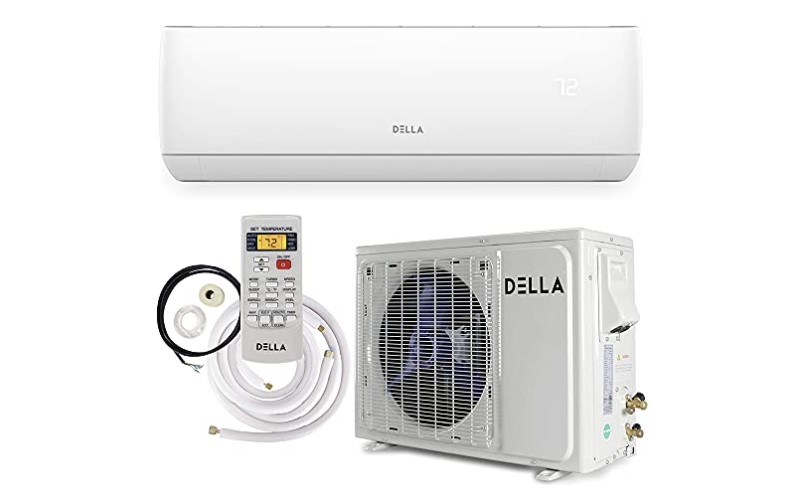 If you want a ductless mini-split air conditioner that can cover a room of up to 750 square feet, the Della 12000 BTU Mini Split Air Conditioner Ductless Inverter System is worth considering.
It is a wall-mounted ductless AC unit that features a heat pump and inverter technology to generate only the amount of heating and cooling needed in your home to maintain the ideal temperature.
Apart from cooling and heating, the unit also offers dehumidification and ventilation. Furthermore, it has a proximity sensor in the remote that adjusts cooling or heating temperature based on the distance from the machine.
The A/C has many features, including auto-shutoff, multiple fan speeds, sleep mode, timer, and LED temperature display.
One challenge with this AC is that it requires lots of expertise and manpower to install it since both the AC and compressor are on the heavy side. However, everything you need for installation is available in the package.
Why buy it?
Quiet operation.
You can install it in different locations.
It offers higher energy efficiency.
The Della 12000 BTU Mini Split Air Conditioner Ductless Inverter System offers the perfect solution for cooling or heating any area that lacks central air conditioning with efficiency.
It is also the best unit for spaces like bedrooms, garages, storage rooms, offices, flat roof rooms, computer server rooms, indoor gardens, and anywhere you need efficient cooling or heating.
What is the average cost to install ductless air conditioning?
According to HomeAdvisor, the typical range for installing a ductless air conditioning unit is between $2,000 and $14,000.
But the average installation cost will vary significantly based on many factors. These include room size, type of unit (multi-zone or single-zone mini-split), the number of BTUs, voltage (110-120 volts or 220-240 volts), and area.
If you want to install a mini-split A/C in your 600 square foot room, it will cost you $ $2,275 in New York, $2,049 in Houston, $1,987 in Chicago, and $1,316 in Denver. Check out the list in other areas.
If you have a 12,000 BTU system, the average installation cost will be $3,000. A one-ton unit with one indoor and one outdoor component at 21 SEER can cost $1,000 and $3,000 to install.
Does a ductless AC add value to a home?
A ductless heating and air conditioning unit will add value to your home, especially if you do not have any air conditioning installed.
In addition, the home's value can increase more significantly in an area with hot summers since many homebuyers get attracted to houses with a fully functional A/C.
With a mini-split, an old house can retain its exact value while staying as comfortable as possible. Furthermore, a mini-split costs about half of what it costs to install an entire central unit.
And unlike a ducted system, a mini-split saves energy. That means it will cost less to operate a more energy-efficient air conditioning appliance.
Another factor is that mini-splits do not damage a home. Installing a central A/C requires you to take apart the interior of a house. Furthermore, it is more challenging to run ductwork through an old house.
If you install a ductless unit, you will not have to pay for more repairs like patching walls or ceilings. This can attract buyers since the house remains pretty much intact.
How many rooms can a ductless AC cool?
A ductless mini-split A/C can cool four to eight rooms. Generally, these machines have an indoor and outdoor unit, with a conduit binding the other two together to allow the refrigerant to travel from one area to the other.
The outdoor unit can support up to eight indoor air handlers. That means you can divide your house into different zones and put one air handler for each zone.
How big of a ductless system do I need?
The size of your room will help you determine the size of a ductless system to buy, measured in BTUs.
One BTU is the power to cool or heat one pound of water by one degree Fahrenheit. Therefore, a larger room will require a unit with a higher BTU rating.
Here is a table to help you choose the right ductless air con depending on the area you would like it to cover:
| Room (Sq. Ft) | AC (BTUs) |
| --- | --- |
| 150 | 5,000 |
| 250 | 6,000 |
| 300 | 7,000 |
| 350 | 8,000 |
| 400 | 9,000 |
| 450 | 10,000 |
| 500 | 11,000 |
| 550 | 12,000 |
| 625 | 13,000 |
| 700 | 14,000 |
| 1,000 | 18,000 |
| 1,300 | 24,000 |
| 1,650 | 30,000 |
| 2,000 | 36,000 |
| 2,300 | 42,000 |
| 2,650 | 48,000 |
| 3,100 | 56,000 |
Although the above numbers may not be accurate, they give you a rough idea of determining the size of a ductless air conditioner based on your room size.
You should understand that the numbers can vary depending on the temperatures in your area.
Alternatively, calculate the square footage of your room by multiplying its length by its width and then multiply the area by 25 to get a number that represents the A/C's BTU.
Does ductless AC need to be vented?
A ductless AC does not require any venting since it circulates indoor air only. It does not create exhaust fumes or gases that would require venting to expel them.
The compressor in a mini-split A/C sits outside, making the heating and cooling machine quiet and efficient.
Conclusion
It can be challenging to determine the best ductless air conditioner for your home. However, the Pioneer WYS Series, Cooper & Hunter, and Della 12000 BTU outperform the rest in operation and energy efficiency.