Pets usually don't have an offensive odor.
But if your dog does, then he or she is probably suffering from a skin condition that allows excess growth of bacteria.
Dealing with pet odor is hard, but knowing that your beloved companion is dealing with a skin condition is even worse.
The good news is that dog odor from skin conditions is easy to treat. You just need to bathe your dog using the best dog shampoo for odor. Unlike air fresheners that mask odors, these shampoos cover and soothe the skin while protecting it from harmful bacteria. Additionally, they help your dog heal from skin conditions and irritation.
Can you use human shampoo to clean your dog?
It is not advisable to use human shampoo to clean your dog. This is because a dog's skin has a different pH compared to human skin.
While your skin has a pH of between 4.7 and 5.75, a dog's is more alkaline and its pH is between 5.5 and 7.2. If you use an acidic cleaner on your puppy, you will imbalance its skin
Although you can occasionally use baby shampoo or coconut-oil shampoo, you need a cleaner that has a special formulation for conditioning your puppy. Therefore, you should only use soap or shampoo that is specially formulated for dogs to eliminate the bad smell.
Best odor eliminating dog shampoo in 2022
Dog Shampoo
Ingredients
Scent
Price
Nature's Miracle Supreme
Odor Control Shampoo
Honey
Oat
Honey sage
Arava Natural Medicated Dog Shampoo
Oat
Fresh spices
Oliver's Choice Pet Shampoo
Shea butter
Oat
Aloe vera
Floral
Wahl Odor Control Shampoo
Coconut Oil
Wheat protein
Eucalyptus
Coconut
Arm & Hammer Super Deodorizing Shampoo
Baking soda
Lavender
These are best-scented dog shampoos that are great remedies for smelly dogs and puppies.
1. Nature's Miracle Supreme Odor Control Shampoo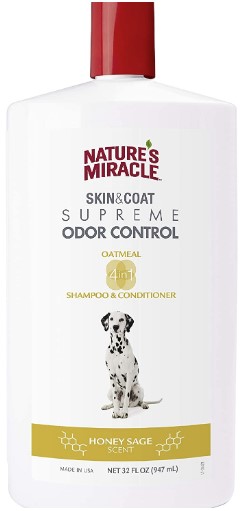 Nature's Miracle Supreme is the best odor control shampoo and stain remover for dogs. It also works as a conditioner, disinfectant, and can help to eliminate static electricity from a puppy's fur.
The product is dye-free, will hydrate the skin of your dog, enhance hair softness, and help to keep it cleaner for longer. Once you use Nature's Miracle Supreme Odor Control shampoo, it will keep your pooch smelling fresh through its honey sage scent.
Pros
It contains safe ingredients for a dog, including colloidal oatmeal and plant-derived surfactants.
The shampoo cleans and conditions both pet skin and coat.
It helps to maintain the essential oils on a dog's skin.
Eliminates strong odors
Cons
As a dog owner, Nature's Miracle Supreme Odor Control is the best shampoo because of its ability to neutralize dog odors, deodorize, and help your pup stay cleaner for longer.
2. Arava Natural Medicated Dog Shampoo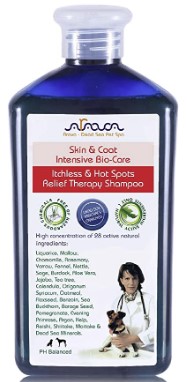 Arava Natural Medicated Dog Shampoo is an antifungal, antibacterial, anti-yeast, and anti-itch cleaner for pets with strong smells. It has a formulation that helps to treat different skin problems on a puppy, including hot spots and inflammation.
The product contains many ingredients that are safe for a dog, including chamomile, rosemary, dead sea minerals, aloe vera, jojoba, tea tree, and oatmeal, among others.
You can use it to gently cleanse the undercoat of your dog and enrich its follicles to make its fur shiny and dandruff-free.
Pros
Its natural ingredients can help to heal bacterial and fungal infections on a dog's skin.
Very useful for dogs that suffer from dry skin.
It helps to enhance the smoothness of a pet's fur.
Cons
The shampoo does not help with fleas and ticks.
Arava Natural Medicated Dog Shampoo is the best shampoo for dog odor and is ideal for people that want a cleaner that can treat dermatological conditions.
3. Oliver's Choice Pet Shampoo

Oliver's Choice Pet Shampoo is a specially designed cleaner for deodorizing and relieving the itchy skin of a pet. It can also soothe irritated skin and leave your puppy smelling fresh and restore its coat.
The shampoo is safe for your dog because it contains a blend of Shea butter fragrance, aloe, and oatmeal. Its formula is allergy-friendly, will moisturize the skin of your pooch, and deal with hot spots, dry skin, tick, and flea problems.
Pros
It is safe and will work on dogs of all breeds.
The addition of aloe vera makes it work as an antibacterial, antifungal, and anti-inflammatory shampoo.
It does not leave tangled or tears in the hair.
Cons
Although Oliver's Choice Pet Shampoo does not have much scent, it is the longest-lasting odor removal shampoo that will leave your dog smelling better long after using it.
4. Wahl Odor Control Shampoo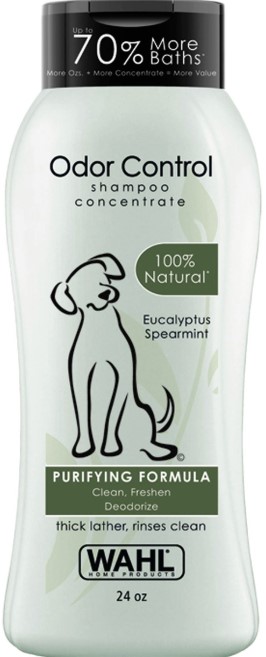 Wahl Odor Control Shampoo is an animal cleaner and deodorizer that contains eucalyptus and spearmint. It is useful for cleaning and freshening your puppy and is allergy-friendly.
The product has a rich lather that will help to clean dirty coats and other residues with which your dog might have come into contact.
Pros
It helps to lessen shedding.
It is excellent at deodorizing your pet.
The shampoo is PEG-80 free, alcohol-free, paraben-free, and pH balanced.
Cons
It does not help with flees or itching.
If you want the best smelling dog shampoo that lasts, consider the Wahl Odor Control Shampoo. It is pH balanced, alcohol-free, and safe for your pet.
5. Arm & Hammer Super Deodorizing Shampoo

Arm & Hammer Super Deodorizing Shampoo helps to eliminate strong smells from your pet, leaving it clean and smelling fresh. It contains baking soda as an active ingredient. The baking soda is useful in dissolving and getting rid of dog odors and ensures a deep clean by accessing hard-to-reach areas.
Other ingredients in the product include coconut-based surfactants, lemon, rosemary leaf extract, glycerine, honey, and lavender flower extract, among others.
Pros
The shampoo has an excellent lather.
It rinses out easily.
It leaves the dog's coat soft and shiny after use.
Cons
Its scent is not long-lasting.
Although this puppy shampoo for odor does not leave a long-lasting scent, it is all-natural and gentle on the skin of a dog. It will get rid of bad smells and ensure your pooch is clean.
Factors to consider when purchasing the best dog shampoo for odor
If you are shopping for the best shampoo for odor, here are some things to consider:
1. Ingredients
The ingredients used to make the dog shampoo will tell you whether they are safe or not.
Go for a product that has organic or all-natural ingredients, including honey, vitamins, or oatmeal formula.
2. Skin Condition
If your puppy has flaky, itchy, or dry skin, buy a moisturizing shampoo to reduce its infection.
Avoid a scented product because it will have chemicals that may irritate its skin.
3. Dyes
Many dog owners will have varied opinions about choosing shampoos with dyes. However, go for a dye-free product if you like the look of your puppy.
If not, do not consider it. But understand that dye-free shampoos are the best because they do not have chemicals that will harm your pet.
What is the best alternative to dog shampoo?
If you have run out of dog shampoo and your puppy smells horrible, there are many alternatives you can consider.
While you may think that anything that produces suds will work, home detergents can dry the skin of your dog. A better option is to create your homemade shampoo with some ingredients in your house.
The essential step is to use balanced ingredients that have pH levels of between 5.5 and 7.2. For example, you can mix baking soda and vinegar to get a neutral pH or use cornstarch.
Alternatively, use dish soap. Most dish soaps have pH levels of around 7.0. Since they are mild, you can use them to clean your dog and eliminate the bad smell.
Why does my dog smell after shampooing it?
If your dog smells even after going through scented shampoos and grooming products, several things can explain why this is happening.
First, the smell could be coming from the skin. It can occur if it has an open sore, skin disease, or the odor has penetrated the fur.
Secondly, the smell could be coming from its ears. Ensure to examine them and look out for brown, waxy debris. Your dog could be having an infection, or there could be parasites in its ears. Consider cleaning its ears or visiting a veterinarian for help.
Thirdly, the odors could be coming from its mouth. Bad breath can be a result of dental disease or digestive problems. Consider brushing your dog's teeth and exercise proper dental care. In general, regular veterinary care and grooming will help your puppy smell fresh.
Conclusion
If you are looking for the best dog shampoo for odor, consider purchasing a cleaner that has all-natural products to avoid harming your puppy.
It is also ideal to buy one that will leave your pooch smelling fresh for longer. Avoid buying scented shampoos that do not rinse easily, and cannot help with flies or itching.
Related guides