Cats are low-maintenance pets. Unlike dogs, you do not need to take your cat outdoors to do its business. However, the only challenge is that scooping the litter box isn't fun. That is because the stench that comes from such a simple activity can be unbearable. If you do not want to smell the odor between scooping, consider using the best cat litter for odor control.
The challenge today is that there are many cat litters specially designed for odor elimination. When buying litter for cats, you need to choose a product that will be good at reducing the smells. But which one should you purchase?
Covered litter boxes are the most preferred because most of them come with a carbon filter. Also, there are automatic products available, but they tend to be expensive.
Best cat litter for odor control in 2022 – Our top 5 picks!
The best odor absorbing cat litter is:
| Product Name | Clumping? | Size (lbs) | Price |
| --- | --- | --- | --- |
| Fresh Step | Yes | 14 | |
| World's Best | Yes | 28 | |
| Arm & Hammer | Yes | 27.5 | |
| Dr. Elsey's | Yes | 40 | |
| Purina Tidy | Yes | 40 | |
1. Fresh Step Multi-Cat with Febreze Freshness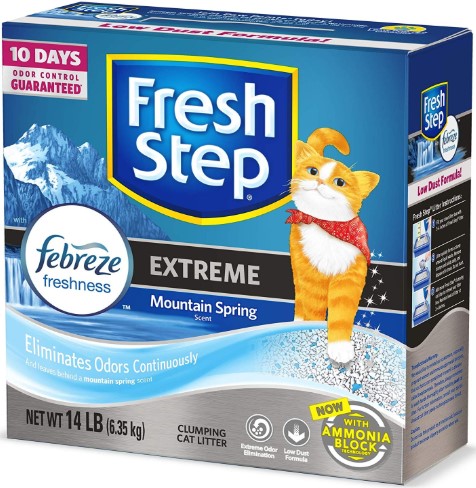 If you are looking for a product that is specially made for extreme litter box odors, the Fresh Step multi-cat with Febreze Freshness is what you need. The scented cat litter guarantees up to ten days of odor control and deodorizes extreme smells. The product has several features, including:
Ammonia block technology activated charcoal to trap and eliminate kitty litter odor
Low dust formula with paw activated fragrance to neutralize smells every time the kitty does its business
Clump lock technology to absorb liquids
When absorbing liquids, the kitty litter will trap the emerging smells on contact. It then forms tight clumps, which will not leave sticky crumbles between scooping. That will make the cleaning process faster and easier. This cat litter will also keep the air and surfaces cleaner.
If you want to maintain your cat's litter box and keep it fresh always, you should add more scented Fresh Step every time you scoop.
2. World's Best Cat Litter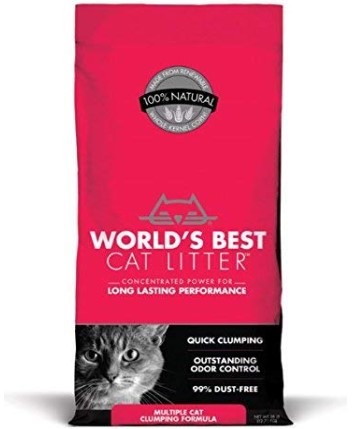 World's Best is an all-natural cat litter for smelly poop. It offers outstanding odor control to ensure no smells in your house regardless of the number of kitties you have.
If you have many cats, you will need lots of cleaning. But with this product, you will be getting something that ensures quick clumping and easy scooping. Some of its features include:
Flushable and septic safe
Requires no scraping and chiseling
Lightweight and 99% dust-free
World's Best is a cat litter that doesn't smell and is safe for you, your kitty, and the environment. That is because it is made from whole-kernel corn, which offers no artificial perfumes and harmless chemicals. It is also naturally free of silica dust.
When scooping, the product produces minimal to no dust. That is an advantage for people who are allergic to litter dust.
3. Arm & Hammer Clump & Seal Platinum Cat Litter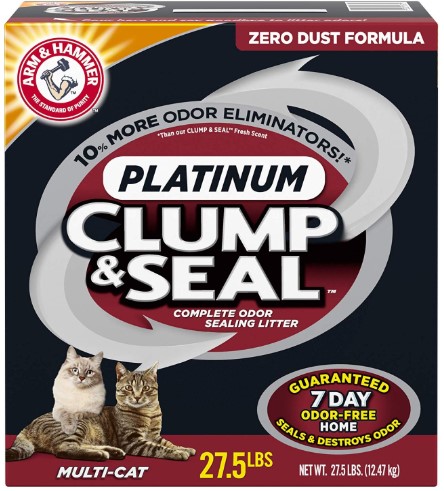 The Arm & Hammer Clump & Seal Platinum is one of the best cat litter for odor products. It is specially formulated with extra odor eliminators to offer improved control.
It comes with a patented formula that will seal and destroy all smells before they leave the litter box. Some features of the product include:
Plant-derived particles to create solid clumps and allow easy scooping
Moisture- activated Micro-Granules that form a tight seal around kitty waste
Baking soda to destroy sealed-in smells on contact
The odor removal litter also comes with a 100% dust-free platinum formula with extra odor eliminators. That offers extra strength to control smells in houses that have multiple cats. Furthermore, the product guarantees an odor-free home for up to seven days.
4. Dr. Elsey's Ultra-Premium Clumping Cat Litter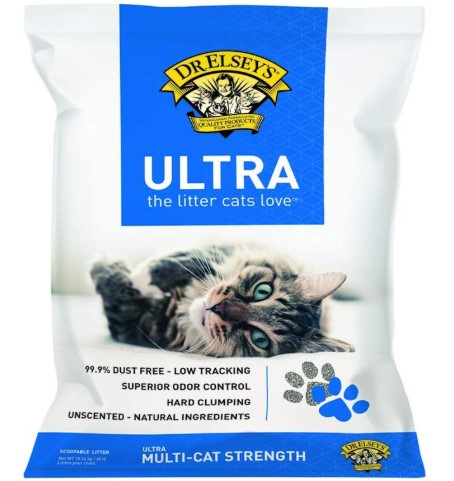 Dr. Elsey's is an ultra-premium clumping cat litter specially formulated for multiple cats. It offers superior odor control and keeps your home smelling fresh and clean throughout the day.
The cat litter for odor control has a formula that prevents moisture from accumulating at the bottom of a litter tray. Some of its features include:
Heavy, non-tracking granules that ensure less mess
Hard clumping to absorb liquids
All-natural and 99% dust-free
Hypoallergenic to make it ideal for people suffering from allergies
As one of the best cat litter for multiple cats, Dr. Elsey's does not contain perfumes, deodorants, or plant proteins. It is an all-natural clumping litter meant for controlling bad kitty smells on contact. The product offers superior odor control and is ideal for mechanical or sifting litter boxes.
5. Purina Tidy Cats Instant Action Clumping Cat Litter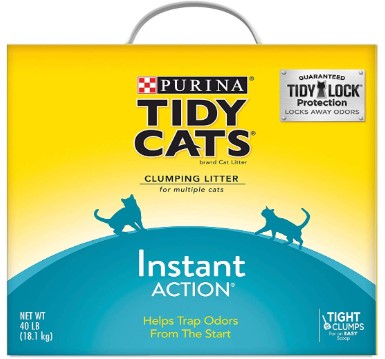 If you want to eliminate overpowering odors in your home from cat poop, you should consider the Purina Tidy Cats Instant Action clumping litter. It is an odorless cat litter that comes with a special formula to trap kitty smells on contact. The product has several features, including:
9% Dust-free formula
Clumping capabilities to ensure the poop stays together to offer easy scooping
Works fast to offer immediate smell control
Powerful enough to protect the house against faces, urine, and ammonia smells
The odor-eliminating litter also comes with a TidyLock protection technology, It works by locking away smells on contact. That ensures the area is fresh and clean. Furthermore, the product is easy to use because all you need is to scoop and continue with other activities.
No more pet odors
Looking for the best odor control cat litter can be challenging if you do not know what to look for. In that case, consider a product the eliminates kitty poop smell on contact. It should also be odorless and guarantee an odor-free environment for several days.
You should also consider one that does not require scraping and chiseling. Look for one that works fast to offer immediate cat litter odor control. To use more effectively, ensure to read the instructions that come with each product.
Related Buying Guides