When you have a small space like a cubicle, corner office, or room that requires better air circulation, a portable fan is what you need. These fans keep air flowing in the room for cooling and exhausting dust and toxic fumes.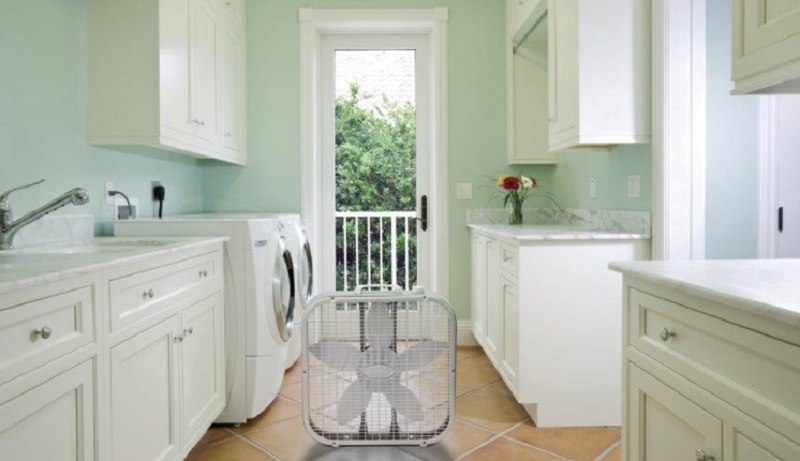 If you are in the hunt for a small portable fan that is reliable and performs just like an oscillating fan but uses less energy, then a box is what you need. Besides, a high-speed box fan will move air in a straight line from back to front, cooling the entire room in the process.
One interesting thing to note is that box fans come in different shapes, including circular, rectangular, or square. While most people often assume that a box fan is square in shape, the box in its name actually means an oscillating fan in a mesh enclosure.
What is a box fan good for?
Box fans are effective at cooling rooms and eliminating dust and toxic or harmful substances from the air. This includes smoke, fumes, and odors. They are especially helpful in small environments that have small windows like an office or a small apartment.
The primary advantage of box fans is their versatility. They can act as window fans or complement your home's AC. When paired with an AC, the box fan will help to increase airflow and reduce energy costs.
What is the right CFM for a box fan?
CFM (cubic feet per minute) is a measure of airflow. It helps to determine the effectiveness of a fan in moving air in a given space. For most box fans, the CFM will vary, depending on the size of the fan.
So, what is the right CFM for a box fan? A 20-inch box fan typically has a CFM range between 1,000 and 2,500. A high CFM means a powerful fan. When choosing a box fan, the best CFM should be one that is enough to cool the place where you will be using it. To be on the safe side, consider a CFM of not less than 1,000.
Things to consider when buying a box fan
Consider the following when shopping for a box fan:
Size
Many box fans on the market today have blades whose diameter is 20 or 21 inches. But the materials used to make the blades are lightweight like plastic, making them easy to move. Large blades cool or exchange air quicker than smaller ones.
Some fans also have blades that are ten inches across. While they are not popular as larger models, they are ideal for cooling small spaces.
CFM
The best box fan for a window should have a CFM of not less than 1,000. If you need a stronger breeze to cool a medium to large room go for one with a higher CFM.
Speed
While this is mostly a personal choice, you will be happier with a fan than has three-speed settings instead of one or two. A high number of speed settings means it will be easy to adjust the airflow based on your needs.
Noise levels
A quiet box fan might be ideal if you intend to use it in the bedroom during the hot months. When shopping for a quiet fan, look at its decibel rating to determine how loud it will be when running. The best dB rating should be below 50.
Number of blades
The number of blades vary from one box fan to the other. The more the blades, the better the airflow. However, other factors like the size of the blades have an effect too. Just make sure to get the balance right.
Best box fans for home use – expert reviews & recommendations
Here are five box fans that are worth your consideration.
1. Genesis G20BOX-WHT Box Fan – Best Overall

The Genesis Box Fan is a high-velocity box fan that measures 20 inches and comes with five blades. It has three-speed settings for easy adjustments, a durable copper motor, and a handle for easy carrying.
You can use the fan to cool your bedroom, office, or any room you wish. Its sleek and stylish design means it will fit into any décor seamlessly.
Pros
Made using durable and lightweight material.
It offers a strong performance regardless of the weather.
You can use it anywhere with a wall outlet.
Cons
Can be a bit loud sometimes when running.
The Genesis Box Fan is the best for those who need a very powerful fan, sturdy design, and great airflow.
2. Comfort Zone CZ200ABK Box Fan – Best Value for Money

Comfort Zone CZ200ABK is a 20-inch, 3-speed box fan that is perfect for the garage, home, or office use. It is lightweight and convenient to carry around.
Its three-speed settings and five blades help to create a comfortable environment while at the same time reducing energy consumption.
Pros
It has a carry handle for easy transport.
Comes with a removable safety grill for protection while in use.
It has a dimension of 21 x 5 x 22 inches, that makes it ideal for small spaces.
Cons
The plastic used to make the exterior is cheap and wobbles sometimes.
If you want a thin box fan that has high-performance blades that operates smoothly, then the Comfort Zone CZ200ABK for $25.99 is your ideal fan.
3. Lasko High-Velocity X-Blower Utility Fan X12905 – Best for Large Rooms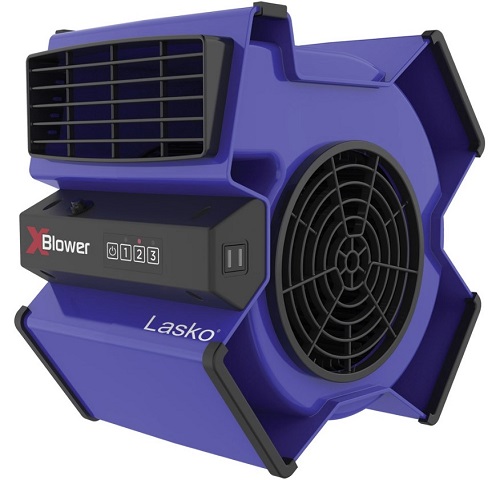 Lasko X12905 is a high-velocity utility fan with a three-speed setting, USB ports, and X-blower. It has a 120V accessory outlet for plugging additional fans or other electrical appliances to offer a convenient extra source of power.
The X12905 has a high-velocity air stream that is best for cooling the hottest spaces and circulating and exhausting stuffy air. Also, it can dry out wet floors and carpeting.
Pros
Best for large rooms
Can be used to dry floors
It has a non-slip base for additional stability.
Can stand in six different positions.
Easy to use and comes fully assembled.
Cons
Expensive compared to similar units.
The Lasko X12905 is a small but powerful box fan. It is worth buying if you need a compact, adaptable, and versatile box fan that can be used at home and in commercial spaces.
4. Lasko B20401 Colors Box Fan

Lasko B20401 Dècor Colors is a 20-inch box fan that has three speeds, rounded corners, and a slim design for easy placement.
You can place the fan on a window, living room floor, bedroom, or anywhere you need high-volume air movement. The fan has five blades and a removable grille for easy maintenance.
Pros
It has a carry handle for portability.
It is energy efficient.
Produces a quiet white noise.
Cons
The construction is susceptible to dents and scratches.
The Lasko Dècor Colors is one of the best box fans for small spaces like office corners and home garages. It blows air well and can be an excellent addition to your home or warehouse.
5. Impress IM-719BX Box Fan – Safe and Compact

If you want a box fan that is easy to carry, fits seamlessly into any room, and blows a cool breeze any time of the day, Impress IM-719BX is the best to consider. The fan has a rotary switch for easy control, three blades, and three-speed settings.
The Impress IM-719BX box fan measures 10″ x 10″ x 6″, meaning it is small enough to fit in different areas, including home offices, dorm rooms, and even travel with it.
Pros
It operates quietly.
Lightweight and easy to carry around.
It is ideal for placing on desks or tables.
Cons
It does not stay on the windowsill by itself.
The Impress IM-719BX is the safest box fan you can buy today and rates highly in terms of maneuverability, energy efficiency, low noise levels, and value for money.
Top features to consider in a box fan
Some of the best features to look for in the unit include:
Remote control: Some box fans come with a remote to allow you to control it virtually from any area within a room. It offers convenience and the ability to control its speeds and turn it on or off.
Removable grille: A removable grille makes it easy for you to clean the blades. It also allows you to maintain the unit better by getting rid of the dust that tends to collect over time.
Timer: A timer feature allows you to set the unit so that it can shut itself off automatically.
Anti-skid: Since these units are portable, you may have to place it on a slippery surface. By having an anti-skid component, it will prevent the fan from sliding because of vibrations.
Also, check the weight of the fan to ensure that it is easy for you to carry it from one room to another.
Why are box fans so loud?
A non-reversible and reversible box fan has a set of blades attached to the shaft of a small motor. The loud noises you hear from these box fans occur as a result of the variable speed driven motors and casings.
As the blades oscillate, they split the air at a high frequency, producing the noise. Also, the impact of the fan blade tip on the still air in front of it is greater and creates more shock or noise when moving fast.
Conclusion
If you are looking for the most powerful box fan, go for one that has a CFM of at least 1,000. It should also have three or more blades for better air movement. Some of the best fans are Lasko High-Velocity X-Blower Utility Fan, Impress IM-719BX Box Fan, and Genesis Box Fan.
Related