At first, it may seem pretty easy to find the best air purifier for large rooms. But once you go into the details, you will find that there is more to consider other than just coverage.
From deciding on the best filters to design and efficiency ratings, there is a lot to go through before you settle on your final product. If you don't have enough time on your hands to start the search from scratch, this review will make it easier for you.
After spending hours researching and testing out multiple products, we have shortlisted the best air purifiers for large rooms of 1000 square feet or more. Ideally, the room or house should be anywhere from 1,000 to 1,500 square feet for you to enjoy the benefits that come with these purifiers.
Best air purifiers for large rooms – 2022 reviews
If you are looking for an air purifier for 1,000 square feet, here are the best options:
1. Alen BreatheSmart Classic Air Purifier
Alen BreatheSmart Classic is the best air purifier for large rooms of up to 1,100 square feet. This air purifier comes with a HEPA filter that is ideal for allergies, dander, dust, and pollen.
The unit also features 4-fan speed settings for optimized air purification, filter life indicator light, particle air sensor, and an easy-lift handle to carry it from one room to another.
Pros
Its filter life can last between nine and twelve months
It has four unique HEPA filters that can remove 99% of particles greater than 0.3 microns
It has display panel features that are easy to understand straightaway
Cons
It can be loud with noise levels reaching 56 dB
It is expensive compared to similar products
2. Levoit LV-H134 Air Purifier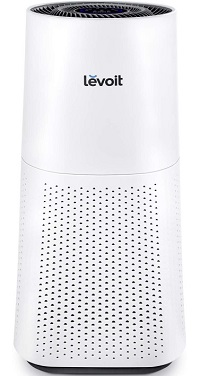 Levoit LV-H134 is one of the best air purifiers for large rooms that comes with a washable filter. The unit covers rooms of up to 1,170 square feet. It comes with a pre-filter, HEPA filter, and an activated carbon filter.
The combination helps the unit to trap pet fur, hair, and lint, capture 99.97% of airborne particles as small as 0.3 microns like pollen, dust, and mold, and absorb odors from cooking, pets, and smoke. It also features a smart laser sensor to detect airborne particles and an LED display and timer.
Pros
It has a powerful 360 degrees' suction to draw in air from all sides
The unit can help save energy due to its rated power of 45W
It can purify the air in 1, 170 square feet rooms in 30 minutes
It works quietly with noise levels reaching 25 dB
Cons
Its filters only last between six and eight months
3. Hathaspace Smart HSP002 Air Purifier
Hathaspace Smart HSP002 is a medical-grade air purifier for extra-large rooms of up to 1,500 square feet. It is also a 5-in-1 home air cleaner for odors, smokers, asthma, and allergies.
The device comes with an H13 medical-grade HEPA filter, which can remove over 99% of particles as small as 0.1 microns. Its filtering system can target pollen, pet dander, VOCs, bacteria, mold, and dust mites from indoor air.
Pros
It monitors air quality through a smart particle sensor
It is very quiet
Comes with a 5-year warranty
It automatically adjusts the fan speed based on the surrounding air
It has a washable pre-filter
Cons
The filters may need changing after every 3,000 hours of usage
4. Coway Airmega 300S Air Purifier
Coway Airmega 300S is a HEPA air purifier for large rooms of up to 1,256 square feet. The unit comes with the Max2 filter that combines both True HEPA and activated carbon filter. It is ideal for removing 99.97% of particles as small as 0.3 microns.
Some of the things it can remove from the air include VOCs, fumes, pollen, pollutants, and allergens. The machine also features a pollution sensor, five fan modes, and a timer with 1, 2, 4, and 8 hours' settings.
Pros
It cleans the air at least twice an hour
Comes with a permanent pre-filter
It has a mobile app that will give you real-time air quality notifications, filter lifetime monitoring, scheduler, and Alexa compatibility
Cons
Its noise levels can reach 43.2 dB
It is expensive compared to similar items
5. Inofia Air Purifier
Inofia Air Purifier is a large room HEPA air purifier that covers a space of up to 1,056 square feet. It comes with a True HEPA and a double-activated carbon filter.
The unit features smart air monitoring technology that uses an advanced sensor to analyze ambient air quality. You can use it at home or office to capture pollen, dust, hair, bacteria, smoke, mold spores, dander, and VOCs from indoor air.
Pros
You can control the unit remotely via Wi-Fi or connected app
It automatically adapts to its surrounding by adjusting fan speeds based on indoor air quality
It has a timer button that allows you to set shutdown time
Cons
Its fans can be noisy and reach levels of up to 52 dB
Things to consider when buying the best air purifiers for large rooms
Since every manufacturer builds their machines differently, pay attention to the following factors when purchasing the best large room air purifier.
Filters: Go for a unit that has a True HEPA filter since it eliminates an array of contaminants from an indoor environment.
Carbon Filter: A living room air purifier should have a carbon filter so that it can eliminate indoor odors, gases, and VOCs.
Convenience: The market has lots of manual and automatic air purifiers. According to large room air purifier reviews, some units have lighting, sensors, and alerts for filter changes. Generally, choose one that will be more convenient for you.
Conclusion
When on the market for the best air purifiers for large rooms, choose one that combines a True HEPA and activated carbon filter. It is also useful to consider one that has a permanent and washable filter so that it can be cheap to maintain throughout its lifespan.
The unit should be quiet during operation and have convenient features like particle sensors, automatic fan speed settings, and filter life monitoring.
Related Articles