Air purifiers are great for improving the quality of air in your home.
But are you ready to invest in new filters every few months? And with some replacement filters going as high as $200, the cost can take a toll on you.
But what if there was another solution? This is where air cleaners with reusable filters come in handy. These are a godsend if you don't like having to change yours.
If you are currently searching for such a unit, below is a review of the best air purifiers with washable filters on the market.
Top 5 air purifiers with washable filters in 2022
Air purifier
Coverage
(sq ft)
Filter
Price
Winix 5500-2
360
- True HEPA
- PlasmaWave
- AOC carbon
LEVOIT Vital 100
300
- True HEPA
- Activated carbon
Honeywell HFD 120-Q
170
- HEPAClean
Blueair Blue Pure 411
175
- Activated carbon
Honeywell HFs 320
250
- ifD filter
Air cleaners with reusable filters are a great investment. However, not all are the same; some are excellent, while others can be a nightmare.
Below is a look at some of the best air purifiers with washable filters that you should consider buying:
1. Winix 5500-2 Air Purifier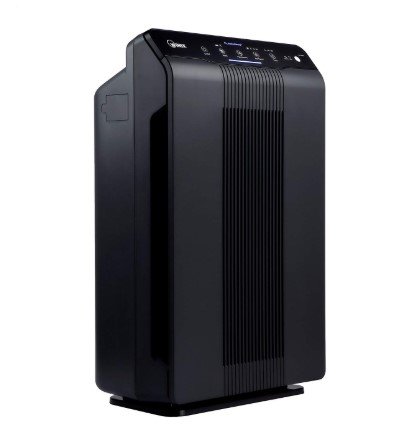 If you are looking for an air purifier that covers a large area and comes with a washable filter, the Winix 5500-2 is a great choice. It has a 3-stage filtration system – a True HEPA Filter, PlasamaWave technology, and a carbon filter.
As a result, it has a high CADR rating (360 square feet) and can trap most particles even in large rooms.
The True HEPA filter traps up to 99.97% of pollutants, while the PlasmaWave is s a permanent filter. The carbon filter is washable, thus adding protection to the HEPA filter.
On top of that, you will love the smart sensor and the auto mode. These control the fan speed depending on the air quality and the environment.
The Winnix 5500-2 Air purifier is great, but it comes with one major drawback; a replaceable HEPA filter.
Pros
A high CADR rating
Washable carbon filters that are easy to clean
Three-stage pollutant filtration
Smart sensors and an auto mode
Great value for money
4 different fan speeds – low, medium, high, and turbo
Cons
Replaceable HEPA filters can be quite expensive
The turbo mode can get too loud
If you have a large room that needs air purification, Winnix 5500-2 can offer you what you need. It is perfect for large spaces such as bedrooms, kitchens, and lounges.
It is also very effective in getting rid of pet odor, cooking smells, smoke, mold, dust, and other airborne pollutants.
2. LEVOIT Vital 100 Air Purifier for Home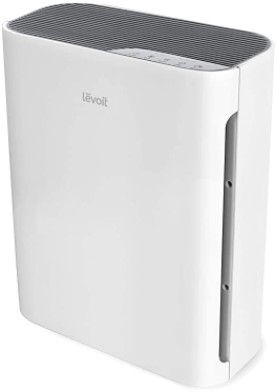 Does your home suffer from pet dander and odor, or other home allergens such as mold, smoke, and cooking odors? The LEVOIT Vital 100 might be perfect for you.
It is excellent at removing allergens and pollutants in your home, leaving you with clean, fresh air. It comes with three filters, a cleanable filter for large particles, an activated carbon filter for odors, and a true HEPA filter.
One great thing about the LEVOIT Vital 100 is its compact size, which makes it portable. Nonetheless, it has a high CADR rating (300 square feet) and is thus ideal for large rooms.
Despite all of its amazing features, the LEVOIT 100 has a major drawback; it has no smart mode. It also comes with a standard timer function.
Pros
A high CADR rating
An easy to clean pre-filter
High fan power with three different speeds – low, medium, and high
Has a quiet operation even on the highest speed setting
Affordable price
Cons
It has no smart sensor
Its odor filter is not very efficient
If you have pets or suffer from allergies, the LEVOIT Vital 100 is a great product. It will do an excellent job of getting rid of pet hair and dander, odors, and airborne allergens.
3. Honeywell HFD 120-Q Air Purifier

Are you looking for quiet air cleaners with washable filters? The Honeywell HFD 120 fits the bill. It has a quiet operation with sound levels of between 40 and 51 decibels.
Aside from its minimal noise output, Honeywell HFD 120 is also one of the top air purifiers with a permanent filter, as well as a washable one. The washable pre-filter helps to trap large particles.
Next, there is the IFD filter, which traps fine, airborne particles. Aside from that, the unit comes with an ionizer, which improves the IFD Filter's efficiency at capturing pollutants.
The Honeywell HFD 120 is a decent unit, but it also has a few cons. One of the major ones is its low CADR rating – 170 square feet.
Pros
Easy to clean filters
A dirty filter indicator light
Small and compact size for portability
A quiet fan operation
A 5-year warranty
Cons
Low particle removal capacity
Does not feature a timer
Design is not stylish
If you are not a fan of noisy air purifiers, the Honeywell HFD 120 is worthy of consideration. It is perfect for areas such as bedrooms, offices, and other places that need silence. It is also excellent at getting rid of pet dander, mold, smoke, odors, and other allergens.
4. Blueair Blue Pure 411 Air Purifier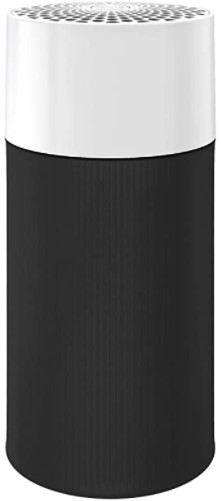 Large-sized air purifiers are not ideal in every setting. If you have a small room that needs air cleaning, the Blueair Blue Pure 411 is an excellent choice.
It delivers powerful air purification in small spaces (up to 175 square feet) while ensuring your energy consumption is never high.
Performance-wise, the Blueair 411 features three filters:
A pre-filter for large particles
An activated carbon filter for odors, gases, and VOCs
A polypropylene filter for microparticles
Blue Air Pure 411 is a great air cleaner, which is both affordable and high-performing. However, it also comes with its share of cons, the top among them being that it doesn't have a HEPA filter.
Pros
Affordable
A small, compact, and portable design
Ultra-quiet operation (17 – 46 decibels)
Ultra-low power consumption (1.5 – 10W)
Cons
It does not have a HEPA filter
It is not ideal for large rooms
If you have a small space and don't want to spend too much on an air cleaner, the Blueair Pure 411 is a good option. It is affordable, efficient in small rooms, and has low energy consumption.
5. Honeywell HFs 320 AirGenius

If you are looking for a high-performing air filter for home use, the Honeywell AirGenius is a top contender. It comes with five air cleaning settings, which deliver powerful results.
The unit can capture up to 99.9% of most airborne pollutants, including smoke, pet dander, dust, bacteria, viruses, germs, and more.
The Honeywell HFD 320 is fitted with three filters and uses a 2-stage filtration system. The first stage features a washable foam pre-filter (for large particles) and an odor-reducing pre-filter. For small particles, the unit comes with an advanced QuietClean IFD filter, which traps micro allergens and VOCs.
The Honeywell AirGenius 5 is a smart cleaner with intuitive touch screen controls. It also comes with five pre-set modes: Sleep, Germ, General, Max, and Allergen. Therefore, you get to enjoy effective air cleaning without any guesswork.
While the Honeywell HFD 320 AirGenius is a top-performing unit, it has a few issues. One of them is the low CADR rating (at 250 square feet) especially given its price.
Pros
Excellent air purification with the IFD filter
An easy to clean washable filter
An odor-removing pre-filter
Quiet operation modes
A dirty filter indicator
Smart controls and pre-set modes
Cons
A relatively low CADR rating – not ideal for spaces that are too large
It is relatively pricey.
The Max mode can get noisy due to high fan speed.
If you desire high-performance and smart controls in your air purifier, the Honeywell AirGenius 5 can be a great option. The IFD filter will be effective at getting rid of allergens in your home, while the smart controls will make your work easier.
Things to consider when choosing an air purifier with washable filters
With so many air purifiers with cleanable filters, it is a good idea to know what to look for. Below is a look at some of the top things to consider:
1. Type of filter
There are different types of washable air filters: HEPA, pre-filters, activated carbon filters, etc. Each comes with varying strength levels.
Therefore, you should choose one that can guarantee the highest removal of particles.
2. The coverage area
Like with any other purifier, the coverage area is a vital factor.
For the best quality air, you should purchase one that is strong enough to clean the desired room.
3. Particle removal capability
Also known as the CADR (Clean Air Delivery Rate), this is the measure of your purifier's effectiveness.
If you want excellent results, you should choose a unit with a high CADR rating.
4. Add-on features
Features and technologies such as particle sensors, timers, ionizers, service notifications, etc. can improve air purifiers' efficiency.
Therefore, you should choose a unit with as many of these features as possible.
Are washable HEPA filters as effective?
HEPA Filters are considered to be a golden standard when it comes to capturing particles, especially in air filters. They are high-performing and are backed by scientific studies.
However, most air purifiers with HEPA filters require filter replacement after a few months, which can be quite pricey.
It is thus not surprising that many people search for washable HEPA filters that don't need replacing. So, are there washable HEPA filters, and if so, are they as effective as replaceable ones?
While you might find air purifiers claiming to have washable HEPA filters, the truth is they are rare. What you will find, instead, is air cleaners with permanent filters. These are cleanable – usually using a vacuum cleaner, or in some cases, a damp cloth.
However, there is a high risk of damaging the filter if you are not careful. Others will become useless as soon as they touch the water.
Therefore, a better alternative is to consider HEPA air purifiers with washable filters. The washable filter traps most of the particles, thus extending the life of the HEPA one.
Conclusion
An air purifier with cleanable filters can be a worthy investment for your home. You get clean, fresh air without filter replacement hassles. You also get to save huge on replacement filters, which can cost you a few hundred every few months.
If you are looking for the best air purifiers with washable filters, the above are some of the top candidates. They are ideal for a range of situations, and you can be sure to find one that meets your needs.