Fanimation is one of the most successful ceiling fan companies –and for a good reason. Most of their fans are not only good looking, but they are also effective and efficient. If you have settled for the Fanimation brand, one thing you may be wondering is which fan is best for you. After all, they both seem to accomplish the same purpose.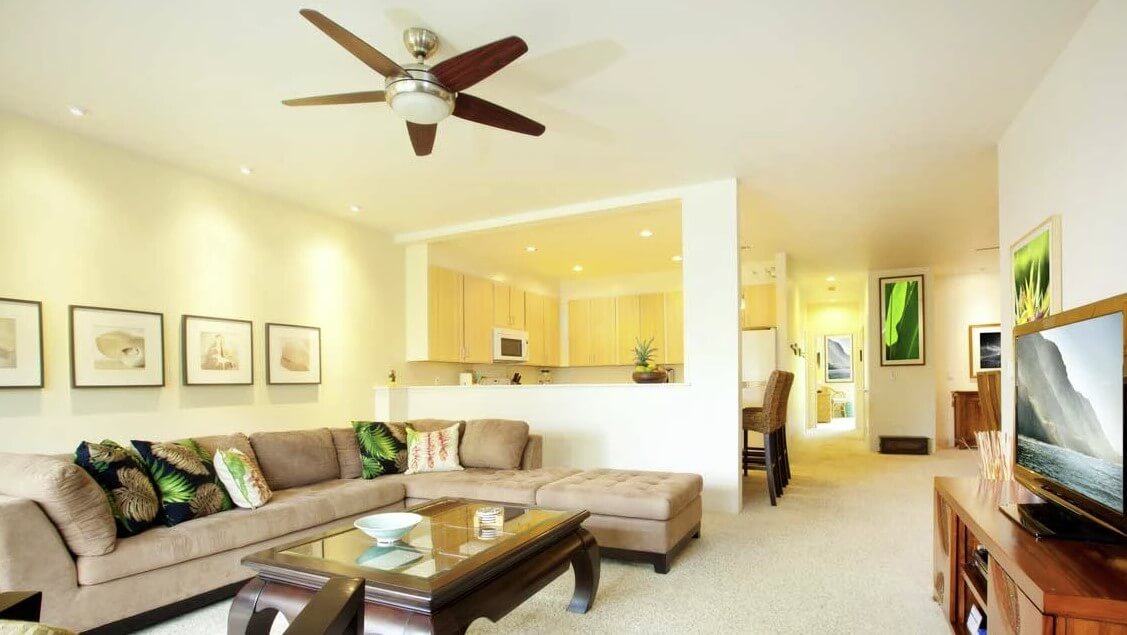 Well, each Fanimation ceiling fan differs from the other in different areas including the aesthetics, availability of light, number of blades, size of blades, type of bulb and motor speed, among others. While some of these choices depend on a buyer's preference, others are determined by where you intend to use your fan.
In this review, we show you the best Fanimation ceiling fans that suit your preferences. Whether you need a fan that will complement the general aesthetics of your home or one that is big enough to circulate air in a large room, Fanimation has several options. Some even come with remote control and Bluetooth connectivity.
Best Fanimation ceiling fans in 2022
Ceiling Fan
Features
Suitable For
Price
Fanimation Studio
Collection LP8350BLAZ
• Speed Settings: 3
• Airflow: 1,472 CFM
• Diameter: 13 in
Small rooms
Fanimation Ascension
FP6717BN
• Speed Settings: 3
• Airflow: 6,659 CFM
• Diameter: 54 in
Dry & damp places
Fanimation MAD8152DZW
• Speed Settings: 31
• Airflow: 10742 CFM
• Diameter: 56 in
Large rooms
Fanimation Studio
Collection LP8242SBLCH
• Speed Settings: 3
• Airflow: 5,543 CFM
• Diameter: 52 in
Medium rooms
Fanimation Studio
Collection LP8577LBL
• Speed Settings: 3
• Airflow: 4,720 CFM
• Diameter: 48 in
Bedrooms
These are the top 5 Fanimation ceiling fans:
1. Fanimation Studio Collection LP8350BLAZ Vintere Ceiling Fan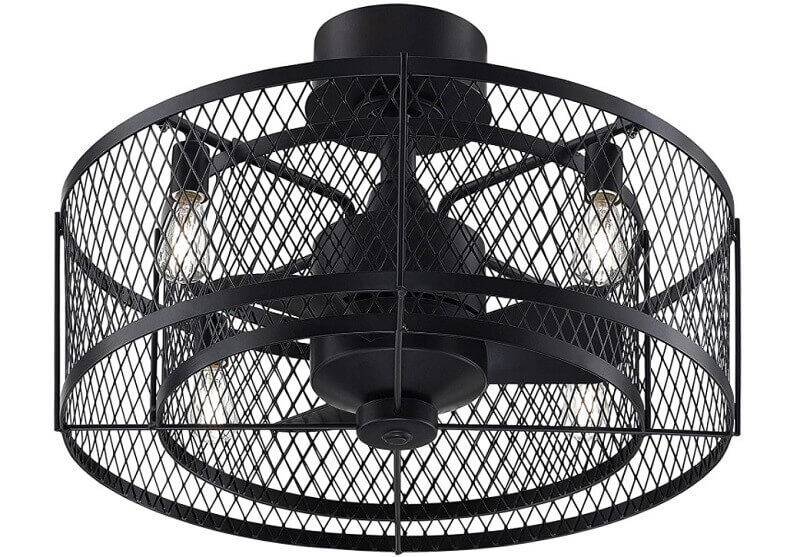 The Vintere LP8350BLAZ is the best ceiling fan from the Fanimation studio collection fans. It features three blades and three-speed settings to make it easy to maintain your comfort level and airflow.
Also, the Fanimation Studio Collection LP8350BLAZ Vintere ceiling fan has four 4-watts LED vintage bulbs that can act as a source of light, but not the primary source. The unit includes a 4.5-inch downrod mounting option.
Pros
Its remote allows you to control the unit from any room.
It has a damp rating, meaning you can install indoors or cover it outdoors.
It operates quietly.
Its design and style integrate seamlessly with any décor.
Cons
You cannot change the direction of the fan using the remote.
The Fanimation Vintere ceiling fan is ideal for your home because it is stylish, operates quietly, and you can control it remotely. It is perfect for both bedrooms and living rooms.
2. Fanimation Ascension FP6717BN Ceiling Fan

The Fanimation Ascension FP6717BN is a high-power indoor and outdoor ceiling fan. It comes with four blades that measure 54 inches each. You can adjust it to three-speed settings with wall control.
Its reverse switch function allows you to turn the unit in the opposite direction to get your desired airflow. Other features include an AC motor and three forward and three reverse speeds.
Pros
You can install the unit in high-humidity indoor locations and outdoors when covered.
You have the option of controlling the appliance using Bluetooth technology.
It offers efficient air movement when operating.
It works quietly.
Cons
It does not come with remote control.
It does not have a light fixture.
The Ascension FP6717BN is a ceiling fan that boasts of a minimalist design, it can fit in any décor, and is the best Fanimation ceiling fan to consider for your home.
3. Fanimation MAD8152DZW Odyn Custom Ceiling Fan

The Fanimation MAD8152DZW Odyn is a high-end, custom ceiling fan with an airflow capacity of up to 10,742 Cubic Feet per Minute. As an energy-star rated unit, it consumes up to 70% less energy, thus saving you money.
Furthermore, it has variable fan speeds that help to stimulate a natural breeze. You can install the appliance either indoors or outdoors.
Pros
You can reverse it using a remote.
It can turn off automatically once you set a timer.
As a custom unit, you can select different sizes of blades, including 56, 64, or 72 inches.
Its fanSync technology enables you to control the appliance using a smart device or voice assistant.
Cons
It is expensive compared to similar units.
Many Fanimation ceiling fan reviews consider the Fanimation MAD8152DZW Odyn ceiling fan to be a high-end device, especially for homeowners that want a custom unit that consumes less energy and is easy to control.
4. Fanimation Studio Collection LP8242SBLCH Victoria Harbor Ceiling Fan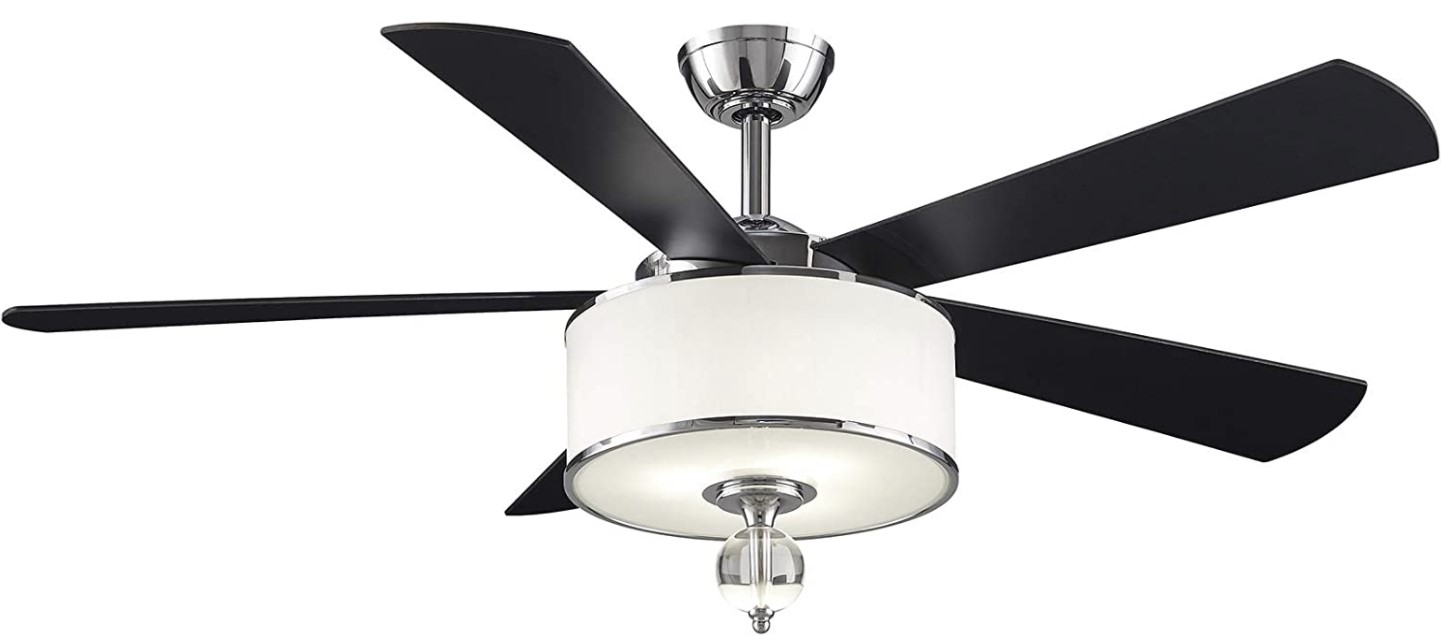 The Fanimation LP8242SBLCH Victoria Harbor is one of the best ceiling fans for indoor use. It comes with five reversible blades, three 4-watt LED bulbs, and remote control to allow for convenience when operating.
The 52-inch fan works efficiently to provide up to 5,543 Cubic Feet per Minute of airflow, even on a 6-inch down rod mount.
Pros
You can control it remotely.
It can complement your transitional décor because of its classy chrome finish.
You can reverse it to maintain your ideal comfort level.
It is cheaper compared to similar units.
Cons
You cannot extend the 6-inch downrod mount.
According to Fanimation fan reviews, the Fanimation LP8242SBLCH Victoria Harbor ceiling fan is ideal for homeowners that want a unit that is easy to control, offers better airflow, and it is cheap.
5. Fanimation Studio Collection LP8577LBL Upright Ceiling Fan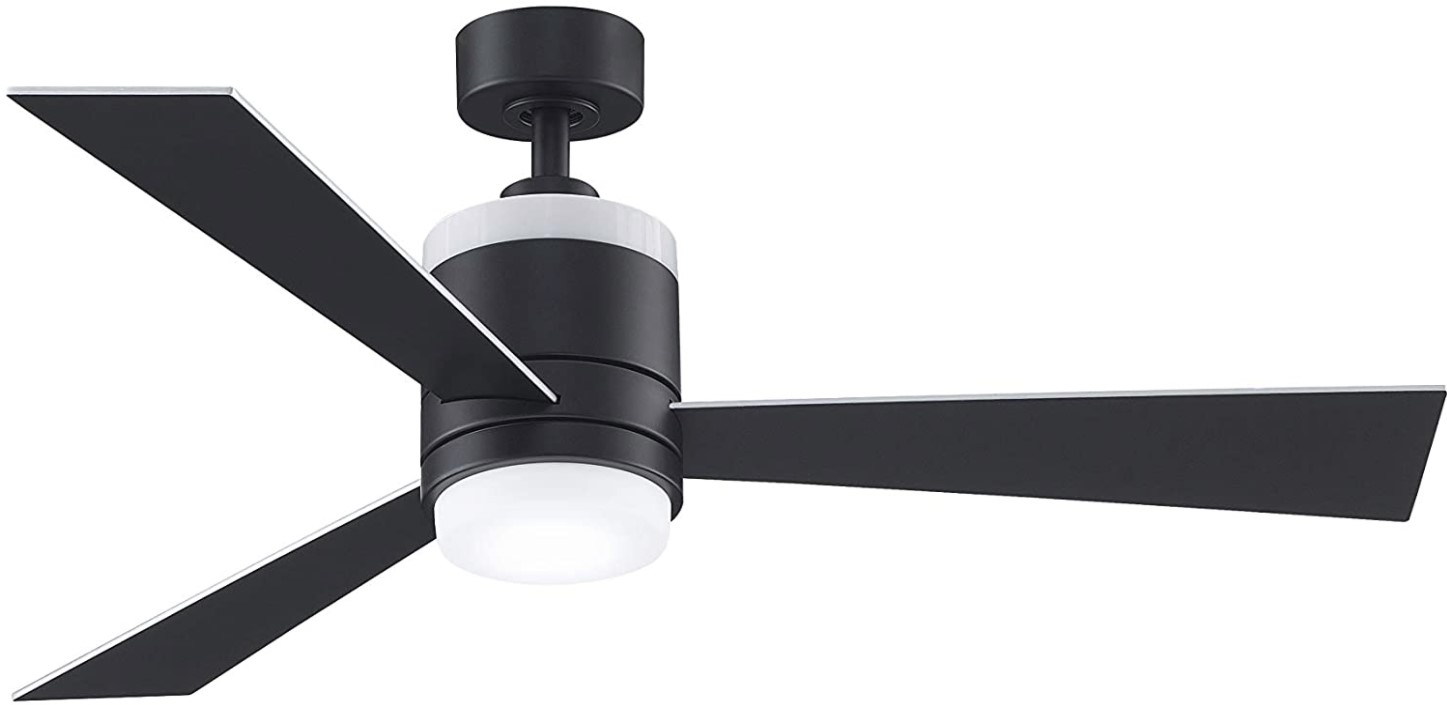 The Fanimation Studio Collection LP8577LBL is an upright ceiling fan for contemporary spaces. It has a sleek design that comes with three blades and 13-watts dimmable up light and 18-watts dimmable downlight.
Its blades measure 48 inches that provide airflow of up to 4,720 cubic feet per minute. That means you can install it in a large room and warm your house in the winter or cool it in the summer.
Pros
Its dimmable LED lights help to maintain the appropriate lighting ambiance.
You can control the lights independently using a handheld remote.
It has three-speed settings that help you to keep the right comfort levels.
It is reversible in the winter and summer.
Cons
It takes longer to install the unit.
If you want a ceiling fan that offers perfect lighting for a relaxing space like the bedroom or study room, the Fanimation Studio Collection LP8577LBL unit is what you should consider.
Is Fanimation a good ceiling fan?
Fanimation fans combine creativity and functionality to provide users with the ultimate comfort. The units have the latest technologies that help to enhance seamless control and energy efficiency. They also integrate into any space easily because of their unique designs and style.
Most Fanimation fans have a wet rating. That means you can use them both indoors and outdoors. The technologies included in the units give you better control.
You can use your smart device and voice assistant to send commands so that it behaves in a specific way. Users also have the option of choosing a fan that either comes with Wi-Fi or Bluetooth to allow them to operate it remotely.
Where are Fanimation fans made?
Fanimation has a team of designers and engineers that generate design concepts of their fans in the USA. It sources its electrical components from Japan to ensure quality. The company then collaborates with its team of designers and mechanical engineers in Taiwan to manufacture the units.
Before production, the company uses American employees to inspect all new products, ensure quality control, and review confirmation samples before the final product can hit the shelves.
Things to consider when choosing Fanimation ceiling fans
When on the market for the best Fanimation ceiling fans, pay attention to the following factors:
Size: Your room's size will help you to determine the size of the fan, as determined by the blade sweep. Ideally, measure the floor to ceiling height to figure out the mount type. That will help you to choose a standard, flush-mount, sloped, or longer downrod fan.
Location: You can install Fanimation fans either indoors or outdoors. The company has appliances rated as dry, damp, and wet. Some of them can work in dry and high-humidity locations, as well as areas that have direct contact with water.
Light output: Determine whether you need a unit that comes with a light output. If so, you can choose from LED, Fluorescent, and halogen lights.
Airflow: A unit that has high airflow is perfect for outdoor spaces and garages. It is also ideal if you only need a lot of air movement in your home.
Energy-Star rating: You can choose a unit that has a DC motor or energy-star rating. Either way, the appliances will be more efficient and save on energy costs.
Also, consider the general finish of the unit so that it can integrate with your interior décor seamlessly.
Features to consider when buying Fanimation fans
Some of the best features to look for in a Fanimation double ceiling fan or any other unit from the company include:
Remote control: A handheld remote control gives you convenience. It allows you to operate the appliance from a range of over 30 feet. Furthermore, it is the best for high and bedroom ceiling fans.
Reversible motor: A reversible motor helps to change the direction of the ceiling fan at the beginning of winter and summer months. By doing so, it helps to improve the cooling and heating circulation in a home and keep costs down.
Speed settings: A fan that has speed settings allow you to determine the rate at which the air will flow in your house. Fans with a higher speed setting are more efficient and enhance airflow.
Conclusion
If you are looking for the best Fanimation ceiling fans, consider the Vintere LP8350BLAZ and the MAD8152DZW Odyn custom ceiling fan. These fans have sleek designs that will integrate into any décor. Furthermore, they are energy-efficient, and you can control them remotely.
Related